April, 2013 Archives
One of the many perks of working in the tourism industry are nights like this. Let me break it down for you!
The Rocky Mountaineer Train passes through Kamloops six nights a week and brings thousands of visitors to town during the summer months. Because we are not able to speak to all those visitors and let them know where to go and what to see in Kamloops, we do the next best thing! Each spring, we host all the new onboard staff and take them on a progressive tour of our downtown core, sampling and drinking from one end to the other. This gives each RM onboard attendant a first hand look (and taste) of what Kamloops has to offer so they can make the best recommendation for their guests.
This year we hosted a group of 70! And with 12 participating restaurants, it was a progressive tour for sure! The group splits into smaller pods and each of our Tourism Kamloops staff members leads a group, rotating through each restaurant with only 20 minutes to drink, eat and learn about what it has to offer. This night is always a fun time and it is so great to be able to interact with the new onboards and connect them to our passionate restaurant owners and let them experience our great selection here.
And a selection they get! This year, we all started up at Prestons Restaurant in the new Coast Hotel. With an amazing view - we enjoyed freshly made sushi, chicken satay and goat cheese tapas. The presentation and ambience was first class! After that, we bused downtown and started the walking portion of our tour. We spilt into two groups, each sampling a handful of restaurants... 5 in the west end and 5 in the east end. I was in the East End Group. First stop - Crush Sauté & Grill. Locally owned, this restaurant has a relaxed vibe with a real passion for using local ingredients. Then there was Frick n Frack... a restaurant that aims to please with their HUGE selection of bottled and draft beers! Take a trip around their world with food and brew selections that will appease people from all walks of life. Make sure you say hi to General Manager Adrian if you go - he is a real character and adds a touch of 'local charm' to the experience. After downing a few beer samples and delicious tasters, we popped across the street to Blue at the Hotel 540. Although it won't be open until May, we were able to have a sneak taste of some of their menu offerings and oh boy, it was delicious! Tender pieces of duck and lamb were served followed by homemade chocolate granola bites. My mouth is watering just thinking about it. Then it was over to Quattro (formally Felix on Fourth), a little bistro that offers a unique spin on Italian. With an open kitchen concept and limited seating, this intimate restaurant is the perfect location for 'a' special dinner out. When you go - try the Quattro martini - you won't regret it! Hot House Bistro was the 6th restaurant up and is always a pleasure to visit. This quaint restaurant boasts itself as being "Creators of Real Food" and lives up to the title. Everything was fresh and full of flavour! Something I never thought I would like in a millions years was their avocado ice cream, but, it was love at first bite! I'll be back.
The second group did the west end of downtown with their first stop at The Commodore.... have you been? Either way, their bruschetta is famous in Kamloops... so fresh and flavourful! A huge hit with the vegetarians in the group was their mushroom poutine! After dinner, stay and dance the night away with live music or house music. Hopping across the street to Terra Restaurant next - the groups really enjoyed a 3-course 'taste' presented by head chef and owner, David Tombs. Using local meats and produce, the freshness and flavour in their dishes is bar-none. Next up was Kelly O' Bryans - a local hotspot that has been around for years. Pachoes, pachoes, pachoes and chicken lips were on the menu this night and never seem to disappoint. Maurya's Indian Restaurant was 4th up and in typical indian fashion, the spread of food was more than enough. From korma to pakoras and hand stretched naan - nothing can really compare to the rich flavours that can only be found in Indian cuisine. If the groups weren't already stuffed, they were when they left Maurya's! Lastly was The Plaza's newly renovated Fireside Steakhouse Grill. Hands down, everyone loved 'The Dougie" burger made with fresh, local Haughton beef. Sitting fireside, toasting some great wine and enjoying delicious looking beef... what more can you ask for?
Lastly, all 70 of us met up at The Noble Pig to end our night. The always generous General Manager Meaghan Herman, kept the beer and deep fried pickles flowing and gave each of the groups a tour of the brewery which really adds to the experience of a brew house. They do an awesome job of catering to groups large and small.
Overall... its nights like these that make me say: "I LOVE MY JOB!"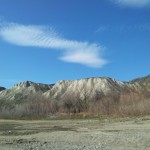 First of all, it's kindness. If I want to go all mushy I can say right off the bat that the k in Kamloops stands for kindness.
Or I could simply say that people here are kind. Because they are. The proverbial extra mile some people walk to make it better or sunnier for those around them, I have had the opportunity to see it often enough to brag about the place I live in.
One time I was in a hurry to get home from the grocery store. It happened that I bumped into a new acquaintance who, though headed in the opposite direction, noticed my hurry and offered to drive me home, detour and all. I said multiple "thank you"s but decided the only way to say it right is to pay it forward. So I have.
Last week I offered to go dye Easter eggs at school with my little guy's class. I also said I will do it the way people used to do it in the old days; with onion peels that is.
Come Wednesday night and after a busy few days, I remembered about the peels. The next thought was "Oh, no!" because where would I find enough onion peels late at night, I thought.
Ten minutes later I was at Cooper's and being told "Oh no, we just threw them out," followed by "But don't worry, I'll peel some for you."
Another ten minutes later, I was leaving the store with a bag of onion peels. At that point it is but logical to assume that I live in a good place. It's called community.
Second on the list of good things here is the world that opens up all around Kamloops. A world that rolls out from my front door. There is a short dirt road a few minutes away from where I live and it's arched in a way that allows me to have a 360° panorama. No photos or videos would do it justice.
I now have a few good cycling routes around Kamloops, and a couple of friends who are kind enough to share their secret beautiful Kamloops one-of-a-kind spots with me. When you're new in town, it's a gift, more so when all I have to offer in return is gratitude and the promise that I might one day find a gem that I will share too…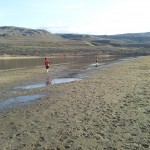 The boys and I have discovered endless sandbanks that may be yesterday's news to people who have lived here all their lives, or for many years, but the golden carpets of sparkling sand charm us every time we visit.
The barren dusty hills that once scared me with their scarcity have won my heart countless times since. Some I see in the morning from my kitchen window and I have yet to be bored with a sunrise.
In winter the hills all wore white powder caps and wigs of blue sky; majestic is the right word, but not the glacier majestic that I am used to from the Coast Mountains. These ones bump towards the sky ever so gently.
Come spring, they are glazed in fresh pink glow in the morning, and then draped in lazy sunset light as I round the boys up for another good night's sleep. Sunsets in Kamloops are simply beautiful.
I have come to know that wondering through the grasslands can get my legs prickled by cacti and it hurts unexpectedly much. Somehow I'm fine with that. Now I know what it's like to live in a desert.
Third on my list: the friends I've made since I moved here. I am by my own admission a relationship minimalist. I only pursue a relationship if it's real and has depth.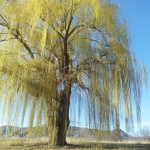 Though a child at heart according to many who know me, I know depth and real when I see it. And I have. Kamloops has gifted me with a few friends I can easily add to my list of blessings.
I'll end my list with the coffee shops I have found here. I am a coffee snob, I admit it and happily blame it on my parents who always had cowboy coffee, the only way I make it now too. I make my own freshly roasted fairly-traded guilt-free on most days, but when I hit my favorite coffee shops I am never disappointed.
Whether I chat with friends over a cup of steaming coffee or sit by myself, writing, I have found a few places that offer that kind refuge a writer needs on any given day.
All in all, a good seven months. Here's to many more and all things Kamloops left to discover.
By Guest Blogger, Daniela Ginta (Thinking of Clouds)
(Originally published as a column under the same name in the Kamloops Daily News on Saturday April 6, 2013)
| | |
| --- | --- |
| | Summer is Just Around the Corner |
| | Have you heard about the Kamloops THRiVE Festival yet? This "Summer Camp for Adults" offers something for everyone! Take in one of the many personal development programs lead by leading industry experts or attend the expo to get a taste of everything. The three day festival features culinary, gardening, healthy living, literature, photography, visual arts, concerts and more! June 21-23. |
| | |
Sign up for our Newsletters here!