Kamloops is not unknown to those down under
Canada Corroboree Australia's roadshow visited Brisbane, Melbourne, Adelaide and Sydney February 4 to 14, showcasing Canada's new and amazing experiences to travel agents, tour operators and media. More than 700 travel agents had the chance to network with 41 Canadian representatives, with four lucky agents winning an all-expenses paid trip to Canada. Additionally, a total of 33 Australian tour operators attended the highly successful B2B event in Sydney. 
Nearly 90 Australian travel writers, editors, influencers and broadcasters attended Canada Corroboree media luncheons in Melbourne and Sydney, where they experienced a journey of discovery through Canada's wildlife, landscapes and new urban offerings.
This year's event was sited to be the biggest and best yet.  Canada Corroboree fulfils the vital role of providing the Australian travel industry and media with first-hand information about lesser-known destinations and tourism products, from authentic Canadian adventures and winter experiences to wildlife encounters and culinary offerings.
There were many new Canadian partners attending with the largest contingent coming from BC.  Kamloops was well known - largely attributed to the extensive work that Rocky Mountaineer, VIA Rail and Sun Peaks Resort as done to date in market.  It was good timing for Tourism Kamloops to attend.  While Canada Corroboree has moved to bi-annual schedule, there was a resounding nod from Canadian representatives to host annually.  Without annual attendance, competition from other destinations is evident and the choice for Australian travellers is endless. Just the following week Brand USA and Fiji were in market.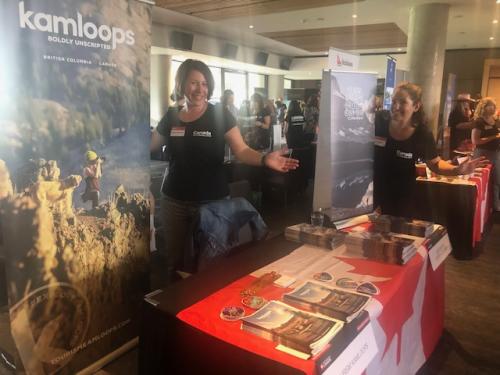 Canada is perceived to be an expensive destination for Australians, noting Vancouver and the Canadian Rockies have become less affordable and much busier.  Kamloops is well positioned to receive destination visitors to expand stays to multi-nights to relieve cost pressures and compression on either end of a trans-provincial itinerary.  Focus was on trade ready experiences that would lengthen Kamloops stays for more than one night.