For Immediate Release
2019 Tourism Kamloops BOLD Hospitality Awards Winners Announced
February 27, 2019 – The 3rd Annual Tourism Kamloops BOLD Hospitality Awards presented in partnership with the Kamloops Blazers were a tremendous success!  175 people representing Kamloops tourism industry employees, employers, colleagues, friends and family were in attendance to recognize and celebrate Kamloops' exceptional hospitality champions in the Valley First Lounge at the Sandman Centre.
"The BOLD Hospitality Awards have honoured the best of the best in hospitality excellence for a third year.  All of the nominees and winners exemplify exceptional tourism ambassadorship. This is truly what makes Kamloops a warm, welcoming, remarkable tourism destination.  The leadership, passion and commitment these individuals deliver each day are what contributes to the success of Kamloops' growing visitor economy – an industry that welcomes 1.85 million visitors and contributes nearly half a billion dollars to the local economy annually," explains Beverley DeSantis, Tourism Kamloops CEO.
A total of 46 nominees competed for the winning title in six hospitality categories. The full list of winners are as follows:
Accommodation "foh" of the Year (Front of House) – Mike Kwok, Scott's Inn
Accommodation "boh" of the Year (Back of House) – Laxman Rijal, Grandview Motel
Food & Beverage "foh" of the Year (Front of House) – Dominique Baird, Fairfield Inn & Suites
Food & Beverage "boh" of the Year (Back of House) – David Tombs, Terra Restaurant
Tourism Attractions Leader of the Year – Jordan Popadynetz, Kamloops Heritage Railway
Tourism Services Leader of the Year – Gordon Stamp-Vincent, Tastefull Excursions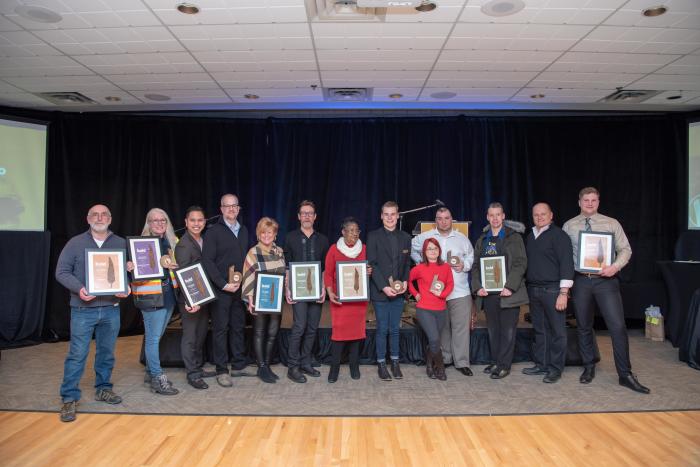 "A resounding 40% of the nominations this year were received by Kamloops visitors.  This is a testament to the credibility of the awards program and speaks to the importance of remarkable visitor experiences," added Steve Earl, Tourism Kamloops Board Chair. "Tourism is the fastest growing industry globally and the ability to compete for tourism dollars is fierce. However, our commitment as a cohesive industry to create memorable moments for our visitors helps to elevate Kamloops' reputation and perception of a great place to visit."
Nominations were gathered over a four-month period July 1 to October 31. An appointed selection committee comprised of local hospitality leaders scored the nominations narrowing to a field of three finalists and finally a winner in each category.
-30-
Media Contact:
Monica Dickinson, Director – Industry Relations & Communications
Tourism Kamloops
Phone: 250.372.8000 | Cell: 250.819.0151 | Email: monica@tourismkamloops.com