For Immediate Release

April 26, 2019, Kamloops, British Columbia – At it again, the Luv'n the Loops tour hit a few more Kamloops hotspots on Thursday, April 25th. Hosted by Kamloops' passionate, fun-loving ambassador, Tara Holmes, this month's enthusiastic crew set out to experience The Shore.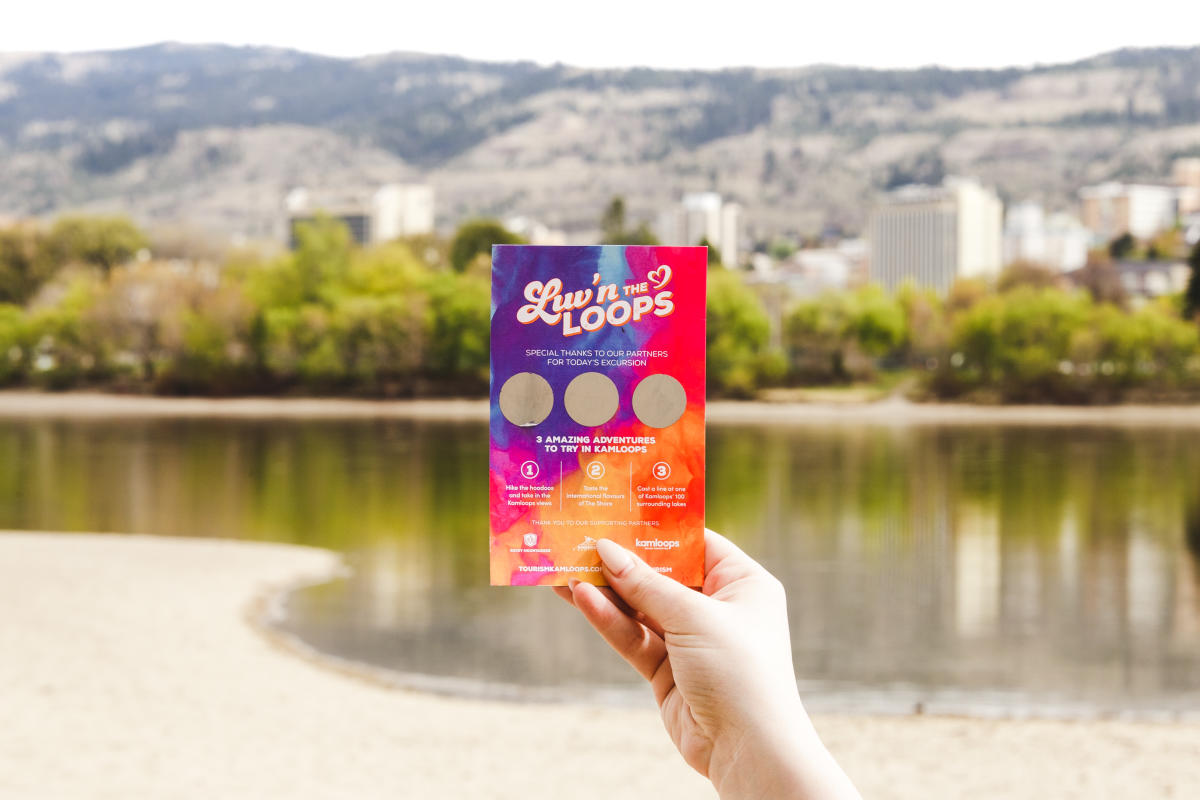 In its second month, the Luv'n the Loops tour revealed three more surprise Kamloops experiences to an eclectic mix of Kamloopsians – Kamloops Pride committee members, TRU journalism and tourism students, Kamloops Blazers volunteers, Rocky Mountaineer employees and local media partners.

Lake vistas and blooming sagebrush trails marked the first stop at Lac Du Bois Grasslands and the Arizona Trail. Welcomed by local tour operator Glen Morris of Tailgate Tours, the group hiked one of Kamloops' most scenic trails with panoramic city views and back-dropped by sweeping grasslands.

Stop #2 fueled hungry hikers at Moustache and Go – one of The Shore's newest eateries. Slow drip coffee and fresh, homemade sandwiches prepared by owner, Mitch Forgie were a perfect pick up before ending the tour learning to cast a line with fly-fishing guru, Jordan Oelrich of Interior Flyfishing Co. Known for its abundant fresh water, Kamloops is home to over 100 lakes within a one hour drive and famous for its Rainbow Trout.

"All of the experiences featured on our monthly tours are easily accessible and don't require much planning. For those who have never fished, connecting with a local expert is a great way to learn, but if you want to try it on your own, we offer free fishing rod rentals at the Visitor Centre and our team will help you find the perfect spot to cast a line," notes Monica Dickinson, Director Industry Relations & Communications for Tourism Kamloops.

Ending the tour, residents Warren and Ianna Polos commented, "We've lived in Kamloops for 40 years and have never experienced these cool locations. We learned some new things and visited a restaurant on The Shore that we've never been to.  A wonderfully fun day!"

Follow all the action on Tourism Kamloops' social channels by searching #explorekamloops and #togetherintourism.

Special discounts for all the experiences featured on this month's tour are available online until May 25th. Visit https://www.tourismkamloops.com/luv-the-loops/ for more details.

Want on the bus? There are still 10 more tours and we have seats to fill. Visit www.tourismkamloops.com/valueoftourism to send us your pitch. Next tour is scheduled for May 22, 2019.
-30-
Media Contact:
Monica Dickinson
Director, Industry Relations & Communications
Tourism Kamloops
C: 250.819.0151
E: monica@tourismkamloops.com