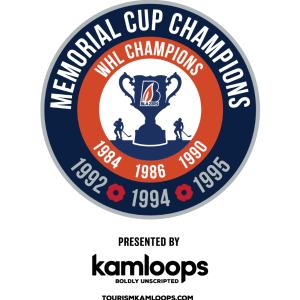 FOR IMMEDIATE RELEASE
 
TOURISM KAMLOOPS SCORES TITLE SPONSOR OF
BLAZERS MEMORIAL CUP AND WHL ANNIVERSARY

The Who's Who of Hockey celebrate Blazers History Feb 21 & 22, 2020
Gord Bamford #REDNEK Music Fest kicks off the weekend
 
KAMLOOPS, BC November 18, 2019 – Tourism Kamloops has penned a deal as the presenting sponsor of the Blazers Memorial Cup and WHL Anniversary celebration, February 21 & 22, 2020 that kicks off with Gord Bamford's #REDNEK Music Fest and invites Blazer Alumni to join in the celebration.  2020 marks the 25th anniversary of the Blazer's last Memorial Cup win in 1995, winning three times in a span of four years.  Including the three other championship teams '86, 90 and '92, it makes the Kamloops Blazers the most winningest team ever.
 
"This community event excites our entire board," says Tourism Kamloops board chair Steve Earl. "Winter is often a quieter time of year, so to partner with an epic event like this is a great opportunity for tourism and the Blazers are an important pillar in tourism." 
 
The Kamloops Blazers Memorial Cup Anniversary, presented by Tourism Kamloops kicks off Friday, February 21 with Canada's most decorated country music artist Gord Bamford and his #REDNEK Music Fest including an Up Close & Personal preshow with Rob Brown, Ken Hitchcock, and Shane Doan.  The #REDNEK Music Fest features Platinum-selling JUNO Award winner Jess Moskaluke, JoJo Mason, Eric Ethridge, Andrew Hyatt, Cory Marks, Duane Steele, and GhostBoy.   
 
"Hockey, history and Gord Bamford's concert aligns with Tourism Kamloops' mission to promote authentic experiences that define the local culture in an off-peak tourism season," adds Earl.
 
Tickets to Gord Bamford #REDNEK Music Fest are on sale at Ticketmaster, affordably priced starting $39.50.
 
Saturday from 3-5pm, fans can meet Blazers Alumni including Bob Brown, Ken Hitchcock, Rob Brown, Greg Evtushevski, Tom Renney, Greg Hawgood, Shane Doan, Scott Niedermayer, Stu McGregor, and more WHL greats!  It is expected to be the who's who of Canadian Hockey.  Fans can get autographs, and have their photo taken with the Memorial Cup and Digger.
  
Saturday night is game night. The Kamloops Blazers face off against the Calgary Hitmen at 7pm.  There will be pre-game opening ceremonies recognizing returning coaches and players.  It is expected to be a sold-out game.
 
For more information about the Kamloops Blazers Memorial Cup & WHL Anniversary, and an up to date list of returning Blazer Alumni visit www.blazerhockey.com.
 
 ---
 
Media Contacts:
 
Kamloops Blazers                                                    
Don Moores, President & COO                                
(250) 828-1144                                                            
dmoores@blazerhockey.com                                    
 
Tourism Kamloops
Steve Earl, Board Chair
(778) 471-9009
steve.earl@marriott.com