1. Spirit of Christmas Train
A ride on the Kamloops Heritage Railway truly captures your heart and embodies the spirit of the holiday season. This one-hour trip on a wintry Kamloops evening sparks the magic of an old-fashioned Christmas. Hot chocolate, cookies and Christmas carols welcomes you on board this heritage train and whisks you away as thousands of lights illuminate its steamy silhouette! Before you say goodbye, take your little ones back to Santa's comfy throne to meet and greet the jolly man in red. be sure to bring your camera. ALL ABOARD!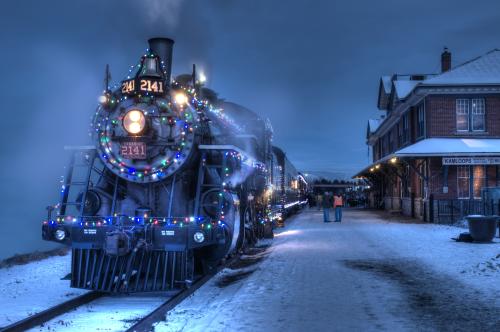 2. Woodward Christmas Tree Farm
The Woodward Christmas Tree Farm is a Kamloops Christmas tradition for over 20 years. Seven days a week, you can handpick your fresh tree to your liking. On weekends, the farm transforms into the perfect family holiday experience complete with hay wagon rides, a bonfire, food trucks and wine tastings at Privato Vineyard and Winery.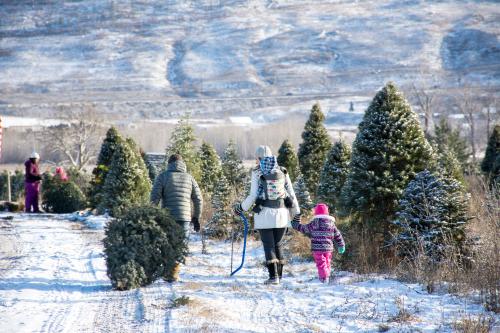 3. Wildlights at BC Wildlife Park
Wildlights are an annual winter celebration at the BC Wildlife Park where families and friends gather to enjoy 100's of thousands of LED lit trees, paths and displays. Tons of fun for the whole family including their Giant Maze, Wildlife Express miniature train, a wagon ride to the North Pole and nightly performances with Uncle Chris the Clown.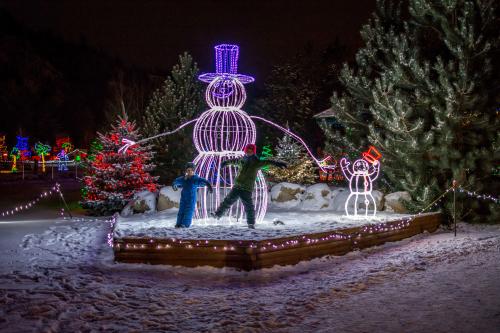 4. Toe tapping, finger snapping Holiday performances
Christmas with the KSO is certainly a holiday highlight. This festive programme is filed with musical delights including Tchaikovsky March from Nutcracker, Pugh - A Charlie Brown Christmas, Handel - Hallelujah Chorus, and Bizet – Farandole. 
Western Canada Theatre presents "A Christmas Carol"
On a fateful Christmas Eve, the miserly and miserable Ebenezer Scrooge is taken on a transformative journey by three spirits—and one very unhappy ghost. From cozy hearths to snowy graveyards, from scenes of despair to festive gatherings, here is the classic tale of redemption in a brand-new theatrical version specially created for WCT audiences. An outstanding kick-off to the holiday season—joyous, spooky, funny, and full of heart. Great for the whole family!
5. The Perfect Gift
Are you looking for that special gift for friends and loved ones for the holidays? With so many retail options, why not make a weekend of it and hit up all the shopping hot spots that Kamloops has to offer?  Looking for something super unique to Kamloops? Check out Riversong Guitars or Kristina Benson Art.
For a great list of the many shopping boutiques and centres click here.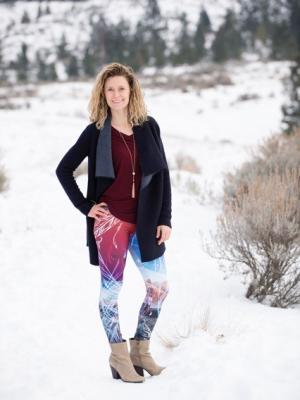 6. Festive Flavours
November has arrived and December's holiday traditions will soon be here. Now's the perfect time to get out and sample some festive Kamloops flavours of the upcoming season. Looking for suggestions for date night, family outings or celebrating with friends? This blog may help with some local favourites.
7. Family Fun at Harper Mountain
Winter offers a whole new plethora of fun in the Kamloops area and Harper Mountain is a great locale for so many family adventures. Put on your winter gear and take in skiing, tubing, snowshoeing, Nordic or enjoy some down time by the rustic rock fireplace in the lodge.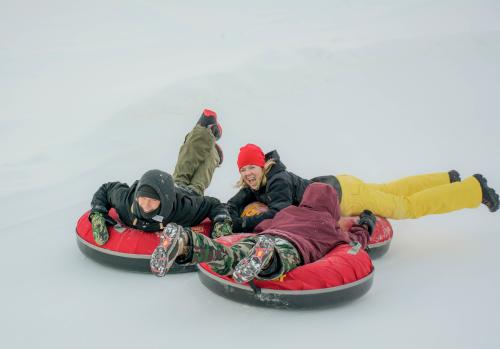 8. Stake Lake Trails
The Stake Lake trail system managed by the Overlander Ski Club, is located just 25 km south of Kamloops. This family-friendly trail network is a winter playground for anyone who loves sunshine and great snow! At Stake Lake you'll find a variety of options to suit every skill and interest level
60 km of scenic, expertly groomed skate and classic trails
5 km of dedicated dog-friendly trails
12 km of snowshoe trails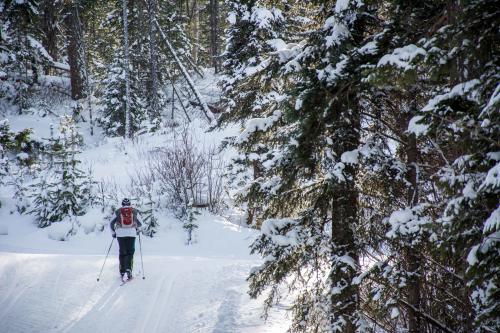 9. Kamloops is Hockey Town
Kamloops is excited to welcome Roger's Hometown Hockey on January 13th & 14th and with it a great weekend of FREE hockey related activities, NHL Alumni Appearances, live music and a ton of family events!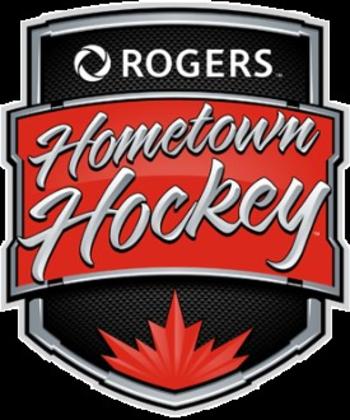 10. Kamloops Hosts 2018 BC Winter Games
Kamloops is Canada's Tournament Capital and there is good reason. Our top-notch recreation facilities exceed expectations spectacular high-profile events such as this one. For the 2018 BC Winter Games, Kamloops is excited to l welcome athletes from around the province February 22 -25, 2018.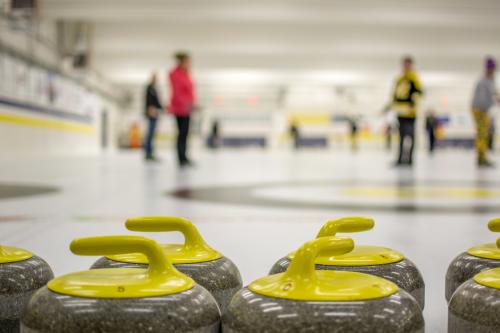 Don't worry, there are more adventures beyond this list to experience the winter in Kamloops! Winter Wonderland highlights outdoor experiences and Events will provide you all things exciting happening!