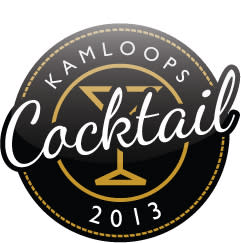 It's that time again... the sun is shining and what better way to kick off summer in Kamloops with a Cocktail Competition.  After our largely successful summer campaign, "Real People, Real Experiences", we are excited to be keeping with that theme for the cocktail competition.
We had 5 lounges confirm their involvement this year and today at the kick off event, they all randomly selected a real person, real experience to fashion their version of the Kamloops Cocktail after.
Below are the participating restaurants and lounges and their theme.
First – the 2012 Kamloops Cocktail grand champion winner … Terra Restaurant. Terra is located in downtown Kamloops on Victoria Street and makes incredibly fresh tasty food for lunch or dinner and has a great patio to sip a Kamloops Cocktail. This year, their cocktail will be fashioned after Tim & Annette McLeod of Tranquille Farm Fresh (Real Foodie Experience). 
Next – Prestons. Prestons is located in the Coast Hotel Kamloops where guest's savour unique and well prepared dishes overlooking a beautiful tropical courtyard or on the patio with great vistas of the city. Their cocktail will be fashioned after Bodie Shandro, owner of Paddle Surfit (Real Outdoors Experience).
Next up was Hoodoos at Sun Rivers.  The brathtaking views of the Kamloops cityscape offer the perfect contrast to the casual elegance of Hoodoos creating an unforgettable setting. Their cocktail will be fashioned after Ron Betts, an owner of Treetop Flyers Zipline (Real Adrenaline Experience).
Blue Dining + Lounge is Kamloops' newest restaurant located in the Hotel 540. Known as fun, fresh and seasonally inspired, Blue is ideal for lunch or dinner in the heart of the downtown. Their cocktail will be fashioned after Donna Chang, owner of North America's only ginseng spa - Sumore Ginseng (Real Diva Experience).
Last but not least, The Fireside Steakhouse & Bar at The Plaza Hotel proudly offers a full range of locally raised black angus steaks and other selections in relaxed, heritage surroundings perfect for any occasion. Their cocktail will be fashioned after Hugh McLennan, talk show host of the Spirit of the West radio show (Real Cowboy Experience).
Judging of the cocktails will take place on August 15th at a location to be determined.  Check back to our website in a few weeks to learn more about the 5 Kamloops Cocktails and see how creative each lounge was in matching up their ingredients to their 'real person, real experience'.
http://www.tourismkamloops.com/kamloops-cocktail-2013