Hockey is certainly on the minds of Kamloopsians as the city gears up to welcome viewers across Canada for Scotiabank Hockey Day in Canada, February 3-6 2016. This nationally televised event invites locals and visitors alike to rub shoulders with hockey greats such as, Darcy Tucker. Kamloops's local hockey favorite, retired NHL/WHL alumni returns to town. It's been over a decade since Darcy Tucker was last in Kamloops, but he will be coming back February 3-6 as a Scotiabank ambassador for Hockey Day in Canada.
"I honestly can't wait to come back to Kamloops. It's been years since I was in the city, but I have so many great memories of living in Kamloops and playing junior hockey, it will be great to be back." Said Darcy Tucker. Many of you will remember when Darcy Tucker, number 16, played for the Kamloops Blazer Hockey Club. He spent four years playing for the club of what are arguably the franchises most memorable years when they won 3 Memorial Cup championships.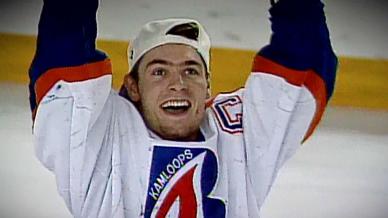 Darcy vividly remembers being scouted by Bob Brown of the Blazers. Brown had never seen Darcy play in real time. He had watched a video tape of him and selected Tucker, based not on points he occurred in the game but by how many times he got up after being knocked down, 22 times in fact. That type of tenacity would carry Darcy through his entire career.
Darcy recalled that life as a teenager in Kamloops did not allow for much time between school and hockey, when Darcy did get time, he enjoyed the beauty of Kamloops' outdoors, hiking and skiing close by. Darcy has found memories of so many influential people helping him during his time in Kamloops such as his billets, teachers and coaches. Darcy says they really helped mold him and help him become the mature man he is today.
As a young child playing hockey, Darcy had always opted to be #10 or #12, those were his go-to numbers, but that all changed when he came to Kamloops and was tossed #16.
"I remember it like it was yesterday," laughed Tucker. I called my Dad and asked if #16 was okay. He said "Bobby Clark wore #16 so yeah, it's good. Represent it well. "Every time I stepped on the ice in my hockey career, I did my best to represent #16.
Today Darcy is putting his experience and passion for the game into the work he does as a brand ambassador for Scotiabank, the major sponsor of Scotiabank Hockey Day in Canada. It's a job he loves.
"I have the best job," said Tucker. "I get to travel with the Rogers Sportsnet and Scotiabank teams and help host Hometown Hockey events across the country. I enjoy working with Scotiabank because they believe in team work and community, and they give so many kids the opportunity to play the game of hockey through their sponsorship."
Scotiabank sponsors 5000+ hockey teams across the country, something Darcy thinks is incredible.
"Scotiabank Hockey Day in Canada, for me, it's all about people coming together, not just players on the ice, but all the people behind the scenes too. All kinds of personalities played the game, and still do. It's a chance for us all to bond together with a common passion."
When Darcy returns to Kamloops for Scotiabank Hockey Day in Canada he is looking forward to reconnecting with several hockey greats which he admired as a young kid. "When I was as a kid, I used to think hockey on TV was a movie. So when I got to meet Lanny McDonald when I was a kid and got to shake his hand, I realized that my dreams of making the NHL weren't impossible, they were closer than I thought. Today, Lanny and I do a lot of work together.
Darcy also has great admiration for Kamloops' hometown boy, and former Canadiens team mate, Mark Recchi. "I played with Mark when I first started in the NHL and he's an incredible mentor. He was very good to me as a young guy coming to Montreal. I knew he was from Kamloops and had heard great things – he's a good quality guy and it'll be fun to reconnect.
 Kamloops is certainly looking forward to having Darcy Tucker and Mark Recchi back on hometown soil in less than two weeks for Scotiabank Hockey Day in Canada. Bring your friends and family down for a great four days of affordable fun! More info found here
(Interviewed by Aleece Laird)