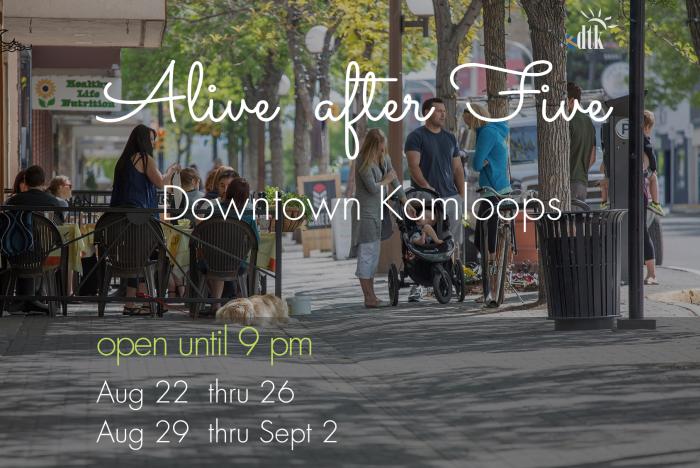 For Immediate Release
Downtown Kamloops is "Alive After Five" - August 22 to September 2
August 15, 2016, Kamloops, BC: Downtown Kamloops officially becomes the place to be this summer as local merchants, eateries, cafes and retailers open their doors until 9pm weekdays nightly starting August 22nd through September 2nd.  Coined "Alive after Five", this summer celebration embraces all the things we love about Kamloops' downtown – live music, sidewalk dining, warm temperatures, natural gathering spaces all in the spirit of supporting local, distinctly Kamloops experiences.
 
"This initiative is the result of a new collaborative group called Focus Downtown, which includes the Kamloops Central Business Improvement Association, Kamloops Chamber of Commerce, Tourism Kamloops, Rocky Mountaineer, Venture Kamloops and City of Kamloops and supported by the downtown merchants to unveil a Kamloops experience to our destination visitors that we, as locals, cherish," says Gay Pooler, General Manager for the KCBIA.  "Our downtown in itself is an experience and the support of the local businesses enhances its vibrancy to welcome visitors and locals alike."
 
"Kamloops' downtown is our secret gem, that we need not keep secret any longer," adds Monica Dickinson of Tourism Kamloops.  "Its charming ambiance, great shopping choices, exceptional dining options and proximity to Riverside Park all bundled with a fantastic summer forecast is the perfect mix for an exceptional experience."
 
"Alive after Five" is only a snapshot of a longer term plan for Kamloops' downtown.  This preview will kick start planning for future summer-long initiatives seeing downtown merchants staying open later. This exciting movement will positively enhance Kamloops' destination offerings ranking Downtown Kamloops as a "must do" activity on any itinerary and will encourage incremental overnight stays in the city.
 
For further details on participating merchants, visit www.downtownkamloops.com. 
 
-30-
Media Contacts:
Gay Pooler
General Manager
KCBIA
P: 250.372.3242
C: 250.318.0184
E: info@kcbia.com
Monica Dickinson
Director, Industry Relations & Communications
Tourism Kamloops
P: 250.372.8000
C: 250.819.0151
E: monica@tourismkamloops.com