Fall always seems to sneak up on us. The relaxed, easy vibe from summer is replaced almost overnight with the hustle and bustle of back to school, regular work hours and a change in temperature. However, if you live in or near Kamloops, you also know how beautiful it can be so, grab a pumpkin spice latte and head out to explore the beautiful landscapes that surround us.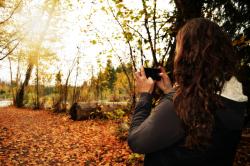 Stay in town: Overlanders' Beach, located just 5 minutes from downtown is a great spot to explore fall colours. With a vast sandy beach, soak up the fall sun as you walk along the water front with views of yellows, reds and oranges across and behind you. Bring a blanket and picnic to fully savour your surroundings.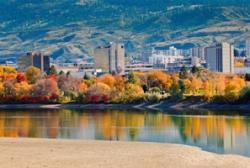 Head North: Take a drive into Lac du Bois. October brings a golden touch to the acres of protected grasslands. Enjoy a once-a-year view of blood red pickleweed that surrounds road side swamps and lakes - don't forget your camera! If you want to stretch your legs, continue up to Isobel Lake to do a nature loop amongst a mix of evergreens and deciduous trees.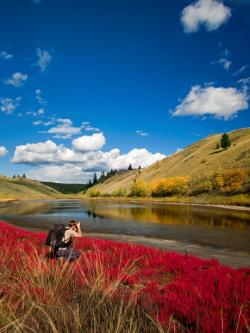 Head West: The Hoodoos, located east of downtown on Tranquille Rd are a beautiful sight year round. However, there is something about a fall sunset that captures these million year old rock formations just a little differently. The sun has warmth to it at this time of year that captures the cool brown earth at just the right angle which culminates one of the most spectacular sunset scenes in the city.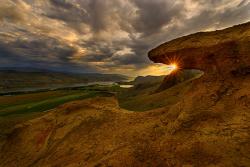 Head East: When is the last time you have been to the Adams River Salmon Run? Even in non-peak years, the chances of witnessing this remarkable event are high. Roderick Haig-Brown Provincial Park is a beautiful location to take the family. With well-marked and easy to walk trails, this is prime fall foliage terrain. Pair that with the bright red and green salmon spawning beside you and you have hit, what we like to refer to as, "the fall jackpot".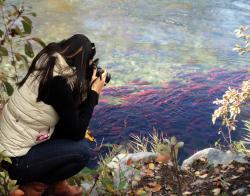 Head South: The drive from Kamloops to Merritt via the old Highway 5A is absolutely stunning.  It will bring you back to a simpler time.  As you pass by established ranch lands and farms, take note of the colours around you. The white bark from the popular trees that are sprinkled alongside a handful of lakes offer a striking contrast to the orange leaves above and golden grasslands behind them. Although this drive only takes about an hour, we'd recommend giving yourself more time as there are plenty of spots to pull over and take it all in.