Holiday Traditions in Kamloops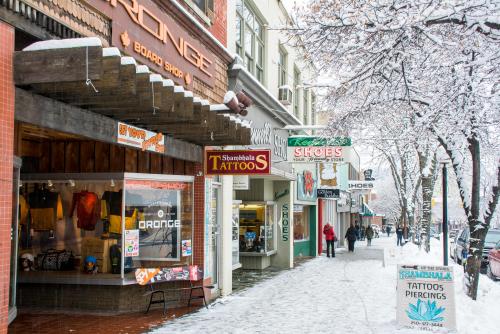 There is something magical about the holiday season isn't there? Christmastime is like a glitter bomb explosion on the social calendar.  There is a world of opportunity to get out into the world, spread some much-welcomed cheer, and soak in some community spirit.  
To me, it's about connecting with those seasonal touchstones, connecting with yearly rituals: eggnog lattes, ice skating, baked gingerbread, hockey games, parties, craft fairs, cool peppermint kisses under the mistletoe, and the pine fragrance of a freshly decorated tree.
Above all, the "A Charlie Brown Christmas," Vince Guaraldi Trio's classic soundtrack is playing non-stop from early November to well past New Year's Day.
(Side note, I'd like to lay down a bit of a Kanye West style proclamation here: A Charlie Brown Christmas soundtrack is the GREATEST Christmas album of all time.  OF ALL TIME. It's cheerful but not condescending; mature, sincere and slightly melancholic. Holiday happiness can be an uphill battle, and Charlie is entirely in touch with that emotion.)
Let's get real here. Christmas might be the hap-hap-happiest time of the year, but it is also a time of sky-high expectations and emotions. The holiday season needn't be an expensive, exhausting time of excess; celebrate the season on your own terms.  Make it a joyful experience jam-packed with giving, charity and gratitude. Visit with family and friends, volunteer, donate, shop locally, laugh merrily, explore the city, experience the outdoors and make memories wherever you may go.
Buckle up my little nutcrackers, with this handy guide; you can't help but have a merry, magical, fabulous, festive, fa-la-la-la-la-la-la-lovely time.
Holiday Open House
Harper's Trail Winery - 2761 Shuswap Rd
Monte Creek Ranch Winery - 2420 Miner's Bluff Rd
Privato Winery - 5505 Westsyde Rd
Saturday November 25- Sunday, November 26. 11am-5pm
http://kamloopswinetrail.com/events.php
Complimentary wine tastings, an Artisan Craft Market, holiday shopping, door prizes & more in a festive setting.  Private transportation and group tours are available.  Please bring non-perishable food items or cash donations to support the Kamloops Food Bank.
2017 Homes for the Holidays
United Way Thompson Nicola Cariboo. 177 Victoria Street
Saturday, November 25. 12-4pm & 5-9pm
Sunday, November 26. 12-4pm
Tour six spectacularly decorated beautiful designer homes. Enjoy a festive reception hosted by the Kamloops Art Gallery. All kinds of goodies, raffles, shopping and surprises in store.  
BONUS: With your ticket purchase, receive free Admission to Kamloops Museum & Archives "Housework, The Bungalow Style in Kamloops."
Santa Claus Parade
Downtown Kamloops
Saturday, November 25 at 10:30am-12pm
https://www.facebook.com/events/289107471608065/?ref=br_rs
In partnership with Thompson Rivers University and Downtown Kamloops, the Annual Santa Claus Parade is an essential component to tradition making for the whole family. Bundle up, gather round and celebrate the Christmas sprit in Kamloops' downtown core.
10:30AM - Wake-Up Santa & Pre-Parade Entertainment
11:00AM - Parade
ROUTE INFO:
The parade starts at 2nd Ave & St. Paul Street, runs down 2nd Avenue to Victoria Street and along Victoria Street until 6th Avenue. The parade ends at 6th Avenue.
Woodward Christmas Trees Opening Day
Woodward Christmas Trees - 5505 Westsyde Road
November 25 – November 26. 10am - 5pm
https://www.facebook.com/events/140693003244962/
Hay wagon rides, holiday goodies, and a crackling bonfire—the event is centered around choosing your Christmas tree and holiday wines! Hot chocolate for the kids and Deb's famous mulled wine for the young at heart. Be sure to say hello to Santa and his elves.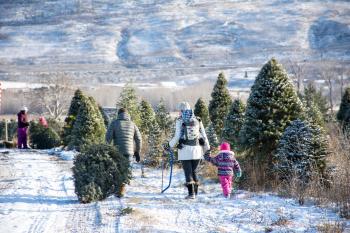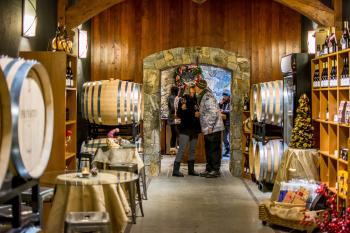 Christmas at the Courthouse
Kamloops Courthouse Gallery - 7 West Seymour Street
December 2 to December 3 at 10 am - 4 pm
https://www.facebook.com/events/1575536812478363/
Discover gorgeous gift ideas crafted by local artists. Treat yourself to a unique and quality piece while you're at it. 
Women's Winter Festival & Bazaar ~ Christmas Hafla 2017
St. Andrews on the Square - 159 Seymour Street
Sunday, December 3 at 3pm - 5:30pm
https://www.facebook.com/events/135379850516338/
Bellydancers, exquisite jewelry, crystals and stones, henna art, locally-fermented Kombucha Tea; nail art and facial threading, insightful card readings and so much more.
Spirit of Christmas Train
Kamloops Heritage Railway - 3-510 Lorne Street
December 8, 9, 15, 16 & 19 at 7pm.
December 10 & 17 at 4pm.
http://www.kamrail.com/winter-railtours
Twinkling lights, steam billowing in the brisk evening air, how about a beautiful train ride to delve deeper into the Christmas spirit?
This year, when you book your Spirit of Christmas excursion, you'll get the opportunity to make Christmas a little brighter for some furry friends. Kamloops Heritage Railway and Four Paws Food Bank have collaborated to collect pet necessities during two Sunday matinees on December 10 and 17. KHR will set up an area for guests to snap Christmas photos with pets evacuated during the wildfire season. Donations of pet food and funds will be gratefully accepted.
Pssst: get a sitter for the kids, and check out the special Adults only evening on December 8. Kick off the occasion with cocktails and nibbles at the Citrus restaurant at Double Tree by Hilton Hotel
Welcome Winter Block Party
Victoria Street - Between 3rd & 4th Ave
Saturday, December 9. 12pm – 6pm
https://www.facebook.com/events/132703040724207/
Downtown Kamloops & Brewloops invite you to bundle up and embrace winter with the first ever all-ages Flannel & Frost themed event.  Hot food and drinks. Plenty of craft beers and local wine. Ball hockey with Blazers and Storm alumni. Ornament making workshops. Outdoor seating! Propane heaters! Warm up in downtown shops and restaurants. Check out amazing Welcome Winter specials.
Wildlights Festival
BC Wildlife Park - 9077 Dallas Drive
December 15th, 2017 to January 7th, 2018.  5:00 pm to 9:00 pm (Closed Christmas Day)
Celebrate twenty years of the Wildlights Festival. Marvel at the lights.  Oooh and ah at the laser light show. Wander through the maze. Ride the train. Explore the petting zoo. Cozy up by the bonfire. Laugh with Uncle Chris the Clown.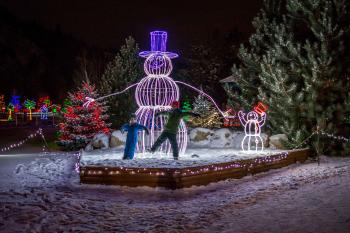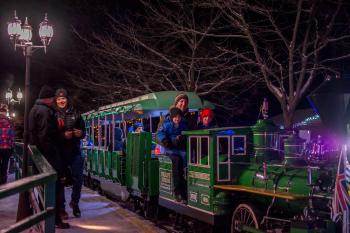 Holiday Kick-Off Weekend
Sun Peaks Resort
December 15 to December 17
https://www.facebook.com/events/1026890714119825/
Even if winter sports aren't your cup of tea—Sun Peaks has so much to offer beyond the slopes. Enjoy lights, live music, ice carvers and festivities galore. Sample maple taffy made right on the snow. Peruse the Artisan Market. Snap a photo with Santa. Stay the weekend, visit for the day.
CP Holiday Train
Downtown Kamloops - Sandman Centre, Lorne Street (north side)
Friday, December 15.  4:45pm
https://www.facebook.com/HolidayTrain/
Ring in the season of giving by helping raise money, food and awareness for the Kamloops Food Bank. The 19th annual Canadian Pacific (CP) Holiday Train features the highly energetic Alan Doyle and The Beautiful Band.
Operation Secret Santa
Centre for Seniors Information - CSI Kamloops. 9A 1800 Tranquille Road
Donations accepted until December 13
https://www.facebook.com/events/138357696782775/
The Centre for Seniors Information (CSI Kamloops) is hosting their annual Secret Santa project for low income, isolated seniors.  Create care packages with shampoo, lotion, soap, razors, socks, coffee, gift cards, kitchen items, scarfs, slippers, gloves, books, coffee mugs, picture frames, manicure sets, large piece puzzles, crossword books and bath products.
Operation Red Nose Kamloops
Volunteering for Operation Red Nose is a great way to spend an evening with friends. Supporting Operation Red Nose helps ensure safety on the roads and creates opportunities for local athletes— (all donations help support local amateur athletes through travel grants, use of specialty equipment and free sport education workshops).
Operation Red Nose has been a staple of holiday road safety for over twenty years. The service not only gets you home safely, but your vehicle as well. There's always a need for designated, escort drivers, navigators, phone operators and dispatchers.
Pick up the volunteer application form at the RCMP Office on Battle Street or at the North Shore Community Policing Office on 7th Street; also available online at www.operationrednose.com or kamloops@operationrednose.com.
Check out all the other Holiday Events happening through November and December below: