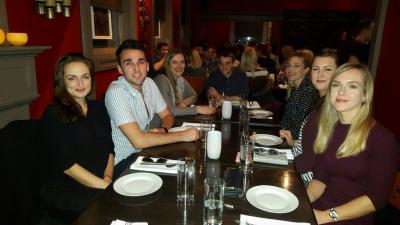 Tourism Kamloops was pleased to help host two large familiarization tours for Rocky Mountaineer this past March.  For the past 4 years, Tourism Kamloops has worked with restauranteurs and hoteliers to host the new Rocky Mountaineer Onboard Staff for a dine-around experience of 14 restaurants located predominantly in the downtown core.  This year Tourism Kamloops was offered the chance to help host 50 of Rocky Mountaineer's Onboard Management team on March 9th, for a 5 restaurant dine-around, as well as 90 of their new Onboard and Station Management staff on March 23rd, for a 14 restaurant dine-around.  In addition to this opportunity, Tourism Kamloops was also able to grow the new Onboard FAM to incorporate more restaurants located in the Aberdeen area of town.  The Rocky Mountaineer Dine-Around FAMs are crucial to the summer season ahead, as they give Rocky Mountaineer's team a chance to experience a sample of the wide variety of restaurants that Kamloops has offer their guests, allowing onboard staff to make detailed recommendations to their guests no matter what the occasion!  All restaurants located in the vicinity of Rocky Mountaineer hotels are invited to participate and are selected on a first come, first serve basis.
Rocky Mountaineer officially kicked off their season on April 19th, and Kamloops can look forward to welcoming their guests and staff into town 6 days a week, Sunday through Friday.
Tourism Kamloops will continue to partner with Rocky Mountaineer throughout their season welcoming Travel Agents, Wholesalers and Travel Media from key markets nationally and internationally.