Is it really Pumpkin Spice season? Man, time flies! Well before the snow starts to fall and the lakes start to freeze, how about heading off for one last weekend fishing excursion, and hey…it's even right in our own backyard.
If you turn right on Paul Lake Road just off the Highway 5 North, follow it up for 16km and you will see Paul Lake Provincial Park on your right hand side. Head on down to the day use parking lot by the lake and grab your fishing gear, where you can either fish off the dock by the boat launch, or launch a small fishing boat in.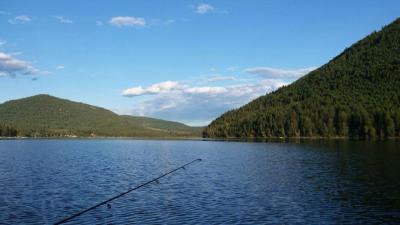 If you are going to go later in the day, make sure you bring a jacket as it does get chilly…definitely made the mistake of not bringing one up there and boy was it cold in flip flops! Fish were jumping left, right and center and not a single bite. But to watch that sun set in behind Gibraltar Rock, sure made the night with my partner in adventure that much nicer and worth every minute!  Gibraltar Rock is also a really nice hike which starts at the end of the parking lot with the most breathtaking views of the lake and mountains.  This hike is also dog friendly (on-leash) and family friendly.  Although we didn't venture up to the top this time, we'll be back next season to conquer! 
After a few hours on the water we decided to have a bite of our own. So we started up a campfire, had a weenie roast and camped under the stars at the Paul Lake campground with layers and layers of blankets. Of course we had a bit of downpour, but that just makes the adventure that much more exciting. As for now, we packed up our boat and fishing rods and will be waiting to go back out as soon as that snow melts!
Michelle
Visitor Information Counsellor