New Year's Eve/New Year's Day
Counting down 2017, gearing up for 2018
New Year's Eve is a time to reflect and recalibrate; look back and look forward in equal measure. It's also a time to dance, feast, cut loose, cut a rug, and stay up way past your bedtime in your prettiest party dress. There's something about New Year's Eve that is so magical, so mythological and so…terribly high-stakes.
There can be a lot of pressure for it to be the best night ever.  Lighten up, it's the only last day of the year! The secret to a successful New Year's? Dinner reservations, cab fare, a party companion and an open heart. 
Call the sitter. Lock down the location. Gather your crew. Make a date for two. Dress to the nines. Go with the flow from there. (Give Operation Red Nose a holler when it's time to head home).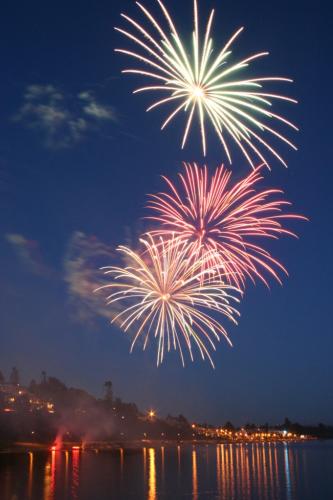 The Coast Kamloops Hotel & Conference Centre - 1250 Rogers Way
Sunday, December 31st at 6 PM - 2 AM
Holiday Buffet by Uptown Chefs. Table Wine. Party Favors. Midnight Champagne.  Music by classic rock band Shattered Blue. 
>>> 
Speakeasy - New Year's Eve Party - 2018
Shark Club - 285 Lorne Street
Sunday, December 31 at 9 PM - 2 AM
Calling all movers, shakers and flappers: this 1920's Costume party promises to be the cat's pyjamas. VIP options. Table service. Dress up. Treat yourself. 
Call (250)852-6700 for VIP reservations.
>>> 
New Year's Eve Around the World
The Noble Pig Brewhouse - 650 Victoria St.
Sunday, December 31 at 6 PM - 10 PM
Experience New Year's Eve traditions from across the globe thought to bring good luck and prosperity. Enjoy a progressive six course custom menu made from local ingredients in their scratch kitchen. 
>>> 
Cascades Casino Kamloops - 1555 Versatile Dr
Sunday, December 31 at 6 PM – 4AM
DJ and live entertainment. Free play to be won. Enjoy a delectable dinner from one of three restaurants. 
http://www.cascadescasinokamloops.com/promotions/happy-year/
>>> 
Sunday, December 31 at 7 PM - 2 AM
Ramada Kamloops - 555 West Columbia Street
Break out the acid washed jeans, leg warmers and shoulder pads and relive the 80's—with Kamloops' own Paisley Groove playing all the classics from the 60's & 70's. (So really, you're covering three decades in one night.) Dinner and drink specials.
>>> 
CJ's New Year's Eve Party 2018
Sunday, December 31 at 10 PM - 4 AM
CJ's Nightclub Kamloops - 130 5th Avenue
Balloon drops. Midnight bubbly. Prizes galore. Music by DJs D!G D33P and Pulse. Dance your a** off until the wee small hours of the morning.
>>> 
New Year's Eve Masquerade Ball
Sunday, December 31 at 10:00PM – 4:00AM
Duchess on Tranquille - 377 Tranquille Rd.
This spectacle is bigger and louder than ever before. Beats by special guest DJ Kyle Mowatt, alongside with house DJ Sam Parrotta. Complimentary champagne at midnight.
>>> 
Sunday, December 31 at 8:00PM - 1:00AM
The Blue Grotto Nightclub - 1-319 Victoria Street
The Younguns will be taking the stage playing all kinds of hits that they have played over their 25 years. Doors open at 8pm. Tickets $15 and available in advance as well. 21+.
>>> 
Volunteers are always needed for Operation Red Nose—especially on New Year's Eve. If you want to get out and about in a fun and creative way—this is going to be a ton of fun. There's always a need for designated, escort drivers, navigators, phone operators and dispatchers.
Pick up the volunteer application form at the RCMP Office on Battle Street or at the North Shore Community Policing Office on 7th Street; also available online at www.operationrednose.com or kamloops@operationrednose.com.
>>> 
New Years Day
January 1, 2018
Maybe it's not about the party, it's about clear minds at sunrise; a new day, a new year, a time to set a resolution or intention. Or maybe it's the quest for the perfect hangover cure. Whether you're looking for some fresh air, exercise, a refreshing dip or the ultimate eggs benedict, greet 2018 on your own terms. It's a brand new year after all.
>>> 
January 1, 2018 at 10:00AM
Kamloops Running Room - 300-1210 Summit Drive. (Columbia Place Shopping Centre)
Start the year off on the right foot with a 5K Run/Walk and a 1K Kids Run. Post-event refreshments. Participants receive a Resolution Run® Jacket.
>>> 
January 1, 2018 at 11:00AM
Riverside Park
Described by a long-time participant as a "ridiculously fun way to start the year"—the annual polar bear swim is one for the bucket list. Take the plunge into the Thompson River. (It's okay to shiver and shriek.) Donations collected for the food bank.
>>> 
Sunday, December 31. 6:00 to 8:30PM
Whether you are a couple or a part of a crowd, or a mix of all ages, a memorable evening awaits you with family friendly festivities aplenty! First Flight Big Air Invitational. Kids Glow Stick Parade. Torchlight Parade. Fireworks. Bundle up and gather near the Sundance Express chairlift, just outside of the Village Day Lodge.
>>> 
—or come up for New Year's Day.
So much more than skiing or snowboarding. Start the year off with a unique adventure. How about Horse Drawn Sleigh Rides, Dog Sled Adventures, Guided Ice Fishing or Cat Trax Groomer Rides?
Or feel free to take it slow. Meander through the village. Linger over a beautiful meal.  Luxuriate in local wine. Treat yourself at the spa.
Be sure to arrange for a safe ride home with Operation Red Nose, take a taxi with Kami Cabs or Yellow Cabs or stay the night at one of Kamloops' many hotels and motels. 
Check out our Holidays Events pg for more events happening to ring in the New Year!