October at the Kamloops Visitor Centre
We had the pleasure of starting October off with the opportunity to design itineraries for a few of the delegates that were here for the International Communities in Bloom Symposium.  These guests had planned a few extra days to explore Kamloops and area.
As you might expect we have lots of inquiries regarding the salmon run every October.  Even though 2015 was a sub-dominate run, we still had people contact us via email, on the phone and at the counter.  Since the viewing area is so close to Kamloops, we encourage these future visitors to stay in Kamloops where they could enjoy our restaurants, attractions and events.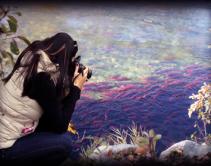 Monica and Ann attended the Visitor Services Network Conference in Vancouver.  This conference gives Visitor Centre managers from across the province the opportunity to hear about Destination BC endeavours, learn about initiatives that other Visitor Centres have tried and it gives Visitor Centre managers a chance to network.  Always an informative event!
Hooray! Marie is back!  Marie is a grade 10 student who volunteers one afternoon a week with us.  She began volunteering at the Kamloops Visitor Centre in grade 9 and we look forward to her assistance each week.  She has helped us to prepare thousands of welcome packages for conferences and teams, assisted with inventory counts of brochures and in our gift shop and has completed a number of data input projects.  Welcome back Marie!!