Let's be honest. We've all made, and then promptly abandoned, New Year's resolutions. Declarations are announced with midnight champagne still coursing through our bloodstream. But the "New Year, New You" promises can easily evaporate somewhere around the 3rd of January—and then it's a downward spiral until 365 or so days later, when we make the exact same vague promises. (Sound familiar?)
While we are all keen to embrace that fresh start, sometimes we need to be more specific, or give ourselves a more generous timeline. (Or make the resolutions an exercise in pleasure and relaxation.) Spend a delicious 90 minutes soaking at the Bliss Float Centre, splash out on a spa treatment at Sunmore Ginseng Health Spa, or take in some Night Skiing or tubing at Harper Mountain or meet up at Overlander Ski Club for a cross-country skiing or snowshoeing expedition.
Explore the community, stretch your muscles, expand your mind, embrace change and a sense of renewal with this list of workshops, classes and happenings centered around wellness and fitness. Gather some friends—or go it alone—and give yourself the gift of fulfilling, uplifting and nourishing experiences.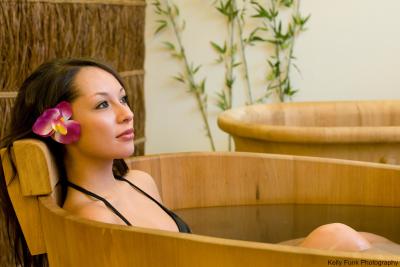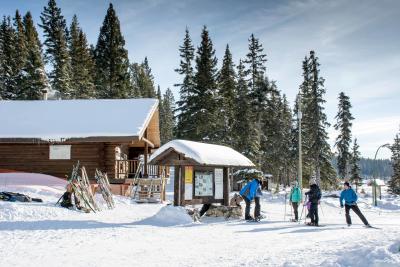 Saturday, January 6. 11 AM - 2 PM
The Happyness Center - #203 - 242 Victoria Street
Hosted by Yoga with Yvette.
Learn about Mandalas, create your own, discover advanced techniques to continue making them at home, understand how to use them for at-home meditation. Set an intention that will be worked into your personal mandala.
Sunday, January 7, 2018. 7 PM - 9 PM
Kamloops Hot Yoga - 6 - 953 Laval Crescent
Relish in a restorative style class with the complement of Reiki, a gentle, hands-on healing technique used for stress reduction and health. This two-hour class will be held in an unheated room.
Tuesday, January 9, 2018. 6 PM - 7 PM
Iron Road Brewing - 980 Camosun Crescent.
Join Mollie Sommer Wellness in the brewery for an hour-long yoga session, followed by a beer in the taproom. No experience needed, this practice is easy, fun and accessible—be sure to BYOYM (bring your own yoga mat).
Saturday, January 13, 2018 at 6:30 PM - 8:30 PM
Let's Move Studio - 831 Victoria Street
Hosted by Angie Edgson Yoga, this cozy event creates an upward moving cycle of growth, wellbeing and intention setting for 2018.  Combining stillness, breath exercises and simple yoga postures with live crystal bowl sounds, the session promises to refine, empower and clarify the starting points for this year.
Saturday, January 13, 2018 at 9 AM - 7 PM
BARRE Kamloops - 103-150 Victoria Street
A mix of Pilates, yoga and ballet, Barre classes offer major results from the most precise movements. take on this fun challenge to combat winter blues and get in the swing of things with your fitness routine. Loads of fun mini-challenges to liven up the process!
Saturday, January 13, 2018 at 6 AM - 9 PM
Kamloops Hot Yoga - 6 - 953 Laval Crescent
Take your yoga practice to a new level by participating 30 days in a row (or every day for 60 days with one day off per week). Enjoy health benefits like increased quality of sleep, reduced stress and anxiety. Participants receive a welcome package, a place on the the sticker tracking board and are entered in weekly prize draws.
Rogers Hometown Hockey – Kamloops
Saturday, January 13 & Sunday, January 14, 2018
Sandman Centre - 300 Lorne Street
Expect a great weekend of free, fun and family friendly hockey-related activities and NHL Alumni appearances as fun Rogers Hometown Hockey makes its way to Kamloops. Join Ron MacLean and Tara Slone for their Sunday, January 14th broadcast. Celebrate the hockey history and culture that put Kamloops on Canada's hockey map. Stay for the Vancouver Canucks vs Minnesota Wild game.
For more information, check out www.hometownhockey.com.
Emotional Intelligence Workshop
Saturday, January 20. 12 PM - 1:30 PM
Karin A. Haemmerle will facilitate this healing program that explores emotional intelligence to effectively change stagnant ways of thinking and behavior to achieve positive results.  Participants can develop a respectful awareness of their emotions, assert control of emotions and channel them constructively. Following this intensive program, participants will receive a link to the recording of the meditation healing for downloading, imbedded with healing frequencies that will continue to work on you in the future.
Saturday, January 20, 2018. 9 AM - 6 PM
The Happyness Center - #203 - 242 Victoria Street
Mollie Sommer Wellness presents a day retreat that explores being receptive to life's blessings and opportunities. Learn to go with the flow and understand what happens when you resist. This retreat will leave you feeling at peace and open to the universal flow of life. The workshop includes two Intentionally sequenced yoga classes and two guided meditations; all participants receive a journal.
Sunday, January 21, 2018. 1 PM - 3 PM
Kamloops Hot Yoga - #6 - 953 Laval Crescent
Leilani will lead you through a room temperature restorative class that will relax your body and mind. Rose will offer a therapeutic touch inspired by her healing studies in Varkala, Cordillera and Haida Gwaii with locally made body oils and balms.
Sunshine Sunday with Katrina Ariel
Sunday, January 21. 1:30pm-3:30pm
Yoga Loft - 201-409 Seymour Street
Indulge in a delicious, full-spectrum yoga practice that includes an active asana session, a restorative finish, some pranayama and meditation. All levels welcome, modifications and variations will be offered.
Sunday, January 28, 2018. 1 PM - 4 PM
Yoga Loft - 201-409 Seymour Street
This workshop includes an active and restorative yoga and breathing practice taught through a trauma-informed lens, with a short lecture about healing, and the creation of safer spaces.