Searching for a new restaurant in Kamloops where you can make yourself a regular?  Search no further!  A few weeks ago my wife and I, together with a friend, visited the Painted Pony Café on Victoria Street.  We're in love!!!  From charming ambience, to friendly and efficient staff, and let us not forget the food. . . The food!  While our friend indulged in a Pony favourite, Indian tacos, my wife and I each chose one of the featured bannock sandwiches – pulled pork and salmon.  The Indian tacos are filled with house made chilli, cheese, fresh shredded lettuce, diced tomatoes, green peppers, onions, sour cream, and fresh salsa, served a top warm, golden bannock.  The sandwiches were equally phenomenal – slow roasted shredded pork with the house BBQ sauce and coleslaw for me, salmon, fresh lettuce, and the incredible caper mayo for my wife.  And with both, the bannock!!!  Crispy and golden on the outside, soft and warm on the inside.  Truly, a delight!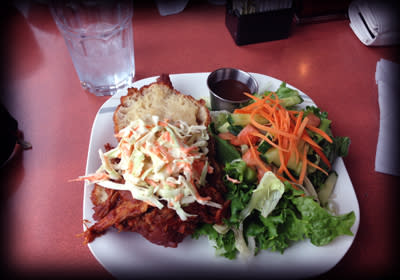 The menu features proteins ranging from chicken, salmon and beef, to elk, deer, bison, and quail, and an assortment of unique choices for breakfast, lunch, and dinner.  Among others, desserts include Indian ice cream, bannock pudding, and pies by the slice, made in house by Grannie.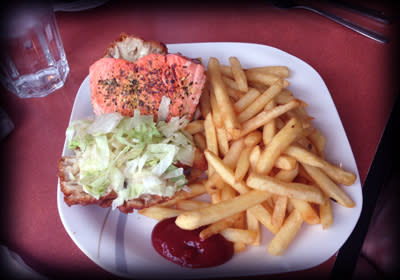 It's high time First Nations cuisine made its way to Kamloops, and the Painted Pony does not disappoint!  Whether you're out for a Sunday drive, looking for a new culinary experience, or need to know what all the fuss is about, visit the Painted Pony Café at 705 Victoria Street, Monday-Saturday 9:00am-9:00pm, Sundays 10:00am-2:00pm.     
~Kirstin McLaughlin