If you're lucky enough to call Kamloops home—or planning a trip for the future—you may not know that this town is one giant mountain bike playground. Kamloops has long been known for its massive jumps and intense freestyle terrain—and it still is for the expert riders—but more recently it has placed itself on the map as an accessible destination for bikers just starting out, too. It's why Ted Morton—an avid mountain biker, trail building advocate, bike instructor, and former operator of the Canadian and BC Enduro Series—has chosen to plant his roots here. We caught up with Ted as he dished out top areas and trails to ride for those who are newer to the sport as well as folks looking to advance in Kamloops.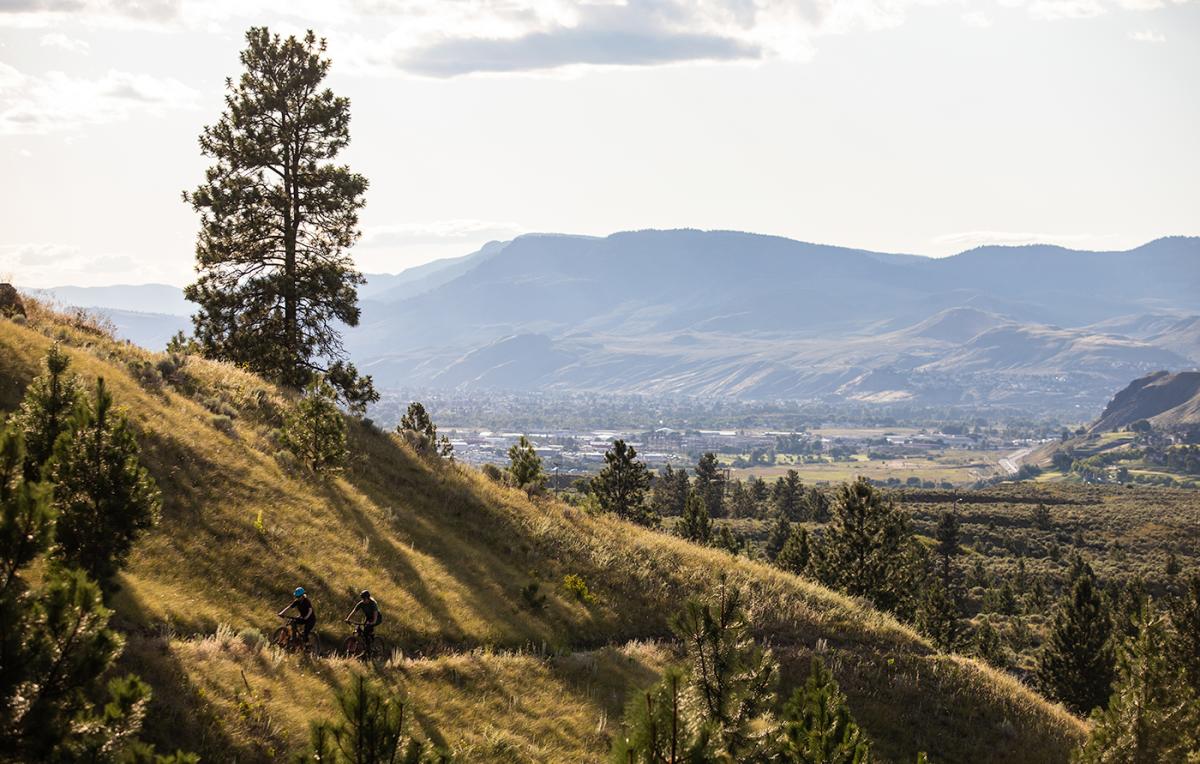 Enduro + Cross-Country Rides
The Lac Du Bois Grasslands (a.k.a. Bachelor to the locals) is the place to go for laps on gentle green and blue trails such as Arizona and Tower Classic. This area is also the first to dry up after winter, making it the ideal place to go for spring rides. The multi-use trail network here means friends or family who would prefer to run or hike while you work on your biking skills can tag along, too.
For more cross-country riding, bikers can explore more than 40 km of trails in Kenna Cartwright Nature Park accessing a range of green and blue trails. Panoramic views and flowy trails await including Upper Dog Daws, West Vista, and Big Pine. Just across the road is the new KBRA Kids Zone at Dufferin Park for family-friendly riding to practice skills and get an intro to the sport.
For a little tougher cross-country riding, explore 60 km (37 mi) of trails directly from the front door or car park in Pineview. Beginners can park at the Iron Mask & Pineview Parking area (off Lac Le Jeune Road) for easy access to a web of green and blue trails that weave through grasslands and over rolling hills. As you get more comfortable and in search of something a bit more aggressive, riders can connect to a larger network of intermediate trails via High Iron into the eastern side of the Pineview. Don't miss riding one of Ted's all-time favourites, Mike's trail, to flow down a wide and non-technical descent. Both east trails and west trails are currently closed, look for updates on the KPCC Facebook page for spring 2022 open dates.
Downhill Thrills
If your tires are pumped for the thrill of downhill riding, head to the Kamloops Bike Ranch—Canada's largest municipal bike park—to hone your skills as you progress to more advanced trails. Get started on cruisy downhill trails like the pump track, True Grit, or Three Amigos. You'll also find a slew of additional fast and flowing downhill tracks, tight berms, and intermediate jumps to up the ante on your mountain biking progression. If you're ready for more gravity-focused adventure, Harper Mountain is a go-to area for downhill rides. Here, you can shuttle up the mountain (i.e., loading bikes into a truck bed or onto a bike rack, driving to the top, and leaving one vehicle at the bottom) or tackle the gentle 8-km (5-mi) Ket-R-Done climbing trail to the summit. From here, ride 3,000 metres (9,800 feet) of rolling singletrack on T.E.A Time—built in part by Ted himself—into Tempus Fugit for a long, flowing top-to-bottom descent. On a hot summer day, cool off with a dip in Paul Lake after your ride.
The number of easy, flowing trails across mellow terrain has only grown over the last few years in Kamloops. As more locals pick up the sport and explore their own backyard, Kamloops will solidify its rank as one of the best places in BC to ride for those new to mountain biking and long-time riders alike.
When out riding, here are a few tips Ted has helped prepare for newer riders to feel comfortable in the saddle.