On March 5th, 2016 Tourism Kamloops partnered with Tourism Sun Peaks and Silver Star Mountain Resort in Seattle for the 26th annual Seattle Bike Show. New for this year, Seattle Bike Show partnered with Northwest Outdoor Recreation Festival. This partnership attracted a wide variety of dedicated bike enthusiasts and consumers from the Pacific Northwest region who had a keen interest in bike products, attractions and destinations.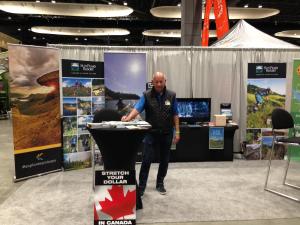 Our partnership established a six day, five night bike friendly package giveaway which included: two nights stay for two in Kamloops, Sun Peaks Mountain Resort and Silver Star Mountain Resort with bike rentals and passes to Silver Star Mountain Resort and Sun Peaks Mountain Resort. Our goal was to bring consumer awareness to the diversity and premium bike product that all of our regions offer.
Throughout the weekend, we spoke with a large number of people who were excited to learn about family activities in Kamloops. However, the majority of people we talked to wanted to learn more about our bike trail networks and "bike friendly" hotel properties.
Overall, we saw value in attending the Seattle show. We will likely attend next year, especially if the exchange rate remains beneficial for American's to travel to Canada.