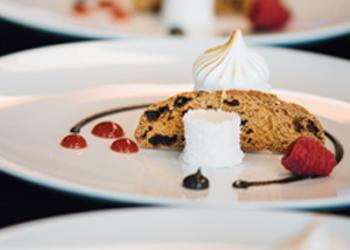 November has arrived and December's holiday traditions will soon be here. Now's the perfect time to get out and enjoy some unique flavours of the upcoming winter season at some of Kamloops' local eateries. Date night, family outings and celebrating with friends – you're sure to have a scrumptious time no matter what!
The Commodore Grand Café & Lounge
In case you were unaware, The Commodore has an electric menu served at both lunch and dinner. Have a savoury or sweet tooth? Either way their Fondues will definitely satisfy your cravings! How do these sound: beer and cheddar fondue, turtle chocolate fondue… yup we're hungry too. Here's a couple samples of what you can be indulging in:
Beer & Cheddar Fondue
Aged cheddar, jack cheese, lager, garlic & seasonings. 
Served with bread, vegetables & apples.
Turtle Chocolate Fondue
Lindt milk chocolate with caramel & chopped walnuts. 
Served with brownies, cheesecake, fruit and berries.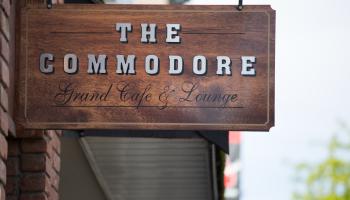 Make a reservation at 250-851-3100 and be sure to check out their dinner menu for more fondue features!
Noble Pig Brewhouse
We all know and love the Noble Pig for their amazing micro brews and their scratch kitchen. Well, they have officially begun their highly anticipated Spiked Pig Dinner Series for 2017/2018 where you can enjoy a 5-course menu with each course being paired with one of their craft beers. Mark your calendars for November 26th for their next dinner: "Across the Americas" … very intriguing. With only 40 tickets sold for each themed dinner, you best book fast! Keep an eye on their Facebook page for their monthly dinners including a New Years Eve Spiked Pig Dinner.

Now close your eyes and think back to how amazing their Christmas Ale tasted. Good, right? Yah we know! Well early December, it's coming back and it's been conditioning for over two months so you know it's going to be A-MAZ-ING!
Want to bring the flavours of the Noble Pig to your house say like a Beertini? Head to the Pig, fill up your growler and check out this fun recipe to share with your friends and family this holiday season! Guaranteed life of the party (don't officially quote us on that though).
Beertini
Mocha Porter with ½ oz of Vanilla Stoli and ½ oz of Espresso Vodka
The Art We Are
We know the fall colours are now covered in white fluffy stuff, but that doesn't mean we still can't indulge and enjoy the flavours of pumpkin! Come on you know you wish it could stay year-round. The Art We Are has brought their Pumpkin Maple Turmeric Latte to the table and it's a must, just read the ingredients!
Pumpkin Maple Turmeric Latte
Homemade syrup with canned pumpkin & real maple syrup, brown sugar, spices & a dash of turmeric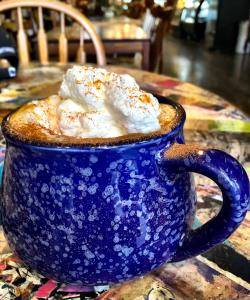 We won't say we told you so, but…
Terra Restaurant
Not quite sure what to get the foodie on your Christmas list or just looking for a fun evening out for 2018? Terra Restaurant has released their winter lineup of cooking classes and they sound absolutely divine! The classes run from 9:00AM to noon, $75 per class. Here's a little teaser of what the first three look like… you'll have to visit their Facebook page for the rest.
January 20 – Foundations 1
January 27 – Power Vegetables
February 3 – For the Love of Food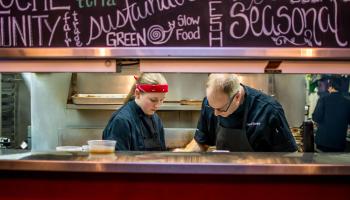 Call 250-374-2913 or email restaurantterra@gmail.com to book today.
Brownstone Restaurant
When you combine your cooking skills, a 5 course meal and a themed night, you get... Brownstone Restaurant! BC Living Arts brings a theatrical and fun atmosphere to your dinner night out. There are still a few tickets left for their November 19th Hell's Kitchen, so book now! Don't tell us you never wanted to be on the real show with Gordon Ramsay.
January – Game of Thrones
March – Oscar Night
May – Mother's Day 'High Tea'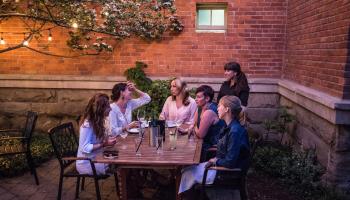 Call 250-851-9939 to get your tickets today.
Brown's Socialhouse
If you haven't experienced the flavours at the trendy Brown's Socialhouse yet, you best get in there. They have created an Espresso Martini and it's "dessert in a glass" – honest, we don't kid around when it comes to coffee. This is sure to send your taste buds screaming for more.
Espresso Martini
Van Gogh Espresso Vodka, Baileys and Coffee Reduction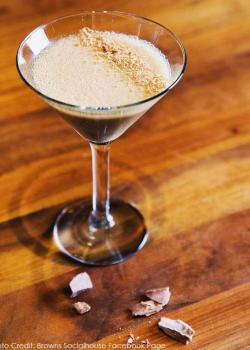 Visit their Facebook page for more yummy eats!
Feeling hungry? Check out more delicious ideas!