One's sense of adventure might be boundless, but if mobility is limited, the outside world might feel rife with frustrating and discouraging obstacles. Recently, the City of Kamloops and Accessibility Kamloops collaborated with the YMCA/YWCA, the Kamloops Arts Council, the John Howard Society, the White Cane Society, Brocklehurst Middle School and the Children's Therapy and Family Resource Centre to host accessible and inclusive events and programming opportunities that spanned citywide. The collective efforts of Access 4 All Week draw attention to the barriers those with limited physical abilities face on a day to day basis, especially when trying to participate in activities or access amenities.
The week concludes with the official re-opening of the newly accessible Grasslands Loop in Peterson Creek. Set for Friday, June 16 from 11:00 am-1:00 pm.
The loop, based at the entrance near Whiteshield Crescent in Sahali, was made possible by a grant from the Rick Hansen Foundation.  The celebration features speakers and special guests, including an ambassador from the Rick Hansen Foundation, as well as adaptive equipment rides, a community-led Canada 150 art project, and refreshments (which you'll need after laps around the trail!)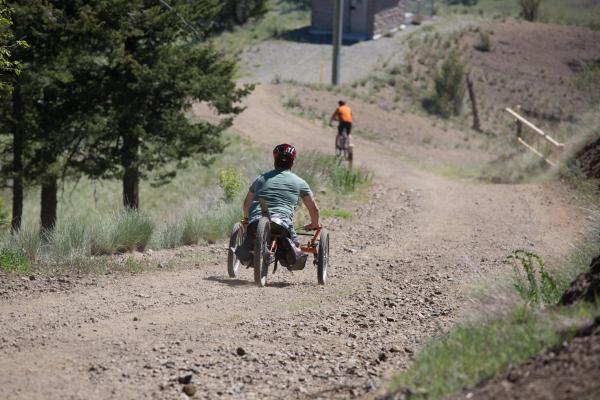 In the spirit of Access 4 All Week, which runs from June 12-16, Tourism Kamloops compiled a list of accessible hotspots for locals and holidaymakers wanting to explore Kamloops and surrounding regions on their own terms and at their own pace. 
Jessica Vliegenthart, board member of the Kamloops Adaptive Sports Association—an organization that provides accessible options to sports such as tennis, basketball, cycling, yoga, and curling—shared some of her favorite places and experiences.
* Kamloops Adapted Sports & Sun Peaks Adaptive Sports (Two Chapters). "An outstanding organization, they make winter sporting an accessible experience for the whole family."
* Wildlife Park. "Ramps leading to every exhibit and you can even get on the train."
* Tournament Capital Centre. "Lifts are available to help you get into the pool"
* Riverside Park. "Any city park will have accessibility to suit all needs."
* Rivers Trail.  "The most easily accessible entryway of the 40-kilometre pathway is where the paved trail meets Royal Avenue. Lots of parking and close to McArthur Island Park, which is a nice walking/ wheeling loop.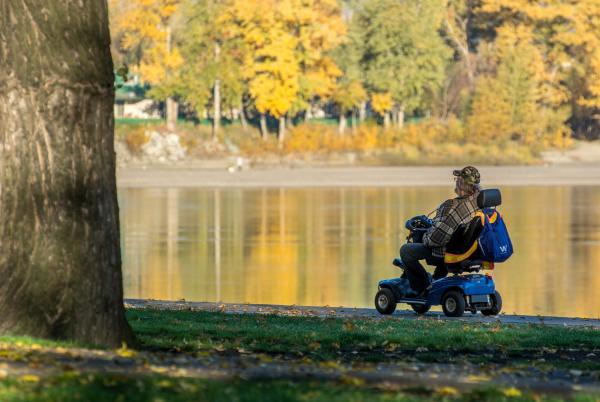 * Kamloops Art Gallery. "Not only is the space accessible, they have a wheelchair available at Admissions desk for use in the galleries".
* Adams River Salmon Run. "There is an accessible trail through forest areas in Roderick Haig-Brown Provincial Park; it's over 300 metres long and runs from the parking lot to a viewing platform near the river's edge".
* Isobel Lake. "Offers a three-kilometer wheelchair accessible trail surrounding the lake"
* Western Canada Theatre. Both the Pavilion and Sagebrush Theatre are wheelchair friendly. Connect with the Kamloops Live! Box Office to book.
* Kamloops Wine Trail. "Winery and tasting rooms are wheelchair friendly."   
* Sandman Centre. Accessible Seating: "Very accessible and accommodating space, the arena has 32 wheelchair and attendant spots available."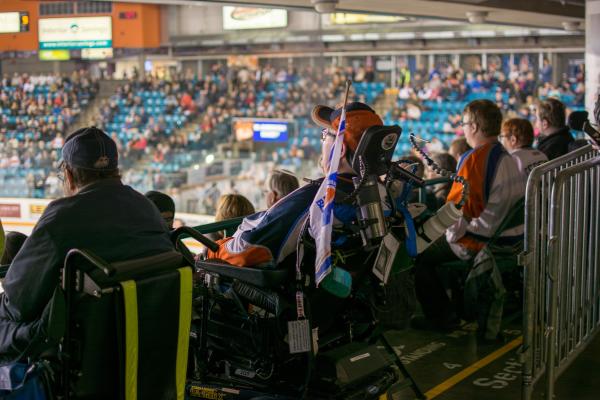 * Kamloops Heritage Railway. "With advance bookings, KHR can use Rocky Mountaineer's lifts during the summer season."  
For more information about Kamloops Adapted Sport Association, refer to the website: http://kamloopsadaptedsport.com/
For more information,  Contact Accessible Kamloops http://www.kamloops.ca/access/accessinfo.shtml
Phone (250) 828-3582 or email access@kamloops.ca
Fully Accessible Accommodations in Kamloops
Best Western Plus Kamloops Hotel
Email
Website
Four Points Sheraton
Email
Website
Hampton Inn By Hilton Kamloops
1245 Rogers Way, Kamloops
P: 1-250-571-7897
Email
Website
Holiday Inn Express Kamloops
Website
Hotel Five540Forty Downtown
540 Victoria St, Kamloops, BC
P: 1-250-372-2281
Website
Super 8 Motel Kamloops
1521 Hugh Allan Dr, Kamloops, BC
P:1-250-374-8688