1. Accessible
In the same way that Netflix changed the way we watch TV and movies, the internet has changed the way we travel. It's no secret how people source travel information, select travel destinations and what they are looking for in terms of visitor services has changed. The traditional bricks and mortar visitor centre has become largely ineffective and increasingly expensive to maintain.
Honest conversations and open engagement led to this evolution and the need to change the way we approach visitor services. Tourism Kamloops reflected on each meaningful interaction at the Visitor Centre and it became very clear to truly accommodate and facilitate exceptional visitor experiences, our visitor servicing team needs to be where the visitors are.
2. Innovative
Just because the way people are travelling has changed does not mean that visitor servicing is going away, but rather we must adapt and do things differently. We are excited to take an innovative, new approach to offer visitors the services they want in a manner that is easily accessible and highly personalized.  
Reimagining our traditional visitor services approach to focus on a mobile, on-location model fits best for Kamloops. This vision was made possible with a new partnership with Rivershore Ram. Our newly branded Jeep and trailer is our home base for our BOLD Street Team and an ever-present force in the city during official, and unofficial community events.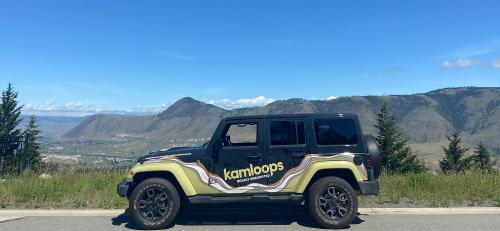 Tourism Kamloops has also prioritized the digital visitor experience, a very important part of visitor servicing pre, during, and post-visit. We have invested in chatbot technology, provided an always-on approach to visitor communications through our social channels, and are able to deliver information in the moment using the Tourism Kamloops website, our robust online events calendar, and Google to inform visitors.
Ensuring remarkable visitor experiences requires accessibility and timeliness. The invigorated approach immerses our BOLD Street Team into the overall visitor experience to inspire boldly unscripted adventures in real-time.
3. Cutting Edge
Destination British Columbia and Destination Canada research notes that traffic to traditional visitor centres across the province and country has steadily decreased over the last several years. Visitor engagement teams allow us to surprise and delight travelers in new ways – and stand out. Many Destination Organizations across Western Canada are seeing great success engaging visitors in this way. We are drawing upon their experiences to help set the stage for Kamloops. 
Experience-based tourism is key for capturing repeat travelers and influencing positive reviews. Our new approach puts community connection at the forefront. We want visitors to meet locals and connect. We also encourage locals to share their stories, passions, and what they love most about Kamloops with visitors.
Our reinvigorated visitor servicing model allows us to do this even better – being in the community best serves our partners, our visitors, and our residents.
4. Community Involvement
Being in the community ensures we are where our visitors are rather than asking them to find us. Attending community events and being present in popular Kamloops locations will allow us to provide effective and timely support.
We've teamed up with The CAP (Customer Care and Patrol) Team and the Kamloops Mounted Patrol to extend ambassadorship throughout the city and amplify our visitor engagement.
We encourage residents to volunteer for our BOLD Street Team providing support at local events or on an ongoing basis. If you are interested, please let us know!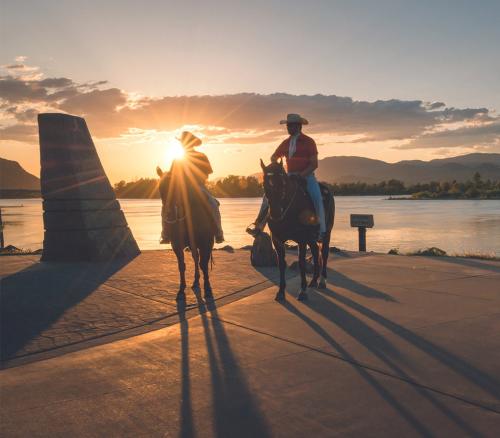 5. Luv'n The Loops
Our popular resident campaign, Luv'n the Loops, is returning. Luv'n the Loops 2.0 will launch July 1, 2020, with lots of new and exciting opportunities to tour, engage, and participate as locals. Embracing a digital-first approach, an online passport will inspire and incentivize residents to explore our city like never before. And as travel restrictions lift, visitors will look to uncover local hot spots to truly have a local experience.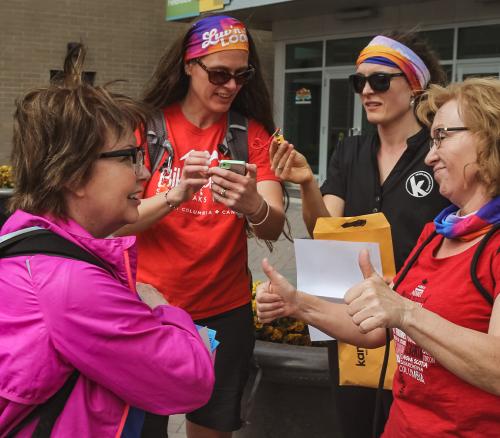 These are just a few of the reasons to hit the streets! This evolution allows us to better serve our visitors ensuring positive experiences and inspiring repeat travel.  In addition, we get to support our residents and work collectively to deliver heartfelt ambassadorship and to advocate for an industry that is a key economic driver for Kamloops and enhances and elevates resident lifestyles.