In June 2020, Tourism Kamloops's BOLD Street Team launched its first season of operations throughout the Kamloops area.
The BOLD Street Team works remotely at prominent visitor locations operating our pop-up, mobile visitor centre to elevate the Kamloops visitor experience. The BOLD Street Team expertly delivers visitor services by providing maps, directions, brochures, and local recommendations to in-destination visitors.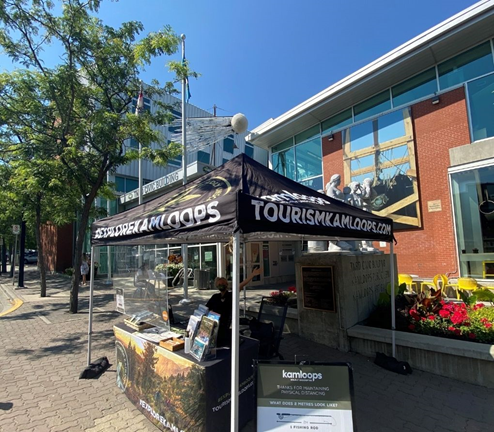 Who is the BOLD Street Team?
Our team is comprised of 12 volunteers and 3 seasonal staff – made possible through the Canada Summer Jobs grant. All BOLD Street Team members complete two sets of training – SuperHost Destination Ambassador & Foundations of Service Quality. Our team is equipped with the knowledge, tools, and personal expertise to create remarkable experiences, deliver exceptional visitor service, and support Kamloops' visitor economy.
What Does the BOLD Street Team Do?
The BOLD Street Team supports Kamloops visitors by answering tourism inquires before, during, and after their trip to Kamloops. We respond to texts, calls, emails, comments and messages on social media, as well as in-person requests during pop-ups.
In 2019, Tourism Kamloops 'adopted' the Tower Trail in Kenna Cartwright Nature Park. Our team cleaned up the Tower Trail this season pulling invasive weeds and picking up litter. We continuously support accommodation and attraction partners with proactive check-ins to ensure they have the resources to help their guests. This might include tear maps, trail guides, and the 2020 Kamloops Visitor Guide.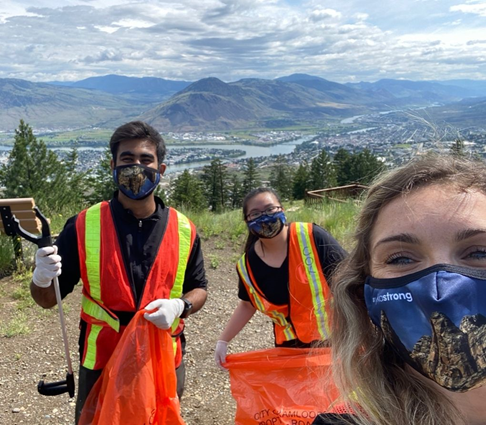 Where Does Kamloops Rank with Visitor Services?
Tourism Kamloops' transition from a brick and mortar visitor centre to an innovative and BOLD Street Team has been highly successful – even amidst a pandemic. Statistics collected in July and August benchmarking Kamloops against other communities in British Columbia demonstrate top performance.
July & August Snapshot for Kamloops Visitor Services:
19 unique pop-up locations including farmers' markets, cultural attractions, nature parks, and wineries
1,464 face-to-face interactions with visitors

Kamloops' BOLD Street Team assisted 10 visitors per hour
Average BC visitor centre assisted 8 visitors per hour
Average Thompson-Okanagan visitor centre assisted 11 visitors per hour

137 emails responded to about trip-planning.

​Average BC visitor centre in BC responded to 52 emails
Average Thompson-Okanagan visitor centre responded to 42 emails

221 phone calls answered about in-destination directions, events, and local recommendations

The average BC visitor centre answered 109 phone calls
The average Thompson-Okanagan visitor centre answered 117 phone calls
The busiest locations for visitor interactions this summer:
Kamloops Regional Farmers Market
Kenna Cartwright Nature Park
Kamloops Art Gallery
Kweseltken Farmer & Artisan Market
Generally, the top visitor demographics are:
Young families from Fraser Valley
Millennial couples from Lower Mainland
Families and retired couples from Calgary & Edmonton areas
What's Next for the BOLD Street Team?
This fall, the BOLD Street Team is available seven days per week via phone, email, and through @LuvntheLoops on Facebook & Instagram accounts. Our pop-ups will continue at the Kamloops Regional Farmers Market on Saturdays, as well as the Kweseltken Farmer & Artisan Market on Sundays.
For more information about the BOLD Street's Teams fall operations & projects, please visit their page here.