While people are staying home, it's important that we find ways to stay connected with one another. People are consuming more digital media than ever before and this is a great time for you to get your feet wet and share live content on Facebook and Instagram. From showcasing your behind the scenes process, interviewing your staff, or teaching a new skill there are plenty of things your audience will find interesting.
What are live videos?
Live videos are videos that are broadcast in real-time and are available through your Facebook page or Instagram Stories.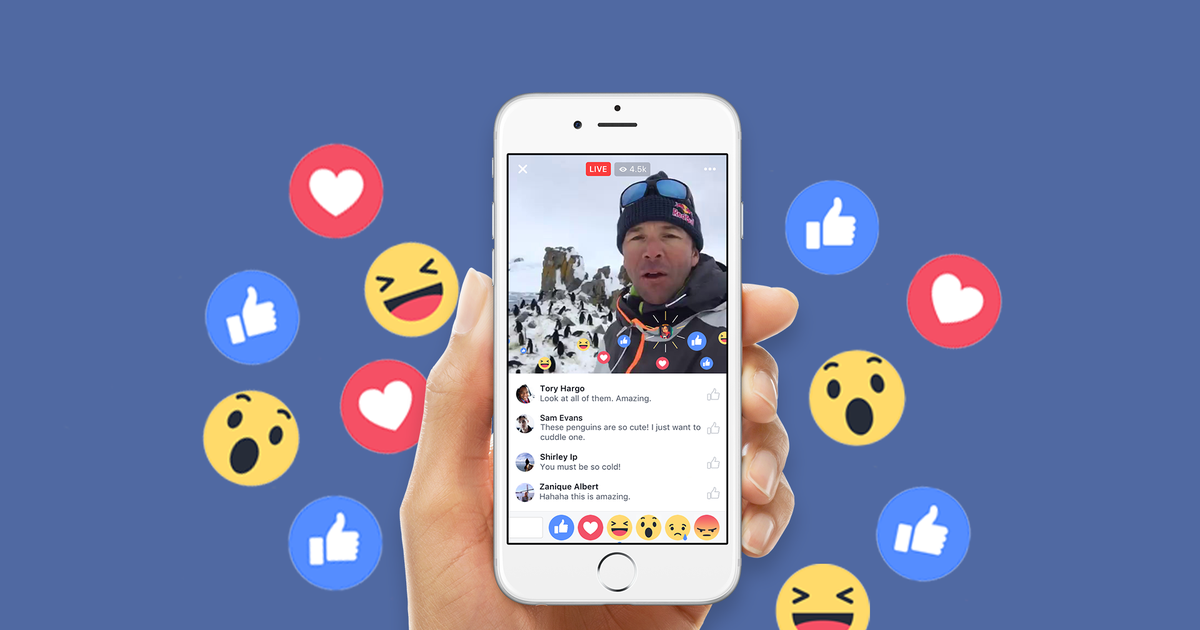 Image source: mashable.com

Why use them?
Facebook and Instagram both offer live streaming options. Instagram live videos are available for 24 hours only, while Facebook live videos remain on your Facebook page indefinitely once you publish the video.
Facebook and Instagram prioritize content posted within their own channels, amplifying the content to reach a larger audience.
Followers are often notified when a page goes live which allows them to tune in, ask questions, get answers live, and engage.
This allows you to broadcast and engage with a larger, more engaged audience.
It's an authentic, unpolished, and real way to connect with your followers and fans.
How-To Go Live on Facebook
Open the Facebook app on your mobile phone.
Go to your business page and tap post.
Tap 'Go Live'
Add a compelling description of your video.
Add details: Tag others, add a location, or add a feeling.
Tap the three dots icon on the top right, then tap Audience Restrictions

Choose the audience for your video based on age, gender, and location (if needed)

Go back and tap 'Start Live Video'
Tap Finish to end the live video.
Choose whether to Save, Share, or Delete the live video. We recommend sharing it to your page.
How-To Go Live on Instagram Stories
Open the Instagram app on your mobile phone.
Tap the camera icon in the top left corner of the feed.
Scroll to Live at the bottom of the screen, then tap the middle record button.
Your live video should begin.
Once your video is finished, hit End at the top right corner and then End Now.
You'll be given the option to Share to Story or Delete Video. We recommend sharing to your story.
Instagram Stories only last 24 hours.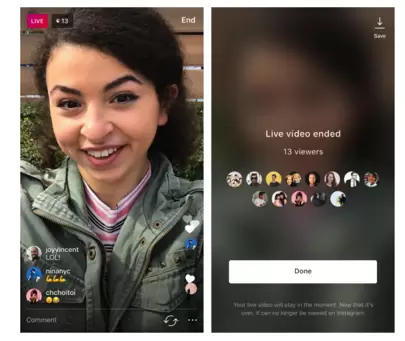 Image source: Wired UK
Best Practices for Live Video:
Have a plan for your live video.
Respond to questions live, or go into the comment section after going live and reply to questions or like comments.
Before going live, notify followers in advance with a teaser post on Facebook and other networks.
Check your internet connection/mobile data and equipment.
Write a compelling description of your video.
Ideas for Tourism Businesses
Behind the scenes
Share a behind the scenes tour through your restaurant, kitchen, or brew tanks.
Share the back story behind your brand, the name of a drink or dish
Share a tour of the experience, a walkthrough of the gallery, backshop, vineyard, or backstage
Share behind the scenes experiences
Interviews and Q&As
Interview the brewmaster, head chef, star employee, winemaker, etc.
Interview the tour guide, zookeeper, owners
Interview the artist, performers, director, or curator
Teach something
Live stream a cooking class featuring your signature dish
Show the process of making something: signature bread, cheese, cider or wine
Live stream a drawing or painting class
Make and share the recipe for a signature cocktail or drink
Live stream a dance class.
Share
Share live performances from the comfort of your home
Share the view from a signature tee box, restaurant patio, or tasting room
Share the sunrise or sunset over the greens, vineyards, or from the trails.
Share your new releases and exciting news live.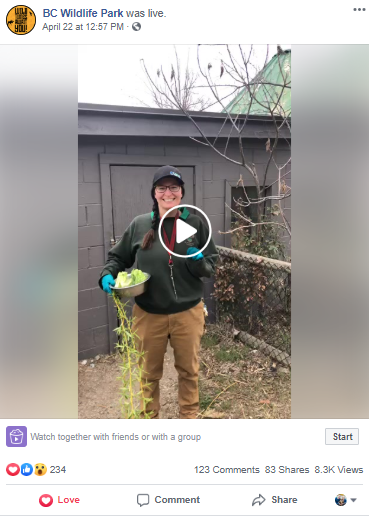 Examples of Live Videos
Zookeeper Feed Talks with the BC Wildlife Park teaches viewers about the various animals that live in the park. Viewers can interact and ask the zookeeper questions live. 
Grist Mill and Gardens in Keremeos has taught viewers how to make homemade ginger ale or puff pastries, taken viewers behind the scenes to see baby chicks, taken viewers on virtual tours of the property and shared the history and stories.
Virtual Wine Tastings with the Kamloops Wine Trail. 
Other resources:
https://blog.hootsuite.com/facebook-live-video/