"If I were you, I'd meet here!"
Tourism Kamloops has a rockstar team leading our meeting sales and inspiring groups and businesses to consider Kamloops for their next business event. Get to know who our team is and what they have been up to over the last 6 months.

Who is the Meet in Kamloops team?
The Meet In Kamloops team consists of Roxanne Kennedy in a lead role,  and Archana Natha in a supporting role. Roxanne is the Founder & CEO of Boom Business Solutions, and the former Business Development Strategist for Tourism Kamloops. During the Pandemic, her role was eliminated and she started Boom Business Solutions, where she has been kicking butt & taking names ever since! Boom Business Solutions is a Digital Marketing and virtual assistance agency designed to help small business, entrepreneurs and local organizations with tasks their  internal team does not have capacity to do. Boom has been contracted to take care of Meeting Sales on behalf of Tourism Kamloops, as Tourism Kamloops has been the recipient of the Business Event Restart funding from the province of BC since April 2022.
Archana comes to Boom with a background in hotel sales, specifically in booking groups and servicing the finer details of meetings & conferences. She resides in North Vancouver, and has spent almost 15 years working in the Vancouver Hotel market, so she is a great advocate for our hotel & venue partners, having been in their shoes.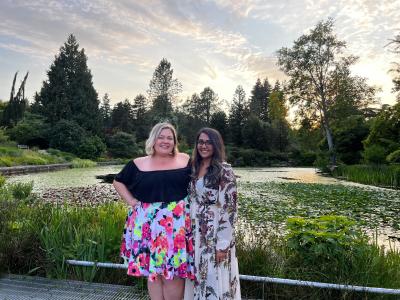 What has the #MeetInKamloops team been up to?
We've been attending trade shows and events, showcasing Kamloops as a meeting destination. Our goal at these events is to engage with Meeting Planners & Executive Assistants who are booking conferences, annual meetings, board meetings, corporate retreats, etc.
A highlight of our past & upcoming events:
March 15 & 16: Northwest Event Show
Roxanne traveled down to Seattle to attend this 2 day event with approximately 30 corporate & association meeting planners, from across the Pacific Northwest.
April 17 & 18:  The Venue Series
Roxanne attended in Kelowna, with Archana joining her in Vancouver, to represent Kamloops. A combined 90 meeting planners attended from various corporations, associations and professional conference organizers. This event is a speed-dating style, where we are given 5 minutes with 2-3 planners to speak specifically about Kamloops, and the types of meetings or events that each person plans.
May 16: PCMA West in Vancouver
Archana attended in downtown Vancouver, with approximately 10 local meeting planners. This is a new series of events, showcasing new venues in Vancouver..
June 21: MPI BC Gala
Both Roxanne & Archana attended MPI's June Gala, the main event that MPI hosts  in Vancouver each year. The annual awards are given out, and there is a chance to network with planners & suppliers from across British Columbia.
July 14-17: Meet in Kamloops Familiarization Tour
We have invited 4 qualified meeting planners from across Canada to spend a weekend in Kamloops, where we will personally take them to see various hotels & meeting venues, group activities, and showcase all the best that Kamloops has to offer.
Aug 15-17: CMEE Expo in Toronto
Archana and Roxanne will be exhibiting at this tradeshow with approximately 200 companies from across Canada, all with travel planning needs.