Communication is key. Nowadays, it's important to keep in contact with your customers and communicate whether you're open or closed so your community can continue to support you. Here are 3 updates you should be making right now.
1. Here's How to Add a "Temporarily Closed" Notification to Your HelloBC.com Listing
If you are a tourism business that has temporarily closed, please let Destination British Columbia know so they can add a "Temporarily Closed" notification to your business listing on HelloBC.com. Simply email the following information to industrydevelopment@destinationbc.ca:
Your company "DBA" name
The community where you operate
Your anticipated re-opening date, if available. If a re-opening date is provided, the "Temporarily Closed" notification will be removed automatically at that time.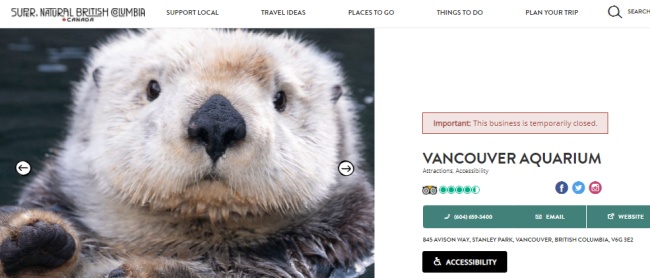 2. Here's How to Update your Google My Business Listing
​Google has put together a comprehensive list of services to make sure your customers have the latest information. These include recommendations for hotel owners, additional attributes to highlight available service options, update business hours and add a temporarily closed mark.
3. Approach to Social Media
Help customers feel safe and know what to expect when visiting your business by implementing these three tips on your social media accounts. Remember to update these as regulations change.
1. Create a post on your Facebook Page that talks about your COVID-19 policies and what visitors can expect at your business. Such as:
Are they expected to wear masks?
When and where might they be able to take them off?
How often are surfaces cleaned?
Do you have a patio?
Can we visit? 
Pin this post to the top of your Facebook Page. It will become the first thing users see when they visit your profile. See the Kamloops Heritage Railway's example.
2. Post your COVID policies and expectations to Instagram Stories. Then save this story as an Instagram Highlight. This will allow visitors to review your COVID-19 policies without having to scroll through your feed and try to find the relevant image. Check out the BC Wildlife Park's example COVID Safety Highlight.
3. If you use Twitter, craft a tweet with your key messages and then link off to more information. Pin that tweet to the top of your profile. See Tourism Kamloops' example.