The Luv'n the Loops Passport encourages locals to explore year-round with the chance to win incredible prize packages.
February 9, 2020 – Launched in July 2020, the Luv'n the Loops digital passport has successfully connected over 1,000 Kamloops residents to local tourism businesses in the past 6 months. In its reimagined digital format, the Luv'n the Loops passport features 36 Kamloops tourism experiences and offers discounts and incentives to participants. The program runs until June 30th, 2021 and features 4 seasonal prize packages and 1 grand prize package.
The Winter Contest prize package was awarded February 1st to Victor Kaisar who collected at least 10 unique business stamps during November, December, and January. The Winter Prize Package consisted of:
2 Alpine Ski Passes at Sun Peaks Resort
2 Alpine Ski Passes at Harper Mountain
Dog Sled Tour for 2 with Mountain Man Dog Sled Adventures
2 XC Ski Passes to Stake Lake
A breakfast gift certificate at Cahilty Creek Kitchen & Tap Room
2 Night Mid Week Stay at the Coast Sundance Lodge at Sun Peaks
"This year's campaign has been highly successful, and we are seeing more and more Kamloops residents use the Luv'n the Loops Passport to support local tourism business while enjoying discounts and incentives such as our seasonal prize packages," notes Monica Dickinson Director of Industry Relations & Communications for Tourism Kamloops.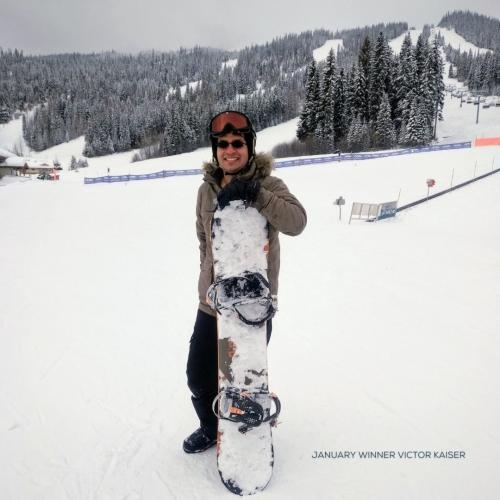 "It was important to extend the reach of the campaign and inspire our residents to explore, discover, and rediscover our city. The passport encourages locals to support Kamloops tourism related businesses in a year that has been severely impacted by COVID-19 and its imposed travel restrictions. The campaign has also reignited community pride and resident ambassadorship by sharing passport experiences with friends, family, and neighbours."
The Luv'n the Loops Passport is an innovative partnership with Kamloops This Week Digital and is free to use. To participate, visit luvntheloops.com, create an account, visit participating locations, scan the QR code to access the discount or incentive, then receive a digital passport stamp to complete the transaction. Collect 10 or more stamps to be eligible for April's prize package as well as the grand prize package at the end of June.
To participate, visit luvntheloops.com.  For more information on Tourism Kamloops, visit tourismkamloops.com.
-30-
Media Contact:
Monica Dickinson, Director – Industry Relations & Communications
Tourism Kamloops
Cell: 250.819.0151 | Email: monica@tourismkamloops.com