Last year marked another year of growth for tourism in Kamloops. We celebrated the openings of new hotels, craft breweries, and cideries. Only two months ago, we were evaluating and setting our KPIs for yet another successful year. Then the novel coronavirus upended not only the travel industry, but our day to day lives. 
As a Destination Management Organization we have a pivotal role to play in communicating information to our potential travellers, industry stakeholders, and our local community. We've created a new marketing response strategy and plan that's continually being updated as we receive new information. Our ability to remain open to new ways of doing business, while also being agile will be key to our success.
Marketing Planning Framework
While it is impossible to predict the future, we're basing our marketing response and recovery plan on a number of sources including government updates, travel data, technology data, and travel strategy experts. Destination Think, a travel marketing strategy agency has presented some 'Restriction Scenarios' we're referencing for marketing planning. They suggest we may move back and forth through these phases of varying restrictions over the next year or until there is a vaccine for the coronavirus.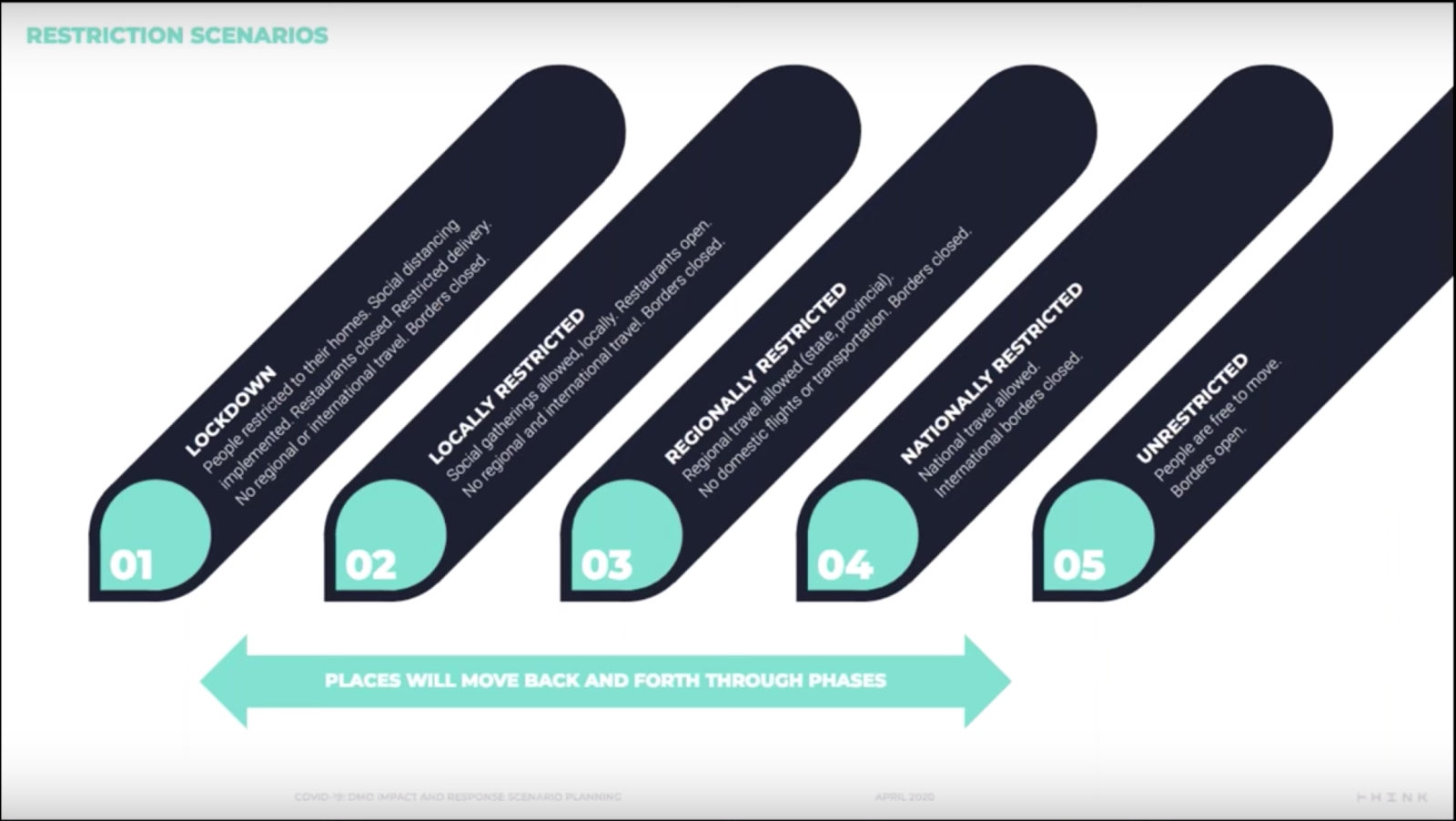 Destination Think - Webinar DMO Impact and Response Scenario Planning for COVID-19
Marketing Response Phase
We are currently in the 'Lockdown' phase and our marketing response plans are well underway. During this time we have implemented the following marketing tactics:
#ExploreKamloopsLater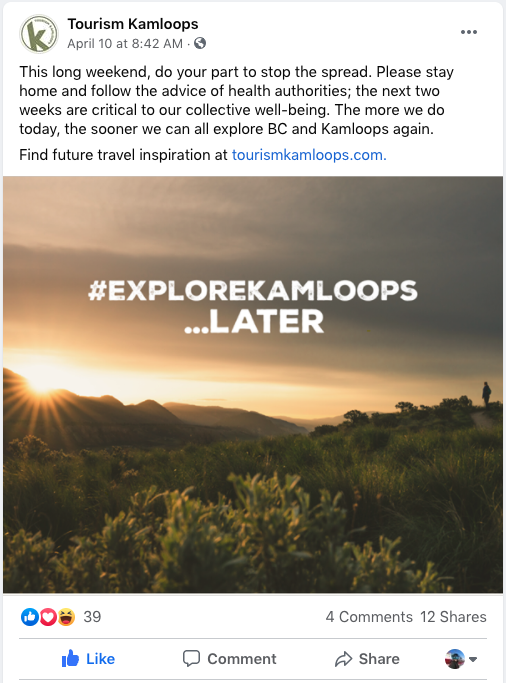 The travel industry should be part of the solution, not the problem. The faster we can flatten the curve, the faster we can start to recover. We've followed in the footsteps of Destination BC to use our marketing channels to tell travellers now is not the time to travel. 
Dream Now, Explore Later.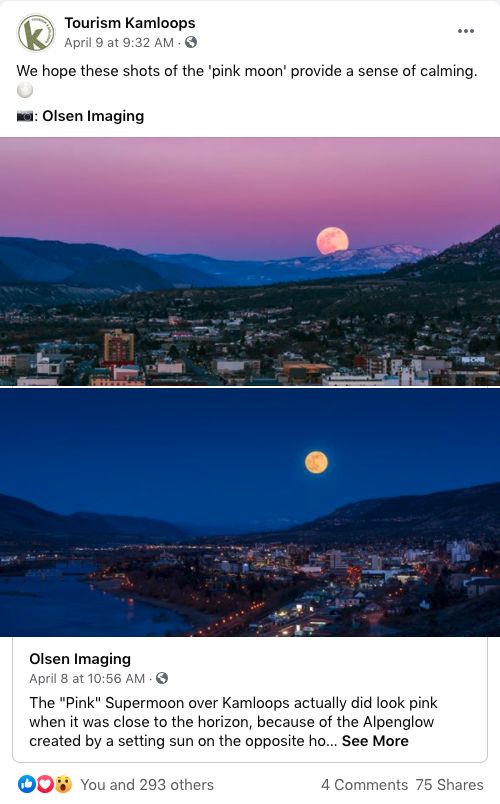 People are spending more time on social media than ever before. We want to ensure Kamloops stays top of mind so that when people are ready to travel, we're the destination of choice. We're sharing inspiring photos and videos of calming nature moments.
Virtual Experiences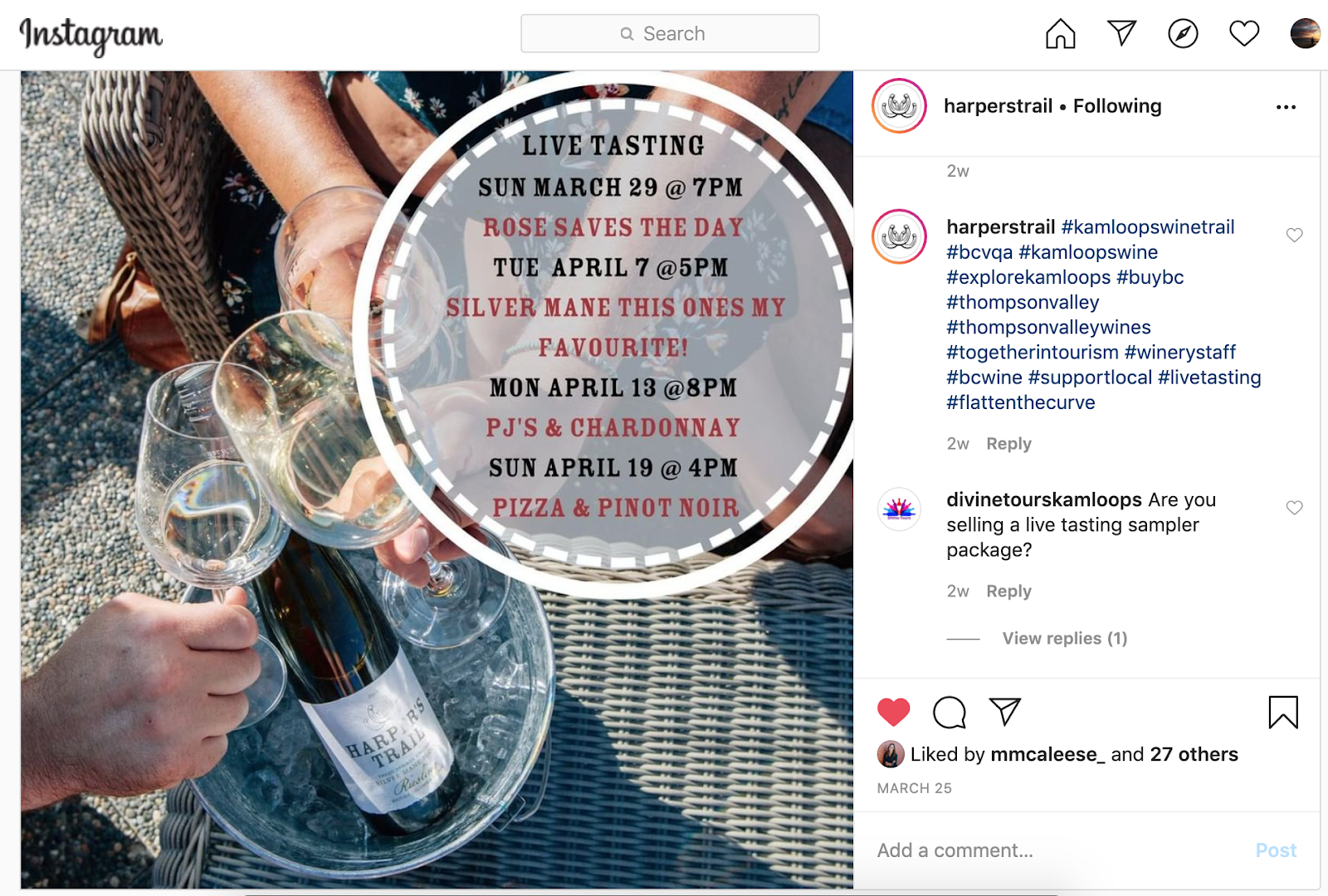 There are several creative ways to help people keep our destination top of mind and experience it virtually or through online channels. Here are a few examples:
#YKAStrong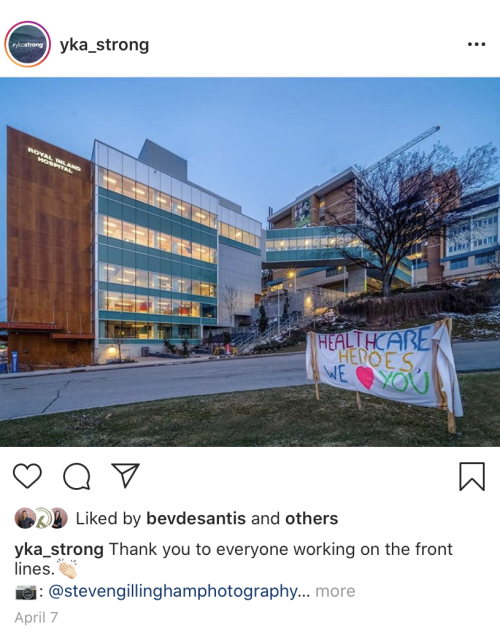 Tourism Kamloops joined forces with seven other organizations to support Kamloops businesses and our community though a new website and social channels. This will ensure that our businesses have the information and resources they need during this time and the community has a forum to support and share uplifting stories.
Stakeholder Communication & Advocacy
We've made regular calls to our stakeholders to check-in and provide support as needed. With over 200 calls to date, we are asking stakeholders to complete regular surveys that will be used to convey the operational and financial impacts on tourism to our provincial government.
Marketing Recovery Phases
Both the federal and provincial governments have discussed a phased approach to re-opening businesses. Based on what we've seen in other countries such as China, Destination Think proposes we will move from lockdown to varying stages of local, regional and national restrictions. There will be varying stages of recovery where our target audience will change depending on the stage. Initially may need to look to our residents to help ignite the local tourism economy, followed by our regional travellers.
Positioned Well for Recovery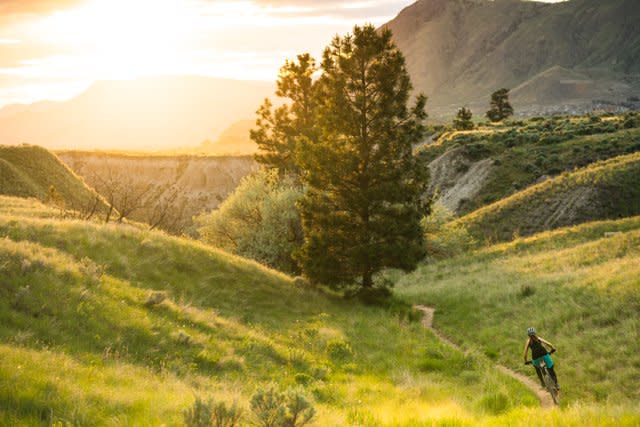 Photo Credit: Dylan Sherrard
Drive Market - People may initially be averse to travelling via plane. Kamloops is easily accessed via car.
Wide Open Spaces - Access to the outdoor recreation with little chance of running into crowds. We can promote key travel motivator activities such as golfing, fishing, hiking, mountain biking, and visiting our wineries.
BC Based Market - The majority of our travellers come from BC. Many people may travel regionally or provincially as inter-provincial and international travel restrictions remain in place.
Strategy & Marketing Planning Resources
To find out how you can align with us or to learn more contact us.