Tourism Kamloops has just announced the addition of 3 new team members that will enable serious momentum towards the organization's destination development goals.
Please welcome Nic, Holly & Anam! 
These experienced tourism professionals are community builders. They are essential as work is done to increase Tourism Kamloops' capacity to deliver impactful destination development solutions for visitors, residents, and business owners in Kamloops. 
This year is particularly important as the team looks ahead to building destination development capacity. The strategic plan is clear as it outlines the opportunity to be a true community leader and drive towards visitation growth.
These individuals will be working towards initiatives that level seasonal peaks and valleys, drive "one more night", highlight new products and experiences (all with competitiveness in mind) and build community pride. Destination development isn't just about the visitor – as a destination increases its tourism offering it enriches the local lifestyle, creates jobs (directly and indirectly), and infuses our local economy with more non-resident dollars.
Connect with each of them – for coffees, walks in the park, or an evening cocktail! They are so excited to meet with you.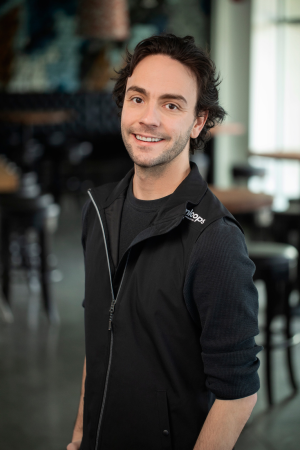 Nic Zdunich, Destination Development Manager.
Nic Zdunich joined Tourism Kamloops in early February. As Destination Development Manager, Nic is responsible for executing strategies that provide value to the Kamloops tourism industry and enhance the city's tourism competitiveness.
"My favorite thing to do in Kamloops? Soak up the desert sun at Mission Flats Beach before heading out to sip vino at one of our award-winning wineries – or maybe head over to Mauyra's Restaurant in Downtown Kamloops. It's a family run Indian Restaurant & Cocktail Bar. Ask Chef Dilip to tell you about the inspiration behind your meal, his stories are legendary," shares Nic (who also just happens to be an avid Murder, She Wrote fan).
Stakeholders should look to connect with Nic on destination development. "Bring me ideas and projects that invite visitors to explore, stay and play. From public space activation to transforming back alleys, let's break new ground and try new things. I'm excited to collaborate to create vibrant public spaces for the benefit of locals and visitors," explains Nic.
Connect wit Nic today nic@tourismkamloops.com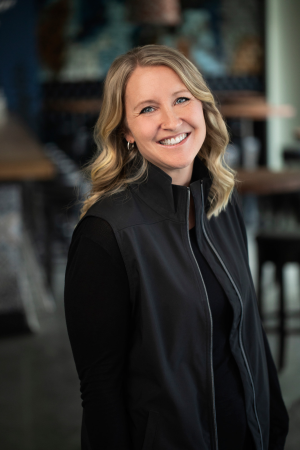 Holly Therrien, Destination Experience Manager
Holly Therrien joined Tourism Kamloops in late January. As Destination Experience Manager, Holly is responsible for leading and acting as an ambassador for the Kamloops region and its stakeholders through Tournaments and Events, Trade Relations, and Meetings and Conferences.
"The opportunity to work with a fun and progressive group of people and alongside so many others in the community interested in developing and promoting great experiences in Kamloops is what I'm most excited about," beams Holly. "I worked on cruise ships in my past life. I was fortunate enough to get to explore many amazing places including Greece, Italy, Spain, Brazil, Argentina, Chile and of course many beautiful Caribbean ports! I want to bring that international experience back home to the place I love most – Kamloops!"
"I look forward to connecting with all Tourism Kamloops stakeholders on destination experience initiatives (including events, festivals & tournaments). I'm the go-to on RFP's and travel trade inquiries," Holly explains. "I'm always down to connect over a draft beer too – maybe I will see you at BOLD Pizzeria (for beer plus a slice of the big bear pizza), Bright Eye Brewing (for beer plus one of those dill pickle pizzas), The Noble Pig (for beer and pretzels), or Iron Road Brewery (for beer and nachos)."
Connect with Holly today holly@tourismkamloops.com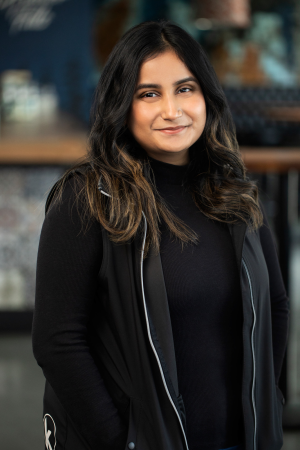 Anam Rahman, Community Engagement Coordinator
Anam Rahman joined us in mid-January. In this role, Anam is responsible for coordinating the specifics for Tourism Kamloops Events – think workshops, career fairs, summits, the BOLD awards, golf tournaments, etc. Anam will also be a face for Tourism Kamloops and a go-to person for stakeholder relations.
"I moved to Canada as an international student in January 2021 and graduated from school last year. It's been an emotional rollercoaster, but I have found a new home in Kamloops. I love going to Riverside Park in the summer and walking Rivers Trail. It always reminds me how beautiful Kamloops is. I have been a city girl all my life and never got to experience the outdoors-y things like tubing, hiking, etc. until I moved here," Anam shares.
Anam is hoping stakeholders will reach out to her if they are looking to build relationships. She will be reaching out to stakeholders on media & industry FAM Tours requests, corporate communications initiatives, and to support Tourism Kamloops in-house events.
Connect with Anam today anam@tourismkamloops.com