2022 Tourism Kamloops BOLD Hospitality Award Winners Announced
For Immediate Release 
November 9, 2022 – The 5th Annual Tourism Kamloops BOLD Hospitality Awards presented in partnership with the Kamloops Blazers recognized the achievements of the tourism industry. 115 attendees came together to celebrate the exceptional work of Kamloops' hospitality champions. The tourism community gathered with friends, colleagues, and family at the Sandman Centre to show their support for the 2022 tourism leaders.
"Every industry has a frontline, and it is undeniable that the frontline is always the first encounter, the biggest impression makers, and usually the last celebrated. The BOLD Hospitality Awards were created to change that. These awards ensure that we recognize and show our gratitude for the individuals that showcase the best of Kamloops as a destination," explains Monica Dickinson, Tourism Kamloops CEO.
There was a 49% increase in nominations received over 2020. A total of 64 nominees (several who were nominated multiple times) competed for the winning title in six categories. Congratulations to the phenomenal standout winners:
Accommodation "FOH" (Front of House) of the Year – Amandeep Kaur, Travelodge Mountview
Accommodation "BOH" (Back of House) of the Year – David Nsanzimana, Coast Kamloops Hotel & Conference Centre
Food + Beverage "FOH" (Front of House) of the Year – Tawny James, Bright Eye Brewing
Food + Beverage "BOH" (Back of House) of the Year – Nicole Mackie, Salty Fig Catering
Tourism Services Leader of the Year – Maatje Stamp-Vincent, TasteFull Excursions
Tourism Attractions Leader of the Year – Gordon Stamp-Vincent, TasteFull Excursions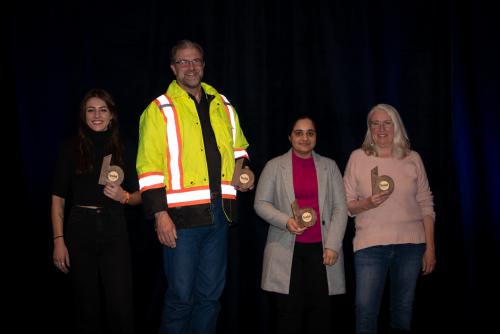 "Kamloops is known for its warm and welcoming people; our winners are clear examples of these characteristics," Percy Amaria, Tourism Kamloops Board Director states. "I am so proud to represent an industry that is full of individuals stepping up, innovating, and leading. My tourism industry colleagues are an essential part of the visitor experience – from the smiles they give as visitors step off an airplane to the conversations they have when travelers fill up their gas tanks; to the advice they provide when making a guest a cup of coffee in the morning to the laughter shared when filling up a glass of wine at night. Kamloops' tourism industry always goes above and beyond. I want to thank all the nominees and winners for showcasing Kamloops' true spirit of hospitality and for showing up every day not only for their organizations but for our industry as a whole!"
Over the spring and summer, nominations were collected from visitors, employers, locals, family, and friends through the Kamloops This Week Reader's Choice Awards. The community then had the chance to vote and determine the winner for each category in July. All other Reader's Choice winners were announced in August, but Tourism Kamloops wanted to celebrate rockstars in hospitality during this special industry party.
- 30 -
About Tourism Kamloops
Tourism Kamloops leads strategic destination marketing, partners, and collaborates with stakeholders, and supports development to promote Kamloops as a distinct and desirable tourism destination. Their goal is to increase tourism revenues through the delivery of innovative, results-based marketing strategies.
Learn more about Tourism Kamloops: https://www.tourismkamloops.com/
Media Contact:
Christina Pilarski, Tourism Kamloops Media Liaison
CIPR Communications
P: 403-836-8249
E: christina@ciprcommunications.com