For Immediate Release
Luv'n the Loops Passport Wins Marketing Innovation Award from the BC Economic Development Association
March 12, 2021 – Tourism Kamloops received top honours in Marketing Innovation for the 2020/21 Luv'n the Loops Passport at the BC Economic Development Association's annual conference and awards ceremony.
The BC Economic Development Association Awards distinguish top performance in marketing innovation, community project, and recovery and resilience across the province. The awards recognize organizations for their efforts in creating positive change in urban and rural communities. In 2021, the awards committee received a record-breaking number of applications.
"We are thrilled to be recognized as provincial leaders in marketing innovation on behalf of the Kamloops tourism industry," notes Beverley DeSantis, Tourism Kamloops CEO.  "Luv'n the Loops was launched to build resident ambassadorship and local support for tourism and, in 2020, the initiative swiftly pivoted from a monthly mystery bus tour to a digital passport with the onset of COVID-19. We have maintained momentum connecting Kamloops residents and visitors, when permitted, with tourism related experiences throughout the pandemic with great success."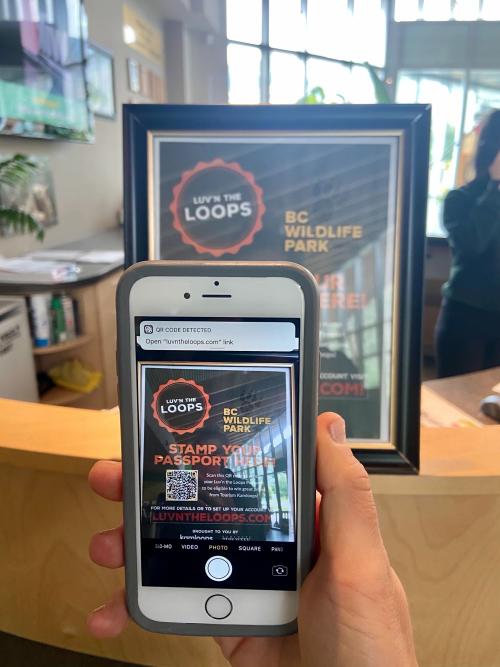 The Luv'n the Loops Passport is an innovative partnership with Kamloops This Week Digital and is free to use. The campaign highlights and supports small business and strives to reinvigorate Kamloops' visitor economy by providing incentives that residents could engage with independently. To date, over 1,100 Kamloops-area residents have participated in the passport program to receive discounts at over 36 local businesses.
Seasonal prize packages encourage participants to visit several participating businesses in a certain period. The prizes include local experiences and showcase seasonal highlights.
"Our Tourism Kamloops team continues to explore and expand our marketing partnerships while elevating and innovating our marketing efforts," adds DeSantis. "COVID-19 has delivered severe impacts to our organization, our tourism industry, and our businesses through the city. Luv'n the Loops provides a bold, agile, and fun solution to keep our residents engaged while supporting our local businesses."

To participate, visit luvntheloops.com, create an account, visit participating locations, scan the QR code to access the discount or incentive, then receive a digital passport stamp to complete the transaction. Collect 10 or more stamps to be eligible for April's prize package as well as the grand prize package at the end of June.
For more information on Tourism Kamloops, visit tourismkamloops.com.
-30-
Media Contact:
Beverley DeSantis, CEO
Tourism Kamloops
Cell: 250.517.9094 | Email: bev@tourismkamloops.com