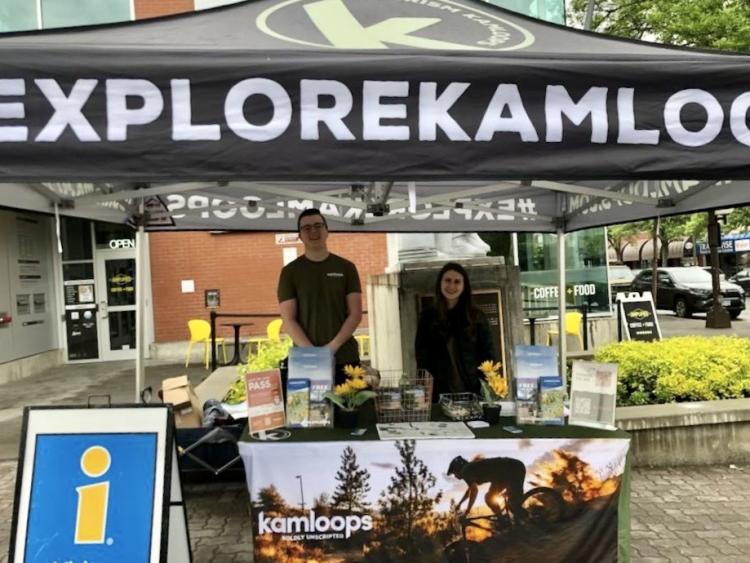 Once again, roving tourism ambassadors will support sports, arts, and cultural events across Kamloops with pop-up visitor services.
For Immediate Release 
June 2, 2022, Kamloops, British Columbia – Tourism Kamloops' BOLD Street Team is hitting the streets of Kamloops to support event and attraction partners this season.
"Peak season tourism is ramping up and we are so excited for the summer months ahead. We encourage our residents and visitors to be boldly unscripted and embrace new events and continue to support our tourism businesses in Kamloops this summer," says Monica Dickinson, CEO, Tourism Kamloops. "To help connect with all that is happening and all the hot spots, our BOLD Street Team is ready to help people explore everything our city has to offer."
Get to know the BOLD Street Team in-person at pop-up events, at attractions, and at popular locations through the city. They will also be available by email, text, or phone and will be easily reachable on social media by direct messaging @luvntheloops on Facebook or Instagram.
The six-person, full-time team will be on the move throughout summer visiting locations such as the BC Wildlife Park, Kamloops Art Gallery, and Kweseltken Farmer's & Artisan Market. The knowledgeable group also has a stationary trailer located at McArthur Island Park to support sports tournaments as well as Kamloops NorthPaws Baseball. The roving ambassador program is funded through Canada Summer Jobs and the Municipal Regional District Tax (MRDT).
Kamloops is one of more than 130 communities included in Destination BC's visitor services network. All visitor services teams across the province complete training to learn about BC's six tourism regions and the importance of being local ambassadors. This year, the BOLD Street Team's training included SuperHost Destination Ambassador workshops and a local familiarization tour highlighting major attractions such as the BC Wildlife Park, Kamloops Heritage Railway, and the Kamloops Museum & Archives.
"If you see our team out and about or if you happen to be at McArthur Island for a tournament or NorthPaws game, be sure to say hello" continues Dickinson. "The BOLD Street Team is a friendly resource that can truly help visitors and residents boldly discover Kamloops."
Armed with vacation guides, trail guides, and maps, the community-focused team will also visit accommodation and attraction partners to ensure front-line hospitality staff have the same resources to support remarkable guest experiences.
The BOLD Street Team is available daily from 8:30 a.m. – 8:30 p.m. until September 7. For more information, including a calendar of events, and where you can find the BOLD Street Team visit:
https://www.tourismkamloops.com/industry/aboutus/boldstreetteam/.
-30-
About Tourism Kamloops
Tourism Kamloops leads strategic destination marketing, partners, and collaborates with stakeholders, and supports development to promote Kamloops as a distinct and desirable tourism destination. Their goal is to increase tourism revenues through the delivery of innovative, results-based marketing strategies.
Learn more about Tourism Kamloops: https://www.tourismkamloops.com/
Media Contact:
Monica Dickinson, CEO, Tourism Kamloops
P: 250-819-0151
E: monica@tourismkamloops.com