The new community hub represents a significant step forward for engaging visitors in the city, enabling Tourism Kamloops to meet visitors where they are every day.
For Immediate Release 
July 21, 2023 Kamloops, British Columbia – Tourism Kamloops is pleased to announce the launch of its newest initiative, the Loops Explorer Station. Located in downtown Kamloops, the Loops Explorer Station serves as a dynamic community hub, connecting visitors and residents alike. With its grand unveiling taking place July 21st, Tourism Kamloops invites locals and visitors to join the launch party and experience this innovative approach to visitor and community engagement.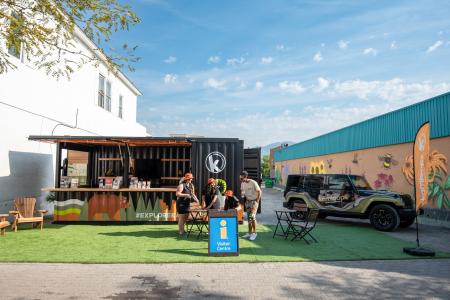 At the Loops Explorer Station, individuals seeking recommendations on Kamloops' hidden gems and must-see locales can find everything they need.The BOLD Street Team will be present daily, ready to provide insider tips, advice, and guidance to ensure a best Kamloops experience. The Station itself is set to become a destination of its own, featuring interesting activations include local business pop-ups, live art installations, cultural showcases, and a variety of unique events.
Monica Dickinson, CEO of Tourism Kamloops, expressed her excitement about the Loops Explorer Station, stating, "We're thrilled to introduce the Loops Explorer Station as a part of our  innovative approach to visitor engagement. This space is intended to be and inspirational stop on a larger journey exploring Kamloops. By establishing this community hub in the heart of downtown Kamloops, we can meet visitors where they are and seamlessly connect them with the best that Kamloops has to offer."
Tourism Kamloops' 2022 economic impact data reveals that over 1.9 million visitors directly contributed $310 million to the local economy. By strategically locating the Loops Explorer Station downtown, our Visitor Experience team can proactively engage with visitors and cater to their diverse needs. For instance, extended operating hours have been implemented to accommodate guests arriving late from the Rocky Mountaineer, ensuring no visitor goes without exceptional service.
The Loops Explorer Station is key initiative identified in Tourism Kamloops' destination development strategy and plays a pivotal role in fostering continued growth in visitation, while also generating positive economic and social impacts for residents. This innovative space sets a new standard for visitor engagement and experience by actively reaching out and connecting with visitors in the heart of the community, instead of expecting them to come to a traditional visitor center.
The Loops Explorer Station is envisioned as a vibrant community hub, designed to cater to the needs of all visitors and residents, whether they are staying in Kamloops for a day, a week, or a lifetime. Tourism Kamloops encourages visitors and Kamloopsians to visit the Loops Explorer Station and stay informed about the latest happenings in town, or attend one of the exciting pop-up events scheduled for this versatile space.
-30-
About Tourism Kamloops
Tourism Kamloops leads strategic destination marketing, partners, and collaborates with stakeholders, and supports development to promote Kamloops as a distinct and desirable tourism destination. Their goal is to increase tourism revenues through the delivery of innovative, results-based marketing strategies.
To learn more about Tourism Kamloops, visit www.tourismkamloops.com.
Media Contact:
Lisa White – Director, Community Development + Engagement
Tourism Kamloops
P: 778.257.3605
E: lisawhite@tourismkamloops.com