Our marketing team is refreshed, revved up, and hitting the gas pedal. Tourism Kamloops is thrilled to introduce this posse of passionate and savvy marketers dedicated to showcasing the very best of our vibrant city. With their diverse backgrounds, creative prowess, and a shared love for Kamloops, this team is taking our marketing to new heights!
With 55 years of combined experience, this dynamic team knows Kamloops inside and out…and is an incredible resource for all the cool things to see and do in the city. Their sights are set to amp up Kamloops' visibility amongst visitors and spread the story of our city across the globe.
We can't wait for you to meet Sandeep, Ashley, and Katy, and catch up with our rocksteady team members Jordan and Rachel! These gals are always looking forward to learning more about our city, our partners, and all the happening hotspots – and they are totally down for coffees, walks in the park, or an evening cocktail! Please reach out, connect, and say hello!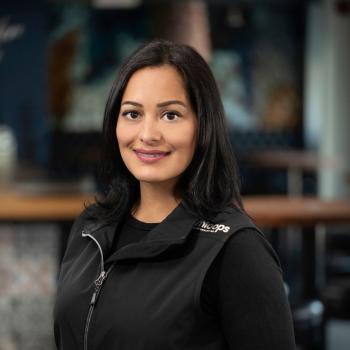 Meet Sandeep Takhar, Director, Brand + Marketing
We welcomed our new captain storyteller, Sandeep, in early May. As Director, Brand + Marketing, Sandeep is responsible for developing and implementing innovative marketing strategies and captivating content that showcases Kamloops as the ultimate playground for adventure seekers and gentle explorers alike. 
"My favourite restaurant in Kamloops? It depends on the season - in warmer weather I like tacos! Lately I have been going to Hacienda Cielito Lindo - amazing! In cooler months I prefer comfort foods so you will typically find me at Mittz, Underbelly or Spice," shares Sandeep. Outside of the office (and the amazing Kamloops food scene), you'll find Sandeep hanging out at Riverside Park or on the trails.
Sandeep has a zest for brand development, paid media, marketing data, insights and technologies. She is diving in deep, eager to elevate the Tourism Kamloops brand to the next level. "Working in the tourism industry has always been a passion of mine and I am grateful to have the opportunity to bring my marketing and leadership skills to the team."
Drop Sandeep a warm hello - sandeep@tourismkamloops.com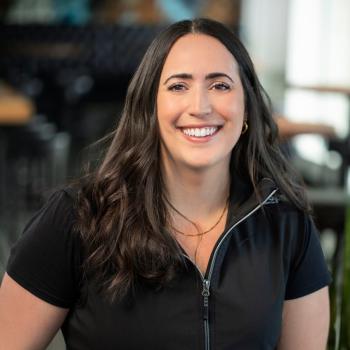 Meet Ashley Cox, Marketing Manager
Joining our one, two punch, Ashley came onboard in March as Tourism Kamloops' new Marketing Manager. Ashley is a marketing maestro conducting and supporting the team's workflow and projects to make sure they are hitting all the high points.
"My favourite thing to do in Kamloops is to hike. The trails are so accessible and there is such a large variety that you are never bored," beams Ashley, who's excited to share all things Kamloops with the world. "I'm most excited about getting to work with an amazing group of people who are passionate about sharing how awesome Kamloops is."
Ashley's excited to share details of Tourism Kamloops' marketing projects and content strategies. Outside of work, you can find her spending time with her family, curled up with a book, or enjoying a cocktail at the YEW Street Food Hall on the North Shore.
Drop Ashley a warm hello - ashley@tourismkamloops.com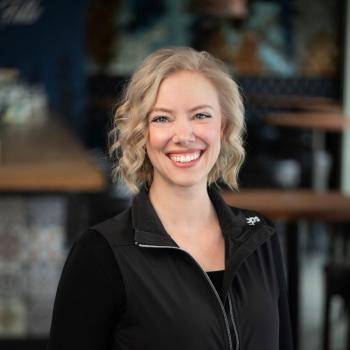 Jordan Fraser, Digital Marketing Specialist
Jordan's been rockin' it at Tourism Kamloops since February 2019. As Digital Marketing Specialist, Jordan is the team's go-to for all things web and digital. She's the wiz behind Tourism Kamloops' website looking fresh and relevant, and is a super creator for all our digital ads. 
"What excites me most about working with Tourism Kamloops? Helping visitors have new experiences and create lasting memories," said Jordan. Her go-to spots in town? "You can't go wrong with Bright Eye Brewing, ROMEOs Kitchen + Bar, or Jamaican Kitchen." Outside of work, Jordan likes to keep active around town by hiking, paddling, dancing, playing pickleball, and volleyball. Did you know that Jordan is also the talent behind HikeKamloops.com? 
Jordan's expertise in digital marketing tactics, website best practices, and digital and website content updates, consistently delivers best in class results.
Drop Jordan a warm hello - jordan@tourismkamloops.com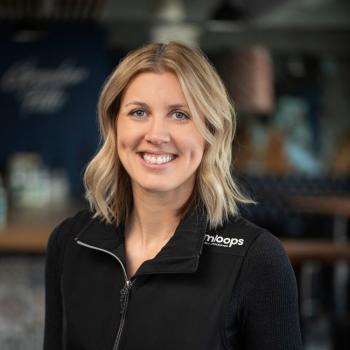 Meet Rachel Lewis, Graphic Design & Brand Specialist
Tourism Kamloops' in-house design guru has been keeping the brand fresh and exciting since September 2016. Rachel is the mastermind behind our graphic design, brand, and photo/video assets. Rachel's work keeps Tourism Kamloops' marketing campaigns looking bold and energized. "I'm into all things creative, and love working on fun new projects both internally and externally," beams Rachel.
When asked what most excited her about working with Tourism Kamloops, Rachel said it came down to the people. "The team is incredibly passionate about Kamloops and we are always working on something exciting." 
Outside of work, she has found a love for trail running. "I also love paddle boarding, skiing & snowboarding in the winter, and enjoying a beverage on the Red Collar patio," said Rachel.
Have you checked out Rachel's recent masterpiece? The Loops Explorer Station spotlights her latest "Tour de Force".
Want to chat creative and brand… Rachel is your girl!
Drop Rachel a warm hello -  rachel@tourismkamloops.com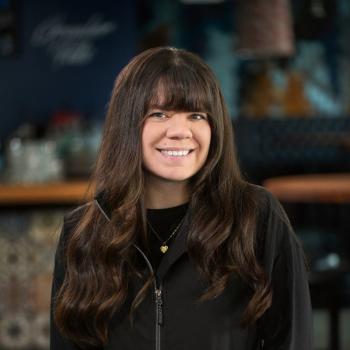 Meet Katy Morrison, Content Specialist
Rounding out this impressive roster, Katy dared to join the Tourism Kamloops team as a Content Specialist in June. Katy's role has her covering all things content and social media engagement for Tourism Kamloops, The Wine Trail, and Luv'n The Loops.
When asked what she was most excited about working with Tourism Kamloops, Katy said "I'm so excited to promote and share the city I grew up in and love so much! It's an honour to showcase what makes Kamloops so unique and special, and hear about how other people experience their time here!"
Outside of work, Katy loves finding new trails and locations to walk her dog - she believes Kamloops scenery mixed with a great podcast makes for a perfect day. You can also find her at Jacobs Noodle and Cutlet, her favourite restaurant in town. "The staff are so lovely and friendly, the ramen can be made extra spicy (my personal favourite), and the location is so cozy, especially with the exposed brick."
Katy's specialty is social media content and engagement. Want all the secrets? I'm sure with a little sweet talking, Katy will slip you some hot tips!
Drop Katy a warm hello - katy@tourismkamloops.com