The Tourismkamloops.com website may just be coined the "player of the game" when it comes to our marketing tools. Big bucks are spent each year and robust content strategies drive record clicks to the site daily. Here is a chance for Tourism Kamloops stakeholders to capitalize on the click potential to drive visitors from our site to your cash register. 
Ready to learn more? We have partnered up with Destination Travel Network (DTN) to tee up the look and feel of your business highlight on tourismkamloops.com. Here is the full scoop on the program and how you can get started. 
Who is DTN? 
DTN is a partner of Tourism Kamloops and has worked with us to develop a unique sponsored content program (DTN Paid Content) on our website that will help you deliver your message in front of a highly qualified visitor audience and to convert more of our visitors into customers. Essentially, they are the experts when it comes to ads on our site.
The DTN Paid Content program offers a variety of content placements (see details below) and programs that can be tailored to meet your specific marketing goals and budget. And the DTN Support team can provide cost-free creative services to get your content running quickly and access to no-nonsense performance reporting via their DTN Portal.
Highly Targeted
These page-specific placements deliver content that is relevant to the visitor's interests on exactly the pages where visitors are looking for it. These placements run high on approved pages on the site and blend seamlessly with the page content. So more meaningful information, more visitor inspiration, and more opportunities to get them to book, buy, or visit.
Header Image
Catch the attention of visitors as soon as they land on the page. This placement ensures high visibility and exposure for the ad, as it is one of the first elements visitors see when they visit a page.
Premium Page Sponsors
Gain maximum exposure and captivate your target audience with our premium ad placements. Positioned prominently on high-traffic pages, your business will enjoy unparalleled visibility, increased click-through rates, and the opportunity to make a lasting first impression on users as soon as they land on the page.
Incredible Reach
Run-of-site placements run near the bottom of our most visited webpages and the Spotlight ads run at the bottom of nearly every page across the website, both offering oodles of inventory and opportunities for you to deliver your message to the general visitor audience. These spots usually run below the page content and work similarly to "you may also like" suggested content, educating and inspiring our visitors with new trip ideas.
Run of Site Ad Placements
Take advantage of the bustling Tourism Kamloops website, where your business can reach a wide audience. We've handpicked the top 10 most popular pages, offering you a chance to showcase your presence. With eye-catching images and compelling content, your brand will gain significant visibility and generate clicks on these highly sought-after spots. These pages cover popular categories like Things to Do, Wineries, Breweries, Outdoor Activities, Arts & Culture, and more, tailored to suit the season and the interests of Tourism Kamloops' visitors. Our partners at DTN will help you create an enticing tagline and description to attract potential customers and keep them engaged on your site.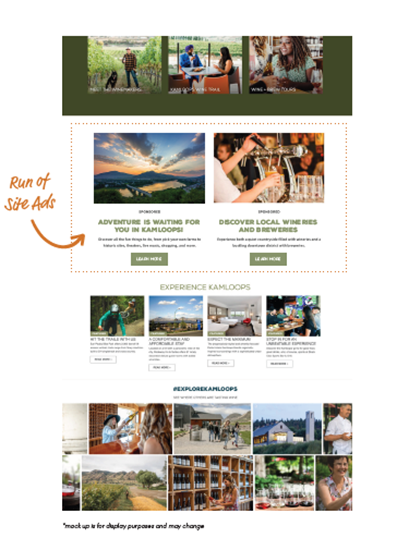 Spotlight advertising
Did we mention the Tourism Kamloops website is our largest and most robust destination marketing tool? Here's another great opportunity to raise your profile and drive consumers directly to your business. With over 950,000 pageviews annually, we know most travel consumers start their vacation planning process on destination websites. These spotlight ads run at the bottom of almost every consumer facing page on the website and are the perfect way to ensure you're getting the attention you're looking for.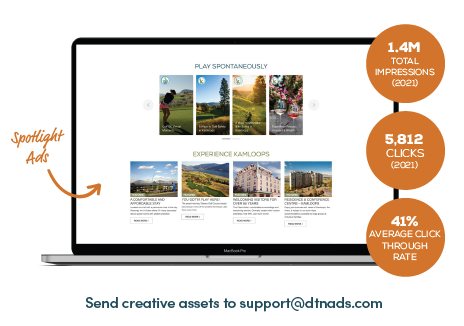 ​
The Details
You may get a call from a DTN rep over the next few months. We promise they are on our side and have the full scoop on this fantastic feature program. 
Specifics
Highlight unique offers with full website visibility that is updated seasonally. 

Photo (620w x 350h pixels)

Business Name (30 characters)

Website URL
Additional Info
Responsive website design allows advertisements to display on all devices

All placements are templated and designed to match the visual aesthetic of tourismkamloops.com

Images should be photographs without any overlaid elements, including logos
Let's Go!!
Our stakeholders have seen big clicks over the last year on these features and we can't wait to add you to the list. If you are ready to kick into gear and enhance your feature on tourismkamloops.com email us and we will set it all into motion.