The BOLD Dashboard is a platform that was established for local partners to and access resources, respond to RFPs, and update business listings with Tourism Kamloops.
This article will outline how to order maps, view your benefits, and respond to RFPs &service requests. Please read through Tourism Kamloops BOLD Dashboard - What, Where, & Why? first to learn the basics of logging up, updating contact information, and contributing to discussion forums.
The BOLD Dashboard
This platform is available for management such as business owners, sales managers, and front-of-house managers as there is confidential information posted such as meetings bids and invoices. Click here to access the BOLD Dashboard and enter your login email and password. When you login, you will see four, green pillars on the left side of the screen.
Home Page – Where you find Tourism Kamloops' press releases, annual reports, monthly newsletters, and additional corporate communications.
Profile – Where you view your business' Benefits Summary. You can also add employees their contact information to streamline future communications. 
Collateral – Where you update your business listing and order printed materials
Opportunities – Where you respond to RFPs and Service Requests.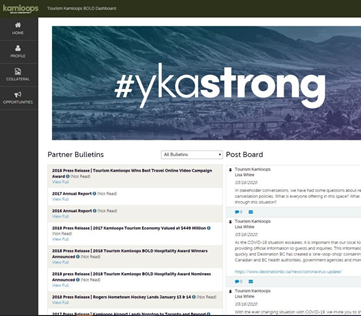 Order Tear Maps & Trail Guides
Click 'Collateral' on the left side of the home page
Then, click 'Materials Requests' in the green side bar
Click the blue 'Add Materials Request' button
Scroll down to 'Order Detail'. Here you can enter the number of trail guides and tear maps, you would like to order under 'Quantity'
Scroll back up and click the blue 'Save' button
You will receive email confirmation or a phone call within 2 business days Tourism Kamloops staff when the items are ready for pickup at the Tourism Kamloops office.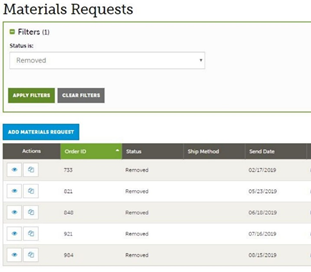 View Your Benefits
Our team tracks all benefits that your business has provided to Tourism Kamloops and vice versa. Benefits include listings on print & digital channels; in-kind donations; advertising opportunities; press mentions; familiarization (FAM) tour hosting, and more. View benefits by doing the following:
Click 'Profile' on the left side of the home page
Then, click 'My Benefits' in the green side bar
Fill in criteria to view your benefits summary by choosing your account, month, and year.
View the summary of benefits from Tourism Kamloops and your business
If you notice missing benefits (Your bike shop rented out 2 mountain bikes for free for a media tour in October 2019 ($200 value) please let us know and we will update the dashboard.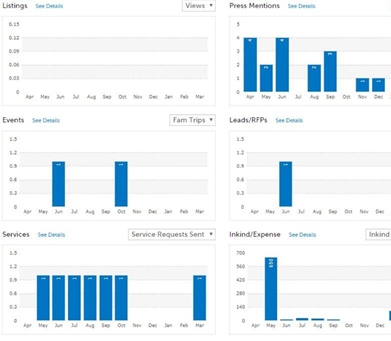 Respond to Request For Proposals (RFPs)
Accommodation partners will receive RFPs from our Business Development Strategist through the Dashboard. Meeting planners often require details in short notice. Please respond to RFPs as soon as possible when you receive them.
Click 'Opportunities' on the left side of the home page
Then, click 'Service Requests' in the green side bar
On the Service Requests page, sales managers will see open requests for meetings & conferences
Under 'Actions' click the eye icon to access the Request Details page
Scroll down to 'Accounts/Responses' and click the "+" symbol under Actions to respond
On the right side of the screen, fill out the required fields – Pursuing, Comments, Attached Files'
Then, click the blue 'Update' button to submit your RFP 
We encourage you to take advantage of the BOLD Dashboard and contribute to the forums at least once a week. If you would like one-on-one training, please connect with Tara Look and indicate your upcoming availability and support required (i.e., how to respond to RFPs or how to view your benefits summary).