The BOLD Dashboard is a platform that was established for local partners to access resources, respond to RFPs, and update business listings with Tourism Kamloops.
This article will outline how to access the dashboard, update your business listing, and how to contribute to forums. We encourage you to take advantage of the BOLD Dashboard's resources and check in for updates every week.
Your Account
This platform is available for management such as business owners, sales managers, and front-of-house managers as there is confidential information posted such as meetings bids and invoices.
Most businesses have one login email for the business owner or general manager. If you would like a secondary login, please connect with Tara Look (contact details below).
Click here to access the BOLD Dashboard and enter your login email and password. If you forget your password, hit 'forget password'. You will be sent a new password from Simpleview. Please check your junk if it does not go straight to your inbox.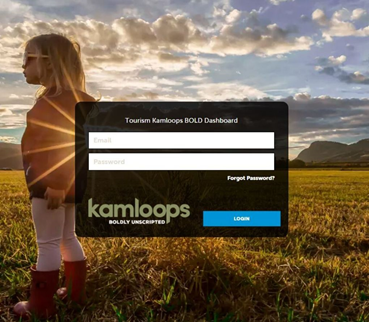 The BOLD Dashboard
When you login, you will see four, green pillars on the left side of the screen.
Home Page – Where you find Tourism Kamloops' press releases, annual reports, monthly newsletters, and additional corporate communications.
Profile – Where you view your business' Benefits Summary. You can also add employees their contact information to streamline future communications. 
Collateral – Where you update your business listing and order printed materials
Opportunities – Where you respond to RFPs and Service Requests. Please read Bold Dashboard 2 for support on this category.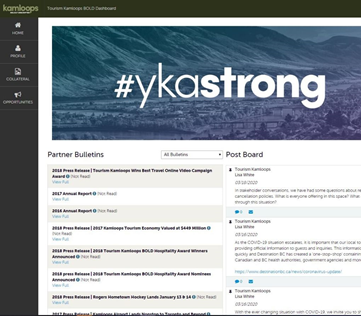 Update Your Contact Information
On the left-hand side of the dashboard, click 'Profile'
Then, click 'Contacts' in the green side bar
Here you can edit current and past employees' contact information so that we connect with the most appropriate individual in daily operations
Click the blue 'Add Contact' button
Include the individual's first & last name
Include if the contact is primary, secondary, or inactive (past employee)
Scroll down and include an updated phone number.
Scroll back up and click the blue 'Save' button
Update Your Business Listing
On the left-hand side of the dashboard, click 'Collateral'
Then, click 'Listings' in the green side bar
Your business will be listed under 'Company'
Scroll left and click the 'Pencil' icon to edit your listing under 'Actions'
Under 'Listing Information' update your description with contact details, description, location, etc. Use Tip #2 in Destination BC's blog to write a strong description.
Scroll up and click the blue 'Save' button when you're done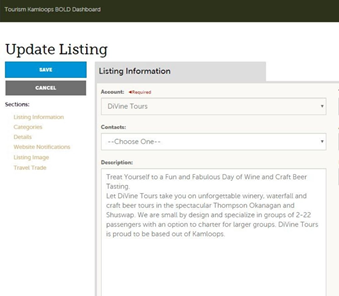 Contribute to the Post Board
On the right side of the dashboard lives the Post Board. We have pre-populated the Post Board with common questions. We encourage you to post your questions here such as:
Hiring procedures – Do you hire seasonally? What platforms do you post jobs on – LinkedIn, Indeed, go2HR?
Co-Op Students – Have you hired co-op students from TRU before? What wage subsidies did you apply for?
Hours of Operation – Does anyone else find it profitable to open on Sundays in July & August?
Please contribute to any applicable posts. Your experience in hotel management may assist a winery with summer hiring, and vice versa.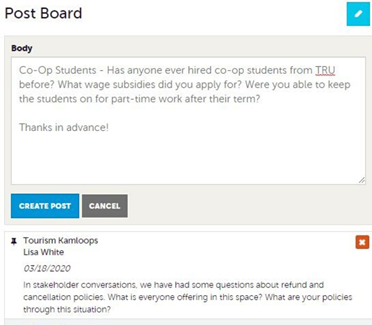 Once you've mastered the basics, read through Tourism Kamloops BOLD Dashboard - Brochures, Benefits, & Bids to learn how to order maps, view benefits, and respond to bids. If you would like one-on-one training, please connect with Tara Look and indicate your upcoming availability and support required (i.e., how to contribute to posts, how to update a new manager's contact details).