It's that time of year, Tourism Kamloops' roving tourism ambassadors are ready to support sports, arts, and cultural events across Kamloops with their fun (and informative) pop-up visitor services.
For Immediate Release  
May 8, 2023 Kamloops, British Columbia – Tourism Kamloops' BOLD Street Team is hitting the streets of Kamloops to support event and attraction partners this season.
"The build up to peak season is always so exciting, and announcing our 2023 BOLD Street Team is an important piece to ensuring our guests have the best Kamloops experience. This dynamic team is usually the first personal encounter our visitors have in our city and they help to set the tone for their stay,' says Monica Dickinson, CEO, Tourism Kamloops. "Our BOLD Street Team inspires bold and unscripted exploration of our city - from our attractions and events to our trails and lakes. This team knows all the sweet spots and local favourites."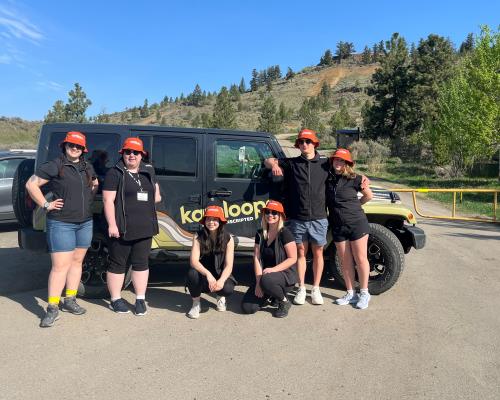 More than 130 communities in BC – including Kamloops – are part of Destination BC's visitor services network. All visitor services teams across the province will complete training to learn about BC's six tourism regions and the importance of being local ambassadors. This year, the BOLD Street Team's training ranges from SuperHost Destination Ambassador workshops to touring major attractions such as the BC Wildlife Park, Kamloops Heritage Railway, and local eateries.  
The six-person, full-time team will be popping-up all summer around Kamloops. You'll find them at the BC Wildlife Park, Kamloops Art Gallery, Kweseltken Farmer's & Artisan Market, major events and in a roaming capacity throughout the city. The team will also support welcoming guests from Rocky Mountaineer in local hotels nightly. Once again, the roving visitor service specialists are made possible by funding through Canada Summer Jobs. 
"The BOLD Street team exemplifies ambassadorship, community pride and destination expertise," explains Dickinson. "We know the service and engagement provided by this team inspires our visitors to share their Kamloops experiences and stories with others. They are vital to our destination efforts and community building."
With vacation guides, trail guides, and maps in tow, the community-focused team will be visiting accommodation and attraction partners to ensure front-line hospitality staff have the same resources to support remarkable guest experiences.
For more information about The BOLD Street Team, including a calendar of events, visit https://www.tourismkamloops.com/industry/aboutus/boldstreetteam/. 
About Tourism Kamloops
Tourism Kamloops leads strategic destination marketing, partners, and collaborates with stakeholders, and supports development to promote Kamloops as a distinct and desirable tourism destination. Their goal is to increase tourism revenues through the delivery of innovative, results-based marketing strategies.
30
Learn more about Tourism Kamloops: https://www.tourismkamloops.com/
Media Contact: 
Monica Dickinson, CEO
Tourism Kamloops
monica@tourismkamloops.com | 250-819-0151