To say the past 5 months have been incredible has never rang truer. We have witnessed incredible uncertainty, incredible loss, and incredible devastation.
But we need to also focus on the stories of incredible resilience, camaraderie, hope, and opportunity COVID-19 has delivered.
For the tourism industry in Kamloops, in BC, across Canada, and across the globe, the start to 2020 had officials hyped for another record-breaking year. This came to an abrupt halt in mid-March and now the conversations have turned to survival, solvency, and recovery.
While July and August saw some growth as Phase 3 of BC's Restart Plan reopened domestic BC travel across the province, visitation and revenue levels hardly replaced what is usually achieved in a typical peak season. With events cancelled, organized sports on hold, inter-provincial travel discouraged, and international borders closed, our tourism businesses felt the void of visitor volumes and visitor spending.
Outreach to our local tourism businesses, and our regional, provincial, and national industry colleagues has been integral to access information and data to understand this impact, industry performance and gauge indicators for the months ahead. These insights inform our ongoing marketing strategy and tactics.
PERFORMANCE METRICS & INSIGHTS
Hotel Occupancy
Hotel occupancy rates are a key performance indicator. Results from the past 5 months demonstrate the severe impact of pandemic-imposed travel restrictions. These rates are a direct correlation of destination travel and connects to anticipated MRDT collection, the primary funding source for Tourism Kamloops.
March 30% (-25 pts)
April 16% (-55 pts)
May 27% (-52 pts)
June 34% (-46 pts)
July 51% (-33 pts)
On average, Kamloops hotel occupancy rates in peak season range from 80 to 90%.  The absence of Rocky Mountaineer guests, sporting and community events, and business and meetings travel have heavily impacted these rates. Now more than ever, Tourism Kamloops needs to shift our focus to rebuild shoulder and peak season business.

Marketing Performance
The announcement of Phase 3 in late June signaled a revival of our marketing efforts to inspire visitation to Kamloops. With a primary visitor market that lives in BC and arrives in Kamloops by car, we are positioned well for recovery. We have seen a slight incline in hotel occupancy rates as we shared inspiring content about Kamloops experiences.
Marketing campaigns focused on outdoor activities including golf, hiking, mountain biking, fishing, and wine while informing potential visitors of new and enhanced safety protocols implemented in tourism businesses and across the city. Key marketing messages include access to wide-open spaces and easy access to nature. Kamloops is ideally situated to welcome travellers seeking these experiences.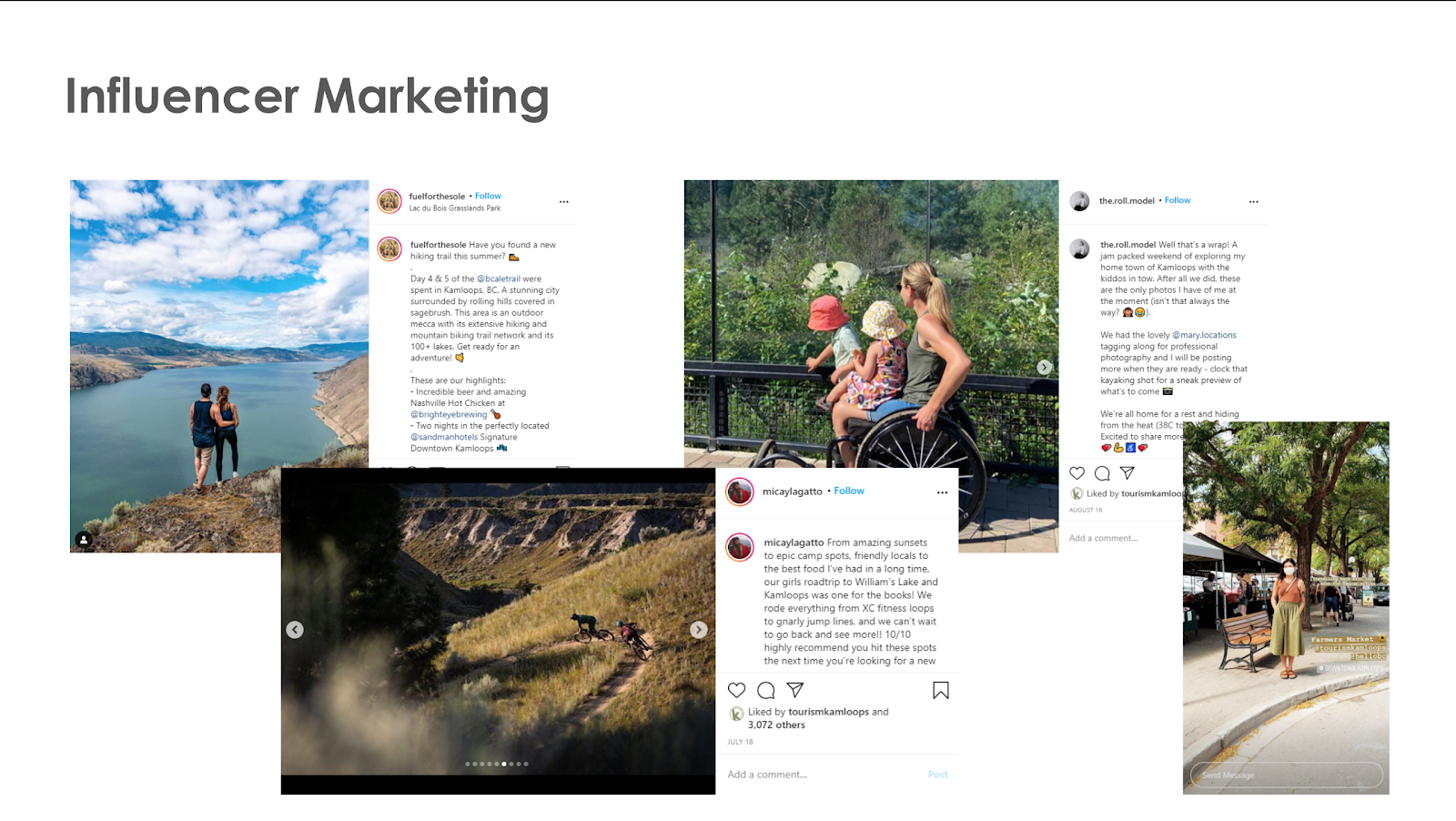 Our marketing channels saw an immediate increase in engagement. Website traffic to tourismkamloops.com in July and August hit record highs with an average of 2,100 users per day and website visits up 53% compared to last summer. We had over 230,000 engagements with our content on our social media channels while our ad content received over 12 million impressions. In addition, we received over 500,000 video views on YouTube, Facebook, and Instagram. Pent up demand paired with strong summer marketing programs fueled this increase.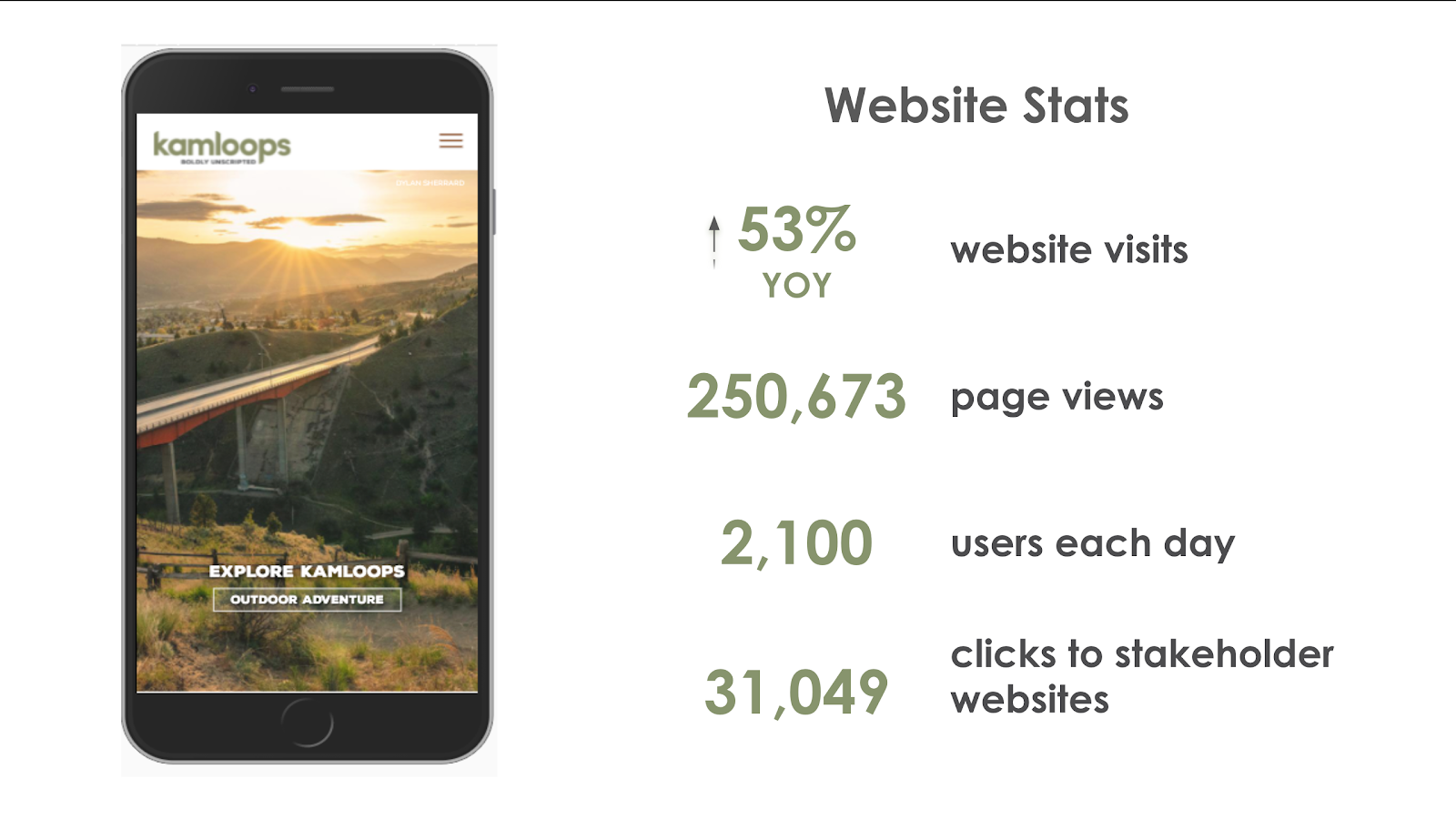 Unprecedented Growth in Golf & Wine
For a third year, Tourism Kamloops has led strategy and marketing for Golf Kamloops and has been integral in marketing the Kamloops Wine Trail contributing to unprecedented growth in 2020.
Golf Kamloops, representing 8 Kamloops golf courses and 8 hotel partners, focuses on attracting destination golfers to the city for multi-round and multi-night stays. For 2020, Kamloops has been an extremely attractive golf destination due to a few factors – location, affordability, top-ranking golf courses, and great weather. Tourism Kamloops' strategic leadership has elevated Golf Kamloops as a provincial leader for golf sales and golf visitation.
To date, destination golf sales are pacing 181% ahead of all of 2019. These results are remarkable and predicted to continue to climb throughout September and October.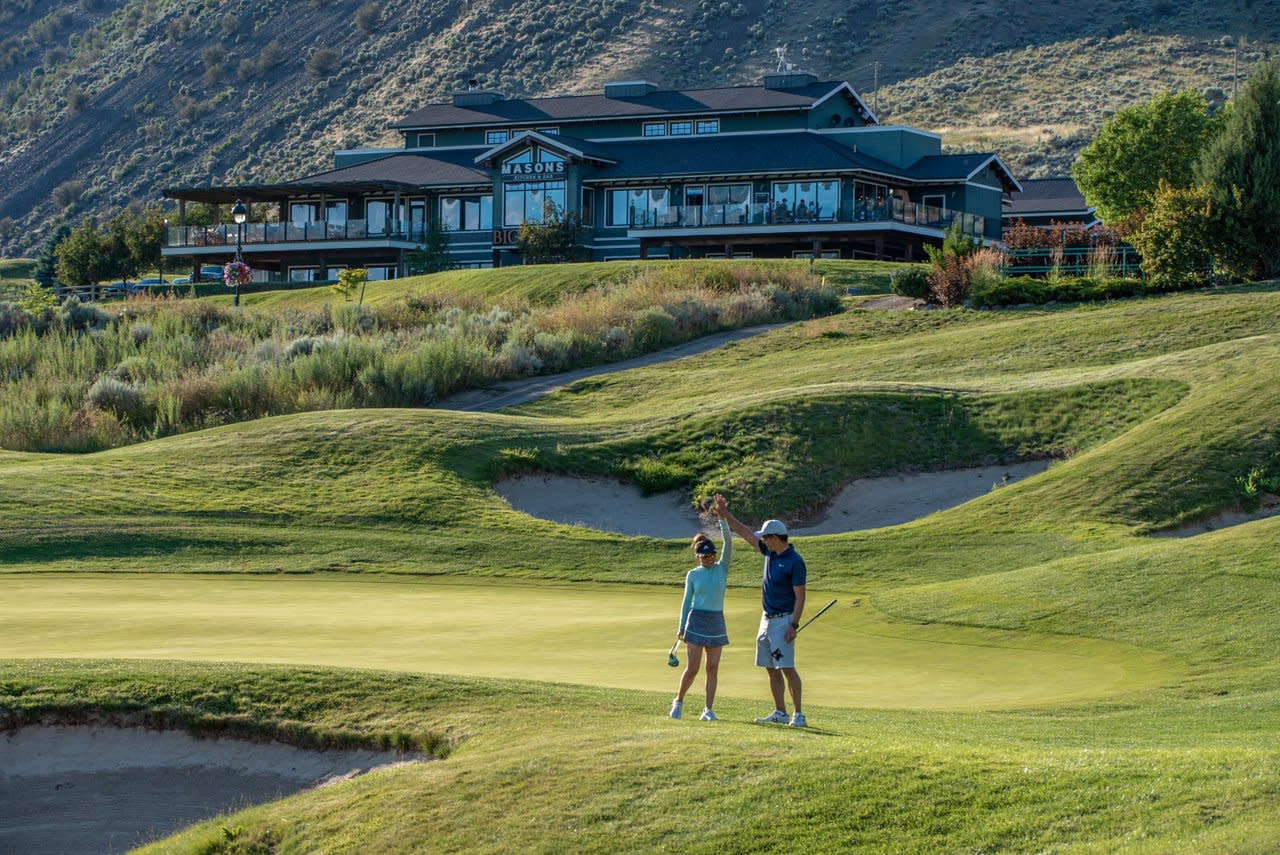 Kamloops wineries have been busy this summer, and while the winery experience has changed (reservations for tastings, socially distanced Music in the Vineyard), visitor volumes and sales have been positive. Awareness for the Kamloops Wine Trail continues to grow and along with celebrating their 5th anniversary this year, Tourism Kamloops facilitated the launch of their new website and brand refresh in early summer elevating the Kamloops, Thompson Valley wine profile. Recently, Monte Creek Ranch Winery garnered top accolades being awarded Best White Wine of the Year for their 2018 Thompson Valley Reserve Riesling at the All Canadian Wine Championships.
Luv'n the Loops
Luv'n the Loops 2.0 launched July 1st transitioning from monthly mystery bus tours to a digital passport highlighting discounts and incentives from Kamloops tourism businesses. Participants are eligible for seasonal prize packages once a certain number of stamps have been collected from redeeming offers from more than 30 participating businesses. The August prize package was just awarded, and the next package draw will occur in mid-October.
FALL FORECAST & MARKETING
With the return to school this week in BC, the focus shifts to our "endless summer" promotion targeting those seeking great weather, wide-open spaces, and outdoor experiences. We will reach audiences in the Lower Mainland for September and October and transition to a more regional outreach in November and December.
We will feature outdoor adventure, family activities, and road trip experiences. As the weather cools into fall we will release new content promoting our vibrant arts and culture experiences paired with flavours of fall harvest found at our wineries, craft breweries, and farmer's markets.
Look for more highlights from our Meet the Locals campaign featuring local photographer and hiker Tamra Jaeger, Kamloops Art Gallery Curator Charo Neville, Music Conductor Dina Gilbert, and more. 

New this month is a Travel Deals promotion on tourismkamloops.com sharing deals for BC residents considering a trip to Kamloops this fall.  Itineraries will be created to inspire 2- and 3-night fall getaways with corresponding package ideas linking accommodation, attractions, experiences, and restaurants.
The Tourism Kamloops team continues to work on your behalf to elevate awareness and drive visitation with a keen eye to stand out amongst many other destinations throughout the province. Please connect with us should you have any questions about our programs and plans for the months ahead.