Each year we are blown away by the remarkable stories of service excellence in Kamloops. The BOLD Hospitality Awards recognize top-notch, front line and back of house hospitality folks who provide kickass service, delivers outstanding service and creates unforgettable memories for Kamloops visitors. 
In our 4th year, 83 nominations were received in 6 categories to celebrate hospitality rock stars in Food & Beverage, Accommodation, Tourism Services and Tourism Attraction Leaders. So what have these folks done that has garnered them a nomination? How have they stood out or made a lasting impression? What makes a hospitality rockstar?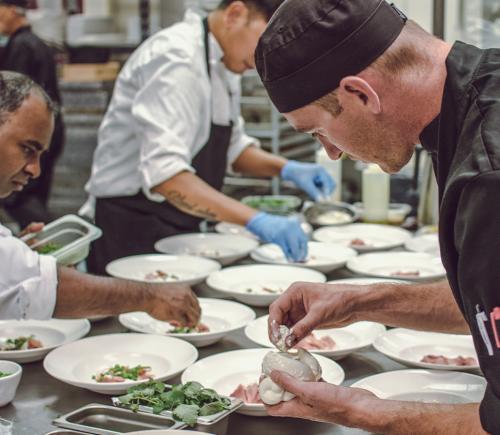 Here are a few examples of the top-notch service Kamloops guests are experiencing:  
"Our friends had never been to BC before, and from the moment he picked us up at home, to the moment he dropped us off he was fun, professional, informative and did such an AWESOME job showing my family just how amazing Kamloops is, from covering extra request to stopping for great family photos in great locations, they were so impressed, we all were. "
"The power was out in the area when I got here, so she drove to her own home to bring back a thermos of hot water so I could have tea."
"He knows all of the regulars by name and never settles for creating an amazing experience for his team and the customers. "
"He helps housekeeping when we are short staffed, without being asked. He helps guests with their luggage or minor car repairs, and he ensures the safety of our staff and guests. He is a treasure that we hope to never lose."
"_________ is fluent in several languages and has excellent world experiences that allow him to align with visitors from around the world. He has an uncanny ability to put guests at ease and become fast friends. He is quick to provide answers and recommendations for guests visiting Kamloops. But most importantly he provides an overall guest experience that leaves guests wanting to return!"
"My two sisters were visiting from out of town and they were absolutely enthralled & jubilant about her knowledge of wines and our City.  She even gave one of my sisters a recipe for one of her favourite concoctions.  I hope my vote helps her get recognized for the exceptional job she's doing.  She made their experience memorable and they're already planning their next trip back to Kamloops."
"This year on my 60th birthday she went above and beyond with balloons and cake at a time I needed to feel special."
Kamloops has incredible people working in hospitality.  They are constantly raising the bar to make Kamloops a must-visit destination. See for yourself who will walk away victorious at the 4th Annual BOLD Hospitality Awards on January 29th.
Buy your tickets today!