Let's give a (socially distanced) high-five to local businesses thinking outside the box this week. Here are 4 innovative means that local businesses have adapted to evolving health regulations in Kamloops.  
Offer off-site options
The kitchen may be closed at Red Collar Brewing but their brewers started a beer delivery service on March 17. Iron Road Brewing has bottles and cans of beer available for purchase from 12-6pm Wed-Sun, or order online with Bright Eye Brewing for take-out food and new growler purchases. If front-of-house operations are currently suspended, consider pivoting staff's positions to part-time delivery if you have proper insurance in place. Alternatively, partner with Skip The Dishes to streamline the delivery service.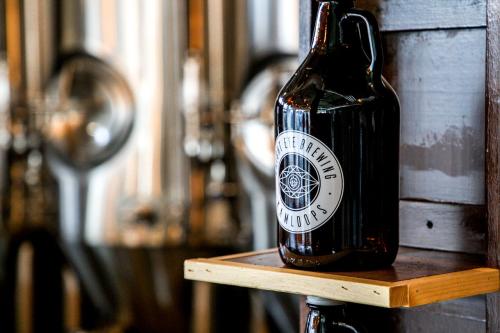 Create Take N'Bake Meals
Peter's Pasta offers take n'bake lasagna where customers can pre-order a premade lasagna for next day pickup. Adapt your current menu to offer select items that can be pre-ordered, made, and either delivered or picked up. Share this through your social channels with #YKAStrong.
Accessibility Hour(s)
Offer a designated time where those with compromised immunity, or individuals who require assistance, can dine or pickup meals.
Shoppers Drug Mart is dedicating the first hour to those needing assistance every day. Seniors can also receive 20% off purchases during this accessibility hour. Similarly,  Real Canadian Superstore is dedicating 7:00-8:00am Tuesday-Friday for those who require accessibility.
Host a Virtual Class
Fitness studios like Barre Kamloops and KSPIN Indoor Cycling Studio are hosting daily classes online. Although your kitchen is temporarily closed, consider hosting a virtual cooking class or baking challenge to share your passions.
Create an account on Zoom and set a date and time. Then, post a virtual event on your Facebook page so guests can save the date and gather ingredients. Lastly, challenge other eateries to participate. Ask trivia questions. Meet unexpected guests and share tidbits from your favorite recipes.
Added March 18 @ 8pm
For more unique tips and strategies to engage with customers through COVID-19 check out OpenTable's latest blog:  OpenTable's Recommendations on How to Support Restaurants Through COVID-19 
The food & beverage industry is constantly adapting and experimenting. Together, the industry will work together during this time by embracing creativity and collaboration.