Story Ideas
Kamloops is a city for every season. It's a place for families, urban and rural adventurers. Don't just escape, explore. Go off the grid, get lost and discover the unexpected along the way.
GOLF
From the backswing to the back nine, a day spent on the golf course is the holiday equivalent to a hole in one. With over 2,000 hours of annual sunshine and an extensive eight-month golf season, Kamloops is an enchanted realm known far and wide throughout the legends of Canadian golf history.
Golden fescue-lined tee boxes, awe-inspiring fairways and scenically set bent-grass greens to leave every golfer yearning to return to the putting greens to play yet another round. Backdrops of chiselled hoodoos and mountainside visits surround you. Sage infused breezes move through the valleys and may even blow in the coolest of characters
Kamloops Heritage railway +
2141 Steam Train
Steam back into history aboard one of the Kamloops Heritage Railway's rail tours or special events trains. At the heart of the railway is the 2141 steam locomotive 'Spirit of Kamloops'.
Lovingly restored over an 8-year period (1993 - 2001) by a group of dedicated volunteers, the 2141 was brought back to life after sitting in a city park for over 33 years. For a behind-the-scenes and an up close and personal tour of our steam engine and historic rail cars, book a Backshop Tours. Bring your camera, pose in front of this one-of-a kind 1912 steam engine and get a keepsake photo. This is the ultimate railfan photo opportunity!
brewloops beer festival
Brew Loops is a beer, bike and live music festival celebrating Kamloops Culture.
Brewloops hosts special events and biking meetups in locations all around the city. This is no convention center slosh-fest, this is a multi-day experience in beautiful Kamloops, BC with some of the best beer, food and mountain biking the world has to offer.
flavours
The Kamloops Wine region is truly a story reflecting adventurous people with pioneering spirits and great passions for wine. With four distinct wineries, visitors to Kamloops are encouraged to savour the local scenery as they sip through tasting rooms, tour vineyards and dine on scenic patios.
Kamloops has beer…great beer, in fact, Kamloops is now the location of the largest hops farm in Canada. The Noble Pig Brewhouse, Red Collar Brewing and Iron Road Brewing serve up signature Kamloops brews and will bring craft beers from across the province to their taps.
Sunmore Ginseng
Farm & Factory
As a leader in the ginseng manufacturing business in North America, Sunmore offers consumers a full range of value-added North American ginseng products: tea bags, capsules, extract, candy, powder, and much more.
Sunmore's products do not use fillers, additives, caffeine, or sugar in any of its production preparations to allow ginseng's natural goodness to come through. Quality is of the most importance to Sunmore.
Sunmore operates tours on their 1 hectre property including facility and ginseng farm in Kamloops, British Columbia. It is the only facility of its kind in North America.
Brew Pubs + Wineries
The Kamloops Wine region is truly a story reflecting adventurous people with pioneering spirits and great passions for wine. Travel throughout the Thompson Valley, lap up the beauty surrounding the North and South Thompson Rivers and discover a bevy of bright, balanced and award-winning wines at one of our four wineries.
If the brewpub is more your style, fear not! Kamloops is known for its quirky, quaint, unassuming, and stylish sipping spots. Drink your way through our 3 craft breweries, or visit a tap house and experience craft beer creations from places near and far. Or...go straight to the farm! Big Horn Hops farm is one of the largest in Canada and an innovative partnership with the local Tk'ulumps first nations.
sightseeing
Experience our ranges on foot. There is a hiking trail suited for every level of agility, athleticism and adventurousness.
Kenna Cartwright Park is the largest municipal park in BC, and is located in Kamloops. The park encompasses almost 800 hectares of land and offers over 40kms of trails of varying difficulties that are used by walkers, hikers, mountain bikers, and families. The park offers many stunning views of Kamloops throughout the park as well as a number of picnic areas. Kenna is a great park for any time of the year, for any level of hiker, and is off-leash dog-friendly.
Mountain Biking
The rugged Kamloops landscape, formed from ancient lava flows and volcanic debris is a mountain biker's paradise. The semi-arid climate creates the perfect landscape for three-season riding. Visitors are spoiled for choices with the vast, open sage-scented hills, lush, green forests, windy hills and dusty trails.
Kamloops is the birthplace of freeriding and home to the Kamloops Bike Ranch, Canada's largest Municipal bike park along with a vast range of trails all over town for every rider and agility.
Secwepemc
First Nations Culture
The celebration of culture and history of Kamloops' First Nations people comes alive at the Secwepemc Museum & Heritage Park. Tour 2,000 year old pit houses and learn of the important history through storytelling fireside.
Come back in the summer for one of the largest powwows in Western Canada, the Kamloopa Powwow. Held annually on the August long weekend.
salute to the sockeye
Each year, sockeye salmon make their way back from the Pacific Ocean up to the Adams River to spawn. Every four years is a dominant year seeing a return of millions of salmon. For 2018, the Adams River Salmon Society will host the Salute to the Sockeye celebration at Roderick Haig-Brown Park, just east of Kamloops.
Located at the mouth of the Shuswap Lake, the Adams River in Roderick Haig-Brown Provincial Park is home to one of the largest sockeye salmon runs in the world.
Fishing fanatics, rejoice!
There are over 100 fishing lakes within an hour of Kamloops. Kick it old school with a worm and hook, or test fishing techniques through trolling, spin casting or fly-fishing.
Don't have your own rod and reel - no problem! Stop by the Kamloops Visitor Centre for a loaner through the "Loan A Rod" program and get the local's scoop on the fishing hole of the day.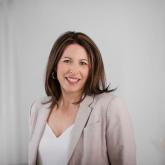 Monica Dickinson
CEO
monica@tourismkamloops.com
Monica is Tourism Kamloops' bold leader responsible for the strategic direction, community relationships, and tourism development.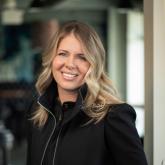 Lisa White
Director, CommunityDevelopment + Engagement
lisawhite@tourismkamloops.com
Lisa is your go-to for stakeholder relations, a media visit to Kamloops, corporate communications, tourism industry research/data, and how to get more involved with Tourism Kamloops.