Not one but two rivers
Situated at the junction of the North and South Thompson Rivers in the Thompson Valley, Kamloops is the second largest city in the BC Interior with a growing population of 90,000 people.
Work-Life Balance
We're fans of the work-life balance and our extensive trail networks keep us exploring year-round.
The Kamloops Bike Ranch is the largest municipal bike park in Canada
Kenna Cartwright Nature Park is the largest municipal park in British Columbia
We Love Golf
Kamloops has the highest number of golf courses per capita in Canada
We also love wine
4 wineries have been established in the Thompson Valley since 2012, these wineries have recently been established as the Thompson Valley Wine Region.  One of the newest wine regions in BC.
Professional Sports Hosts
Known internationally as Canada's Tournament Capital, Kamloops has been synonymous with a multitude of world-class sporting events. Kamloops is home to a variety of outstanding venues, strong athletic culture, and an enthusiastic volunteer base.
We want you to stay
Kamloops has over 50 accommodation choices (over 3100 rooms total) from major hotels to bed and breakfasts.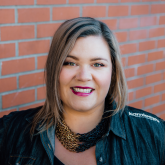 Roxanne Kennedy
Business Development Strategist
roxanne@tourismkamloops.com
Roxanne spearheads business development, meetings/conventions, sports, and events.