Local Caterers
Congratulations on the most exciting time of your life! Make sure to impress with one or more of our local caterers. These passionate caterers will work closely with you throughout the planning process to ensure your expectations are met and make it the most memorable experience for everyone.
Nourishing Gourmet
We do onsite events as well as offsite events within a 250km radius of Kamloops. We have a fully licensed commercial kitchen and a full size pig and lamb roaster. We grow our own organic produce and herbs, and feed our nutritious kitchen scraps daily to the animals. Bringing over 18 years of catering experience to the table, Nourishing Gourmet also partners with local farmers, and shops at local farmers markets to purchase her ingredients. 
Black Tie Dining
Our goal to leave a lasting impression both on your pallet and in your memories. Whether it be a business luncheon, cocktail party, staff gathering, family dinner or our specialty in-home dining experience, we are here to accommodate your culinary needs. Utilizing both local and intercontinental foods, we offer a creative, colourful and globally inspired style of cuisine. Proudly serving Kamloops, Sun Peaks and the surrounding area, we are experienced, passionate chefs who primarily focus on small groups to ensure quality and satisfaction.
925 Laval Cres, Kamloops | 250-908-0456​
rocky mountain catering
Rocky Mountain Catering is a full-service catering company headquartered in beautiful Kamloops. The company is the exclusive provider of Gold Leaf Services on board the Rocky Mountaineer Trains. Rocky Mountain Catering is totally dedicated to the pursuit of culinary excellence.
Salty Fig Catering
Specializing in urban catering and private chef services providing gourmet cuisine with an adventurous side. Exploring all of the bounties that this beautiful province has to offer, sampling from the finest local, seasonal produce from the Thompson-Okanagan, honouring local farmers and forests. All ingredients are sourced from local farmers whenever possible.  
Frick and Frack Tap House
At Frick and Frack Taphouse, we consider it our privilege to be in-demand for events catered throughout the Kamloops area. We have spreads for every occasion, including coffee and beverage service, breakfast buffets, lunch and dinner banquets, and reception trays and platters. Our staff brings the same cool with them that you'll find when you visit our restaurant, making the event memorable and pleasant for everyone involved. Whether you are planning a formal gathering or just a fun night of celebration for your friends and family, we've got just the ticket for you!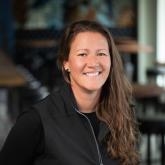 Lisa Strachan
Director, Destination
Development + Travel Trade
lisa@tourismkamloops.com
Lisa is the front-runner of destination development, travel trade, sports and meetings.