WEDDING PLANNERS
You have set the date and your starting to plan your wedding, take some of the stress out of planning by hiring one of these great wedding planners to captivate your special day.
Brandy Maddison Event Planning & Design
With a lot of heart and a dream to create something beautiful, Brandy Maddison Event Planning + Design launched in 2013. We are a boutique event planning and design studio specializing in weddings and floral artistry. You will find us right here in Kamloops BC, serving all surrounding areas and available for travel anywhere in this incredible world of ours.
WILD SAGE EventS WEDDING Planning & Events
At Wild Sage Events, we are passionate storytellers. Our styling designs aspire to narrate a couple's unique story; often marrying the timeless beauty of the surrounding landscape with the intimate and personal details that make a couple of one-of-a-kind.
We draw inspiration from organic materials, warm sunlight, patterns, textures and clean lines. Our philosophy of less-is-more is based on our belief that true beauty comes from natural imperfections and nostalgic elements, rather than lavish and costly décor. 
First Comes Love Gowns & Events
We are proud to be Kamloops largest and prettiest full-service bridal shop carrying some of the most sought after and exclusive designer wedding gowns, prom, flower girl, bridesmaids, & accessories! We specialize in wedding and event design, setup and take down decorating packages, ceiling drapery, photo booth rentals, linen rentals, decor rentals, tents, tables, & chair rentals and so much more! Our weddings are always executed with perfectionism and the utmost attention to design and placement making First Comes Love one of the best and most sought after decorating and drapery companies in BC.
Elite Events BC
Established in 2017, Elite Events BC provides personalized event planning services leading to seamless and memorable events.  Owner and lead event planner Elena Markin has a vast experience in wedding planning. Her creative mind and human-forward imagination, combined with strong organizational skills have helped her organize over 100 beautiful weddings. Let this experience become your wisdom! 
Elite Events BC is a proud member of Kamloops Chamber of Commerce.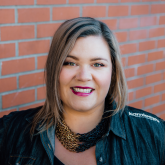 Roxanne Kennedy
Business Development Strategist
roxanne@tourismkamloops.com
Roxanne spearheads business development, meetings/conventions, sports, and events.