Wedding Venues
When it comes to your wedding, choosing a venue for the ceremony and reception is no easy task. Whether you like to be in a garden, on a ranch or maybe by the Thompson River Kamloops has these and many other options available.
TRU CONFERENCE CENTRE
Thompson Rivers University
Surround yourself and your guests with exotic plants, grasses, shrubs and an array of colourful flowers in our lush private Horticulture Gardens. Celebrate your vows in one of our modern banquet rooms and rest your head for the night in one of our wedding loft suites. Create your perfect day with one of our complete wedding packages.
Winery Venues
Monte Creek Ranch Winery
Romance and wine go hand in hand, which is why Monte Creek Ranch vineyard is the ideal location for your elegant wedding ceremony. Our winery boasts stunning views of the Thompson Valley and a spectacular selection of award-winning wines. We specialize in small, intimate and unique weddings that cater to couples who truly want an unforgettable experience.
Privato Vineyard + Winery
A truly authentic vineyard wedding awaits at Privato Vineyard and Winery! Weddings at Privato offer an idyllic setting in our newly created gardens. Vast views of the vineyards and sweeping vistas of the mountains of the Thompson Valley Wine Country provide for a magical setting for your special day. Our gardens are the perfect venue for a wedding ceremony followed by an elegant wine reception.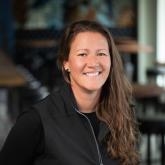 Lisa Strachan
Director, Destination
Development + Travel Trade
lisa@tourismkamloops.com
Lisa is the front-runner of destination development, travel trade, sports and meetings.