Hosting Tournaments
Kamloops, as Canada's Tournament Capital, has first-class facilities, experienced volunteers, expertly trained officials, great weather, and friendly people to ensure a smooth, successful and fun event for everyone.
SPORT FACILITIES
Having invested over $37 million into the construction of the Tournament Capital Centre, along with other major investments into renovating facilities such as McArthur Island Park, and Exhibition Park; Kamloops as well earned the title of being Canada's Tournament Capital and the premier host centre for tournaments and national/international competitions. Kamloops' venues are easy to get to, provide plenty of parking, and are strictly maintained for tournaments and sporting events.
Parks, Recreation, and Cultural Services in Kamloops are proud to provide a variety of services, programs, and facilities to expand visitors' recreation and leisure opportunities. Kamloops' Recreation Commission and the Parks & Recreation Services work closely together to ensure that residents and visitors receive the highest level of quality recreation, leisure, arts, culture, and sports services.
Places to Eat
Kamloops provides exceptional group settings for places to catch a bite to eat after the big game or have award ceremonies for the MVP's.
Places to Stay
Accommodation options for teams in Kamloops are plentiful, as we are known as the Tournament Capital and have no problem housing teams for sporting events.
Things To Do
Between games, visitors to Kamloops can enjoy the other activities the city has to offer. Go to a movie, bowling, paintballing, or head to a pool and relax in the hot tub or sauna. Kamloops is an easy place to get around and have fun.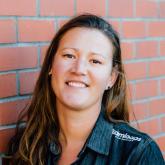 Lisa Strachan
Director of Destination
Development + Travel Trade
lisa@tourismkamloops.com
Lisa is the front-runner of destination development, travel trade, sports and meetings.