Hosting Tournaments
Kamloops, as Canada's Tournament Capital, has world-class facilities, experienced volunteers, expertly trained officials, great weather, and friendly people to ensure a smooth, successful, and fun event for everyone.
Sports in Kamloops
Known internationally as Canada's Tournament Capital, Kamloops has hosted a multitude of world-class and international sporting events. With a variety of outstanding facilities, a strong athletic culture, and an enthusiastic volunteer base, Kamloops is the best location to host your next tournament or sporting event.
Canada's Tournament Capital
Kamloops is known as the Tournament Capital of Canada and hosts over 100 tournaments each year at world-class sports facilities such as the Tournament Capital Centre, McArthur Island Park, and the Tournament Capital Ranch. In addition to hosting, Kamloops is also home to a range of professional athletes from many sports, including Dylan Armstrong, Nancy Greene Raine, and Catharine Pendrel.
Tournament Capital Program
Since 2001, Kamloops has been synonymous with first-class events, a knowledgeable and enthusiastic volunteer base, strong athletic showings, and a wide variety of outstanding venues. The City of Kamloops has recognized sports tourism as an economic generator for the City and has made the Tournament Capital Program one of the top priorities in City Council's Strategic Plan.
The City of Kamloops has built its vision and dream around the Canadian Sports Policy and by embracing the goals of this policy, Kamloops is realizing the results of increased participation, economic generation of sports tourism, and first-class facilities.
---
World-Class Facilities
With over $50 million invested in new and renovated sports facilities, Kamloops has well earned the title of being Canada's Tournament Capital and the premier host for tournaments and national/international competitions. From rinks to field houses, ball diamonds and more, Kamloops has the right venue for you.
---
Book your Event
Kamloops is a very well organized city, both in terms of layout and planning, and tournament organizers can receive help for tournament bid proposals for amateur sports. Hosting a tournament in Kamloops might make groups eligible for a grant - the bigger the tournament, the bigger the grant.
Please visit the City of Kamloops website for more information and printable forms. Other information provided includes field use fees, event kit rentals, booking a field, and special event requirement forms.
Places to Eat
Kamloops provides exceptional group settings for places to catch a bite to eat after the big game or have award ceremonies for the MVP's.
Places to Stay
Accommodation options for teams in Kamloops are plentiful, as we are known as the Tournament Capital and have no problem housing teams for sporting events.
Things To Do
Between games, visitors to Kamloops can enjoy the other activities the city has to offer. Go to a movie, bowling, paintballing, or head to a pool and relax in the hot tub or sauna. Kamloops is an easy place to get around and have fun.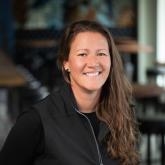 Lisa Strachan
Director, Destination
Development + Travel Trade
lisa@tourismkamloops.com
Lisa is the front-runner of destination development, travel trade, sports and meetings.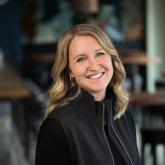 Holly Therrien
Destination Experience Manager
holly@tourismkamloops.com
Holly is your go-to for travel trade and destination experience initiatives, managing accommodation RFP's and supporting event, festival, and tournament organizers.