snowshoeing
During mid-December to end of March, the hills in Kamloops are blanketed in snow that provides dozens of trailheads to snowshoe uplands forests and open spaces. Pack a thermos of hot chocolate and make a day out of it or break a snowy trail in an afternoon under gorgeous sunny skies. Trust us, there are plenty of areas to trek through!
 
Kenna Cartwright Nature Park
Over 40km of trails for every experience level that offer panoramic views of the City and Kamloops Lake.

Peterson Creek Nature Park
Located in the heart of the city, explore a waterfall and plenty of trails with some climbing involved.

Lac Le Jeune Provincial Park
Explore diverse trails that follow around lakes including Stake Lake, McConnell Lake, Walloper Lake, Bush Lake and Dogwood Marshes.

Stake Lake
With over 13km of snowshoe trails that range in difficulty, Stake Lake is located only 25km south of Kamloops. A great family-friendly destination for anyone that loves sunshine and great snow, with their dogs, welcome on some trails. Please visit www.overlanderskiclub.com for rates, a map of trails and rentals available.

Harper Mountain
Upload on the chairlift or snowshoe your way to the top to enjoy panoramic views of the Thompson Valley atop Harper Mountain. Snowshoe your way down back to the lodge to enjoy a cozy place to warm up by the fire. Rentals are available on-site.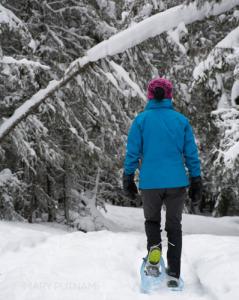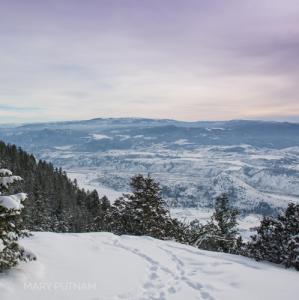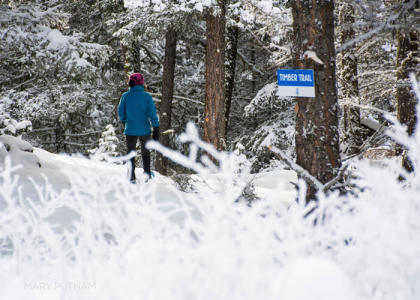 Sun Peaks
Create your own Sun Peaks snowshoe adventure! Explore the extensive snowshoe trail system at Sun Peaks Resort! Either connect with one of many snowshoe tours or venture out on your own. Along with your snowshoe day trail pass and snowshoe rental, you will receive a complimentary trail map and an interpretive guide booklet.
Snowshoe Rentals
Runners Sole – $15/day, $20 for 2 days
True Outdoors - $20/day, $40 for a Weekend
Overlander Ski Club - $10 for Stake Lake, $20 for off-site
Spoke Bike N'Ski - $25 per Day
Sun Peaks Resort - $15-20 per Day (Based on age)